Las Vegas bachelorette party Ideas And Packages
Here are Las Vegas bachelorette party ideas! Whether your girlfriends are all nice or a little bit on the wild side, you've chosen the perfect place make sure the bride has the time of her life...for the last time! In a city that keeps everything that happens there within its limits, you can go as crazy as your fantasy goes, or just use my list of things to do to plan a perfect party for your girlfriends in Vegas.
Featured Packages With Chippendales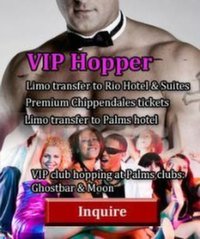 Every bachelorette knows that Chippendales are the hottest guys in the world! What's even better, they are very friendly, nice, and love to party! Here are premium Las Vegas Bachelorette Party Packages that include VIP tickets to Chippendales. Make them part of your Las Vegas experience - I won't tell your boyfriends!
What's Hot
All Inclusive VIP packages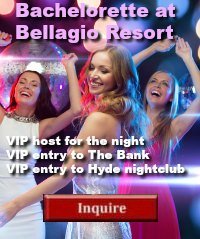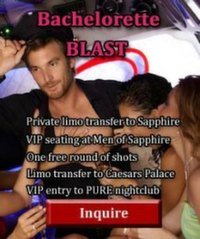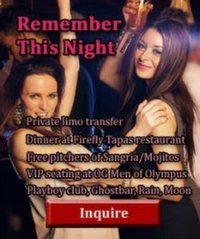 The easiest way to plan a Las Vegas bachelorette party is to let others do it! There's no one who does it better than Vegas VIP - they specialize in organizing nightclub and strip club packages, as well as bachelor and bachelorette experiences. They offer different pre-planned and all inclusive packages, and can even tailor your party to your specific interests. Packages start as cheap as $99 per girl.
Now, how wild do you girls want to go? If you just want to party and dance, you could select the Palms Casino Resort package. A VIP host will take you to the hottest spots at the most party-loving resort in Vegas. Or select the My Girl Wants To Party package with VIP entry to Vanity nightclub and tickets to the hottest male revue show on the Strip Chippendales!
Would you like to spice up your Las Vegas bachelorette party? You need strippers! Two strip clubs are waiting for you - check out the packages with VIP entry to either Men of Sapphire or to Olympic Garden's hot all-male strip show Men of Olympus!
Are you in the mood for something active? Add pole dancing class to your Las Vegas bachelorette party! With the newly acquired skill, the bride might want to surprise her groom on a honeymoon! Here are couple of interesting packages that include VIP entry to nightclubs and a pole dancing class - one with tickets to Chippendales show, and one without.
Here is what you can expect from Vegas VIP - transportation by Limo, a selection of nightclubs with VIP access (which basically means you will avoid the lines), packages that include Chippendales shows or visits to male strip clubs Men of Olympus. While they offer plenty of different options, they can be customized. All you need to do is send an inquiry, and they will contact you either by phone or email.
Best Nightclubs
Here are a few awesome night clubs to take your Las Vegas bachelorette party to! The great part is that you don't have to plan it all by yourself - for each night club you can get a VIP host that will take you to a club of your choice on a party limo, show you around the club and will provide guidance throughout the night out.
What Women Want Pass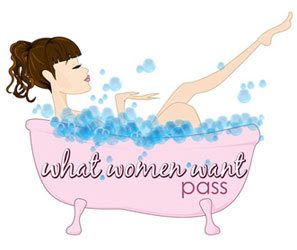 Price: $129.99
You might be wondering if you need a V Card for your Las Vegas bachelorette party. It's a fact that Vegas loves women and you and your girlfriends can get in most clubs easily, but you do have to stand in line, while V Card provides a VIP access. However, there is a much better deal for ladies - What Women Want Pass that includes the V Card and only costs $129.99.
This Pass includes plenty of other perks: discounts for spa, shopping coupons, Stripper 101 Class, and a ticket to a naughty show!
Best Male Revue Shows
It's hard to imagine a Las Vegas bachelorette party without one or two male strip shows! There is no better way for a bride to say good bye to her single life than by watching handsome half-dressed men dance. If there is, I know nothing about it:-)
Anyway, currently the most popular male strip shows in Vegas are Chippendales and Thunder From Down Under. If you want to take your party a notch further - check out Men of Sapphire that dance at the Sapphire strip club during ladies' nights.
The difference between them is that Chippendales and Thunder are primarily dancers, while Men of Sapphire are primarily strippers...Private lap dances are also on the plate with them, should the bride or bridesmaids go really wild!
Shows
Here is another idea for a Las Vegas bachelorette party - why don't you girls go to one of the most hilarious comedy shows in Vegas? Absinthe is a circus with very adult humor (must be very open minded for this one!). Comedy Hypnosis and Hypnosis Unleashed will have your girlfriends roll on the floor laughing, especially if you get the bride to volunteer to be hypnotized!
Strip Classes
Here is an excellent idea to have a fun Las Vegas bachelorette party - take a strip tease class together! Even if you never become professional strippers or Vegas showgrils - I promise you will have a lot of fun and laughter! During these classes, you will learn how to work with a pole or a chair, how to apply a "showgirl makeup", walk on high heels and dance on stage. Best of all, after most of these classes girls are awarded diplomas about successful completion. Just don't forget to show the bride's diploma at the wedding!
Extreme Activities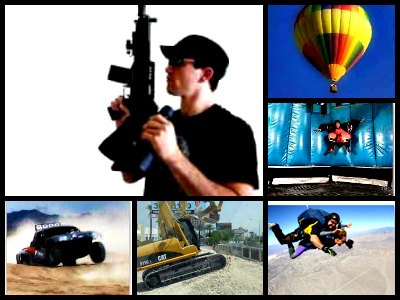 All Adrenaline Activities
Now, how about having a thrilling Las Vegas bachelorette party? These extreme activities might not be for everyone, but I love them! Luckily, there are plenty of thrilling things to do in Vegas - anything from Skydiving to jumping from the Stratosphere Hotel to off road jeeps. Here are a few of my personal favorite fun Las Vegas activities that would work perfectly for a bachelorette party. Just don't forget that you need not only keep the bride entertained, but also deliver her to her fiancé safe and sound!
Strip Clubs
Finally, if you girls are really, really wild (in a good sense)- hit one or two strip clubs! While the entrance may be prohibited for ladies to most of the gentlemen's clubs in Vegas, there are three strip clubs with special "ladies nights" or special areas for the girls. I already mentioned Men of Sapphire, and there are also a couple of others "nice" strip clubs you can visit during your Las Vegas bachelorette party.
Shopping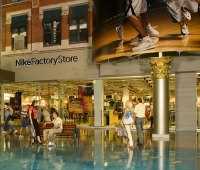 More Las Vegas bachelorette party ideas - shopping spree! If you are a girl, and you must be if you've read this far, you probably like to buy new clothes. So why not pamper the bride before the wedding, and have you bachelorette party at one of the multiple Las Vegas malls? If all your girlfriends buy something for the bride during this shopping escapade - you wouldn't have to worry about getting her a gift for the wedding. You could get her, for example, gift cards to jewelry, shoes or lingerie stores.
Spa
Finally, after you've done all the club hopping, shopping, extreme activities and strip dancing, why not relax in one of dozens Las Vegas spa salons? There is no lack of spa salons in the city, and most of them are pretty good. But if you need pointers for celebrating your Las Vegas bachelorette party at a spa salon, here are a few to start from:
What's Hot
Do you have any questions or Comments?