cheap Las Vegas tours
Finding cheap Las Vegas tours has never been easier! Indeed, why pay full price if there is always something on sale? I, for one, never pay full price for anything I can find something cheap! Here are the most current discount coupons for Las Vegas tours in 2015.
What's Hot
I have already shared a few deals with you, but I decided to give away all my secret links where I find the cheapest deals on Vegas tours.
Keep in mind that some Las Vegas tours may be available on all of the websites mentioned below, with different promo coupons and discounts on every single website, so shopping around pays off!
cheap Las Vegas tours on Viator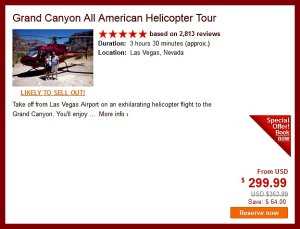 Viator is my top choice for finding cheap Las Vegas tours. Primarily, because they offer the widest selection of tours and often run very good deals.
Viator actively partners with Las Vegas tour companies and they constantly add new tours. So they are worth checking out even just to see what's available.
Their regular rates are usually the same or slightly above those offered by tour companies directly. But on this page you can find a few very sweet deals on tours, some of which you won't find anywhere else.
cheap Las Vegas tours in 2015 On Official Travel Site
On Vegas.com you can find great deals not just for cheap tours, but also for shows, hotels, and even Las Vegas vacation packages!
Here is is the link to their current deals
- simply browse for tours, shows or whatever might interest you. Although the selection of tours specifically is not as great as that on Viator, you can definitely find something fun to do for cheap.
cheap Las Vegas tours On Best Of Vegas
Best of Vegas is similar to Vegas.com in that they also offer a great selection of shows, tours and nightclub deals. You can find the most current cheap Las Vegas tours on their special deals page.
Luckily, their selection of tours on sale is different from that on Vegas.com, so you can always compare the two and find a better deal.
cheap Las Vegas tours in 2015 With Power Pass
Power Pass offers the best deal in Las Vegas on many fun things to do. The Pass is sold for either 1,2,3 or 5 days with the cheapest price being the 5-days plan.
For one low price of $36.00 ($24.00 for kids) you can see the best attractions in the city, take a few tours and watch a few shows!
While it's mostly useful for attractions, there are 3 tours included in the Las Vegas Power Pass:
Hoover Dam Motor Coach Tour,
Grand Canyon West Legacy Tour,
Lake Mead Cruise (seasonal)
So if you were interested in taking these 3 tours anyway, you can't find a better deal for tours for a better price than the Power Pass!
Read My Review Of The Power Pass
cheap Las Vegas tours With Helicopter Companies
What's Sin City without helicopters? They are everywhere! So if you want to join the happy masses and take a helicopter flight over Vegas - check out what these companies offer.
All of them have "specials" going on, so be sure to browse around and see if any deals for helicopter tours are available.
Cheap Las Vegas Tour Deals
You might be already familiar with deal programs offered by LivingSocial
and Groupon
. They offer deals (actually run by companies) for up to half price off regular prices.
And I noticed that quite often you can find there deals for cheap Las Vegas tours - for example, I've seen Balloon Rides and Helicopter Flight over the Strip quite a few times. So before you go to Vegas, check if any interesting tour deals are available - that might save you hundreds of dollars!
Plus, these sites are a great source for cheap hotel deals. Their selection of dining deals is rather limited. But the best part of these sites is that you can find excellent deals in your own city.
What's Hot
Do you have any questions or Comments?