Tours From Las Vegas to Death Valley National Park
With these Las Vegas to Death Valley National Park tours you will explore the hottest, driest, and one of the most fascinating deserts in North America! Read along as we take you on a virtual tour of Death Valley! The valley, the lowest place in the Western Hemisphere, is located in eastern California, close the border with Nevada, about 2,5 hours drive from Las Vegas. The place is, undoubtedly, a photographer's paradise! Get on board, become a Death Valley discoverer!
Death Valley tours By Bus And Pink Jeeps from Vegas
If you want to go on a Death Valley adventure day trip from Las Vegas, I recommend these best half day tours: by Pink Jeeps (SUV) or by Bus. Both of them deserved excellent reviews, and offer some hiking.
Deals
Death Valley Itinerary - Virtual Tour
Are you wondering what you will see during Death Valley National Park day trip from Las Vegas? Here is a virtual tour - an itinerary plan in pictures of some points of interest in Death Valley you may visit (weather permitting).
Image credit: pdphoto.org
Scotty's Castle
One of the highlights of Las Vegas to Death Valley tours, Scotty's Castle is a small oasis in the middle of a desert. The Castle, also known as the Death Valley Ranch, attracts visitors with it's Spanish-style architecture and beautiful green gardens.
Scotty's Castle was built in the 1930 and is an engineering wonder, considering the times. It was equipped with a climate controlling system, electricity, water, and had a refrigerator storage. Inside the castle you will find Spanish carpets and curtains, Italian porcelain, Belgian lace and other riches.
Scotty's Castle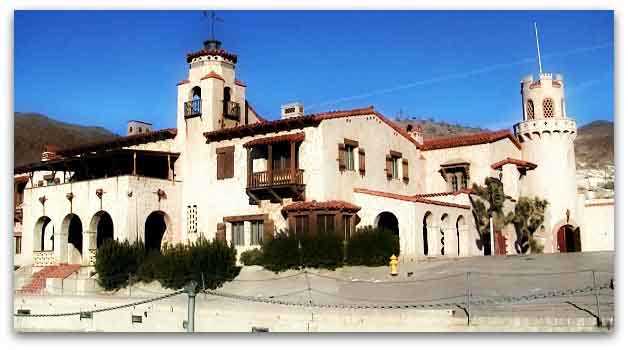 The castle has a very interesting history that you will learn during Las Vegas to Death Valley tours. But to give you an idea - its history is connected with two people.
The first was the actual owner of the house Albert Johnson, a financial magnate from Chicago who built the castle for himself and his wife Bessie. The second was an adventurous entertainer and story-teller Walter Scott, or Death Valley Scotty, who lured Albert Johnson into Death Valley with lies about a gold mine that he supposedly found.
While there was no gold, Albert Johnson found something else in there - good health, and decided to move there permanently. And Johnson was actually amused and didn't mind a bit Scotty's stories that the castle is being built on the money he received from finding a gold mine, that Scotty told everyone around. Eventually, these two very different became friends and lived happily ever after together with Bessie in the castle.
Ubehebe Crater
Not far from the Scotty's Castle, there is an interesting place known as Ubehebe Crater, that you will visit during a Death Valley tour.
Ubehebe Crater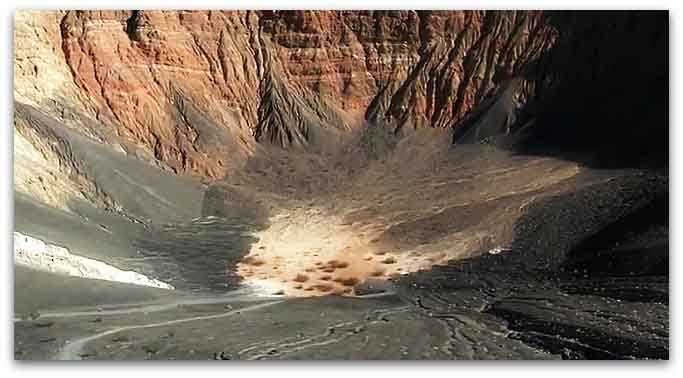 This Ubehebe Crater appeared as a result of a powerful volcano eruption - so strong that the volcano itself was destroyed. Although the crater is over 2,000 years old, it's considered young and therefore it's not yet covered with grass and bushes.
Devil's Golf Course
The Devil's Golf Course is an area that you might explore during Death Valley tours. This is a large plateau covered with dry salt crystals that grow upwards and create weird sounds that you can hear when the air stands still.
Devil's Golf Course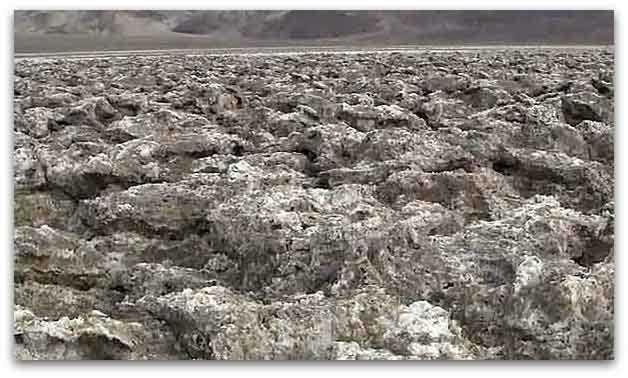 Racetrack Playa
The Racetrack Playa is the most mysterious place in Death Valley - it's a flat, level plain of clay, around which are scattered so-called "sailing stones" that apparently move all by themselves, leaving prominent furrows, or tracks. Hundreds of stones of all sizes, from very tiny to huge ones, move in different directions. Sometimes the stones move alone, sometimes in groups.
Sailing Stones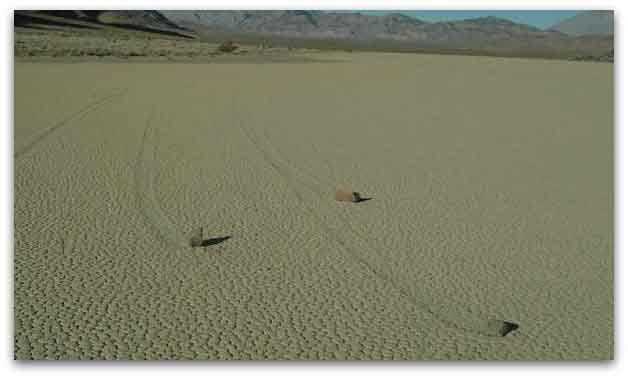 Scientists have been trying to explain this phenomenon, but years of research did not help to solve this mystery!
Ghost Town of Rhyolite
Another interesting stop during a Las Vegas to Death Valley tour is the ghost town of Rhyolite. During Gold Rush, the small town was home to some 16 thousand people - gold miners and service providers who came here in hopes to get rich. Rhyolite developed very quickly in 1905, but declined almost just as quickly. When the main gold ore was exhausted, people started abandoning the town and in 1920 it was already empty.
Ghost Town of Rhyolite
Close to the ghost town of Rhyolite, you will see a Goldwell Open Air Museum, created by Albert Szukalski, a sculptor from Belgium. This is a museum of sculptures of ghosts, just in the spirit of an abandoned ghost town.
Goldwell Open Air Museum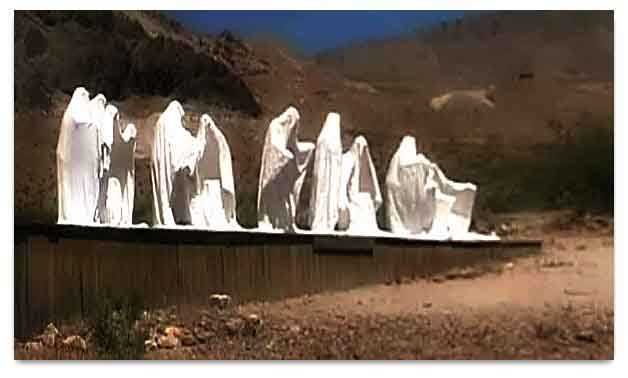 Furnace Creek Ranch
Another likely stop during a tour from Las Vegas to Death Valley National Park would be Furance Creek Ranch, where you will visit a small open air Borax Museum. Although the museum is small, it has some interesting historica artifcats such as wagons, carriages, and an old train.
Deals
Do you have any questions or Comments?