Grand Canyon Flights From Las Vegas
Airplane Tours From Las Vegas To the Grand Canyon West, North Rim And South Rim
Taking scenic Grand Canyon flights in executive-style airplanes is an experience to write home about! Below are the most popular airplane tours from Las Vegas to Grand Canyon West, as well as to the remote North and South Rims.
Scenic Grand Canyon Flights To West Rim
Prices From: $139.99 for early morning departure, or $198.99 for afternoon departure; Duration: 4 hours
This tour is the cheapest way to admire the Grand Canyon and other great landmarks located around Las Vegas from above! These Grand Canyon flights from Vegas do not have any extras - no landing, no sightseeing - just pure delightful airplane ride, accompanied by a recorded commentary!
Upon being picked up from your hotel, this scenic airplane flight on a 19 passenger plane departs from Boulder City and takes you to the Grand Canyon.
On the way, you will fly over the Hoover Dam and Lake Mead. This airplane has huge panoramic windows, perfect for taking unforgettable pictures. If you are on a tight budget yet would like to see the miracle that is the Grand Canyon, taking this airplane tour is a godsend!
Grand Canyon Flights to West Rim with Optional Skywalk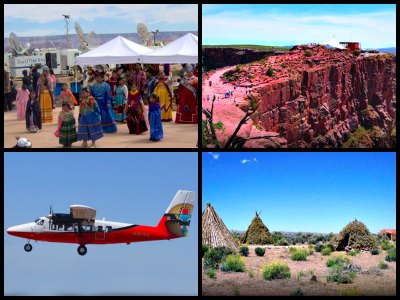 Prices From: $236.79; Duration: 7 hours
Just for a few extra dollars, your can have the following unforgettable experience. You could fly to the Grand Canyon in an airplane, land at the West Rim where the magestic Skywalk is located and take a sightseeing tour in a bus. This tour is accompanied by a live narration, highlighting the history of the canyon and Hualapai Indians that live at the West Rim.
At the West Rim, you will visit 2 major observation points - Guano Point and Eagle Point. What's even better, you will be treated to a free lunch, all the while admiring the magnificent Grand Canyon!
The Skywalk is not included in the minimum price of the West Rim Grand Canyon flights, but you can upgrade if you wish to visit it. And I highly recommend that you do - after all, no observation point offers better views than this glass bridge!
Deluxe Grand Canyon Flights To West Rim with Optional Helicopter Tour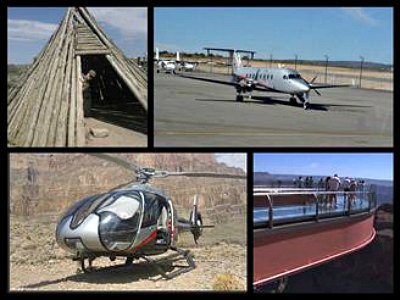 Prices From: 264.99; Duration: 6 hours
To make Grand Canyon flights more fun, you can add a descent to the bottom on board of a helicopter! All the way from Las Vegas, you will enjoy the bird's eye view of the awe-inspiring panorama. When your airplane lands at the Hualapai Indian Conservation Area, you will have the chance to do some sightseeing on a bus, visit Guano Point and Eagle Point, eat your free lunch or walk on the Skywalk (upgrade required).
If you select and optional helicopter ride, the descent to the bottom lasts approximately 5 minutes. At the bottom, you will have 20 minutes to take in the views of the narrow, but powerful Colorado River.
Grand Canyon Flights From Las Vegas To West Rim with Helicopter and Boat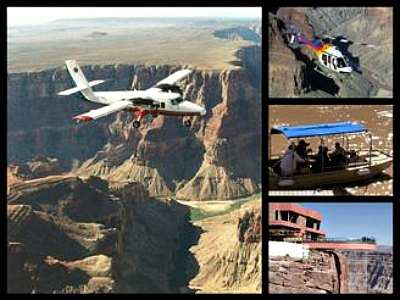 Prices From: 379.99 ; Duration: 7 hours
There is no more complete way to explore the West Rim and Hualapai Indian Reservation Area! To make the most use of these comprehensive Grand Canyon flights, opt in for a descent to the bottom of the canyon on a helicopter and a boat ride on Colorado River!
After your airplane lands at the Grand Canyon, board a helicopter that will take you to the bottom and land near the Colorado River. There, you will board a boat, and take a ride down the Colorado River!
After your adventure at the bottom, you will ascend back to the West Rim, where you will have the chance to thoroughly explore both the Eagle Point and the Guano Point and enjoy your free BBQ lunch.
Deluxe Grand Canyon Flights From Las Vegas - South Rim
Prices From: 279.99 for Flight only; $499 For flight with Motorcycle tour; $399 for flight with helicopter tour; Duration: from 7 hours
South Rim is very different from the Grand Canyon West. It's less explored, more scenic, more wide and more deep, although just as gorgeous. Because it's located far from Las Vegas and any other city for that matter, it's less accessible, and fewer people have seen it. Do you feel like experiencing the magnificent wilderness of the South Rim?
Try Grand Canyon flights from Las Vegas to the South Rim! After a long, panoramic flight you will land at the South Rim, will take a walking tour of the park that offers plenty of photo opportunities.
For even more fun, upgrade to add a scenic helicopter flight over the South Rim. You will fly over Kaibab National Forest that hides canyons and prairies, over the scenic Dragon Corridor, and admire the incredibly beautiful vistas.
If you are at least 21 years old and have a motorcycle license, you would get a kick out of a guided 2,5 hours South Rim tour on Harley Davidsons motorcycles! This tour accepts younger passengers as long as thir legs are long enough to reach the foot pegs.
Grand Canyon Flights To North Rim & Bar 10 Ranch Activities
Prices From: 298.99; Duration: 8 hours
Some say that the North Rim of the Grand Canyon beats both the South Rim and Grand Canyon West. But it's so remote that it's challenging to get there from Las Vegas by bus, car or any other transport. That's why there are practically no tourists at the North Rim, and it's almost as pristine as it was 1000 years ago. Would you like to experienced the incredible nature, practically not spoiled by humans?
The challenge is solved with Grand Canyon flights - airplane tours from Las Vegas to the North Rim. After a long, scenic flight over the canyon accompanied by live narration, your airplane will land in the middle of nowhere. From there, you will be transported to Bar 10 - a working ranch, that offers cool activities. At the ranch, you will take a hiking tour (included in the price) of the wilderness.
You will have plenty of time to hike or, if you feel adventurous, take a 1,5 hour ATV tour from the ranch to the Grand Canyon! When you return to the ranch, a delicious western-style meal will be waiting for you before your flight will take you back to Las Vegas.
If you feel even more adventurous, or just want to get away from Las Vegas and relax in the rustic setting of the North Rim, you can spend a night at the Bar 10 ranch. In addition to ATV rides, activities at the ranch include horseback riding, available to overnight guests for extra fee.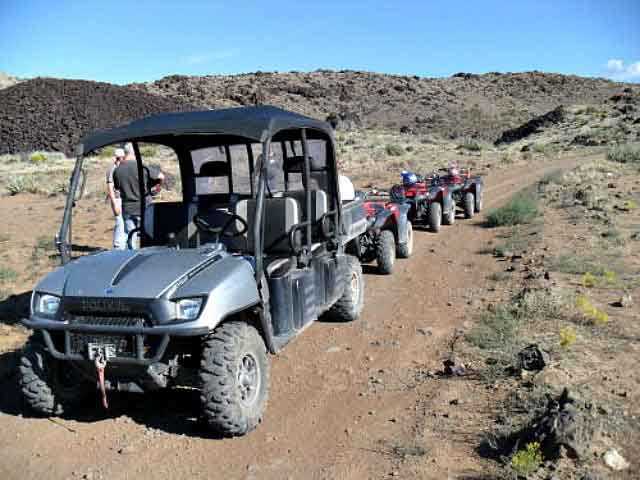 Please share this page with your friends!
Hottest Deals In Vegas
Explore The City
Do you have any questions or Comments?