Grand Canyon Jeep Tours from Las Vegas
Tour the Grand Canyon by 4X4 Hummers or Pink Jeeps
These Grand Canyon jeep tours from Las Vegas are extremely comfortable and more personal than bus tours thanks to the small size of the groups. With these narrated tours you will be in experienced hands of great tour guides who do everything to make your trip enjoyable!
Leave the buzzing Las Vegas Strip behind and explore one of the greatest natural wonders - Grand Canyon, in all its glorious beauty! Most of these tours include an off-roading, a hearty lunch, fuel surcharge and a pick up from all major hotels in Las Vegas.
Grand Canyon Jeep Tours - West Rim Hummer Tour
All Inclusive - From $ 228.99, Duration - 9 hours
With Hummer H2 off-roading to your West Rim destination is completely effortless! Not only does this your include hotel pick up and lunch, it's also customizable - you have the option to add helicopter, boat ride or Sky Walk or all three of them to your jeep tour!
Your Hummer H2 will take you to the Hualapai Ranch located at the West Rim of the Grand Canyon through the Mojave Desert, the Joshua tree forest filled with ancient trees. Once at the destination, you will have 3 hours to have your lunch and to explore the Grand Canyon by foot or helicopter/boat should you choose the upgrade.
Grand Canyon Jeep Tours - Explore Caverns With Big Horn Jeeps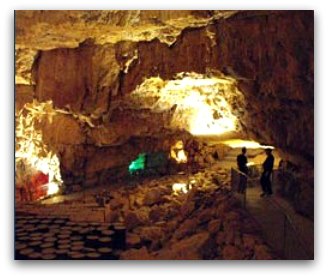 All Inclusive - From $209.00, Duration - 9 hours
Up for a small challenge? Embark on an exciting journey - turn yourself into a spelunker and explore the hidden dry caverns with Grand Canyon jeep tours in a comfortable 4X4 Hummer! This tour includes an exciting off-roading and picturesque setting down Route 66 and a picnic at Joshua Tree Forest.
The geological history will unfold before your eyes- these caverns are the result of Mother Nature's labor during 345 million years. The caverns were discovered in 1927 by a woodcutter Walter Peck accidentally, in an Alice-like manner.
Today, it's a popular, family-friendly tourist destination. 220 (70 m) feet underground are easily reachable with a large elevator. Inside, you can explore helecite crystals and other treasures.
---
Grand Canyon Jeep Tours - West Rim With Helicopter and Boat
All Inclusive - From $394.99, Duration - 8 hours
This combo trip is one of the most popular Grand Canyon Jeep tours - you will get to experience the best amenities that the Grand Canyon has to offer - jeep, boat and a helicopter ride! The luxury SUV (which is actually a very comfortable Pink Jeep) will take you to the West Rim through the Joshua tree forest, along the Indian Diamond Bar Road.
Once there, a helicopter will descend you down 4,000 feet to the Colorado River where you will take a fully narrated boat tour. Once back on the Rim, you will visit the Eagle Point where you can explore the Indian village; then you will visit Guano Point for dramatic views of the Colorado River and some pictures. You can also take a Skywalk (the price is not included - pay separately).
---
Grand Canyon Jeep Tours - Toroweap by Pink Jeeps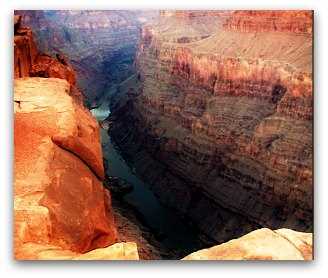 All Inclusive - From $249.99, Duration - 12 hours
If you want to experience the Grand Canyon in all its majestic beauty, take the Toroweap tour with Pink Jeeps! Toroweap (or Tuweep) is the most remote, narrowest, deepest and the most spectacular part of the Grand Canyon located on the North Rim. Once on the rim, you can see the Colorado River directly 3,000 below. From this point, you will also see and even hear the gorgeous Lava Falls Rapids. The area is so remote very few people ever set foot there and you will feel like civilization does not exist!
The Pink Jeeps will pick you up at your Las Vegas hotel early in the morning, then will take you on a fully narrated tour to the North Rim through prairie plains, passing by Mesquite and St. George Utah.
Grand Canyon Jeep Tours - West Rim by Pink Jeeps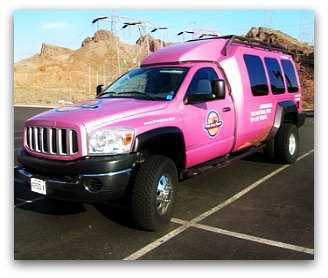 All Inclusive - From $249.99, Duration: 10 hours
This tour with Pink Jeeps from Las Vegas will take you to the Grand Canyon West Rim, which is home to the Hualapai tribe. The itinerary goes through the Hoover Dam bridge, and Joshua Tree forest.
Once on the West Rim, you can take an optional Skywalk which is not included in the tour price - pay separately $30 at the West Rim).
Grand Canyon Jeep Tours - South Rim by Pink Jeeps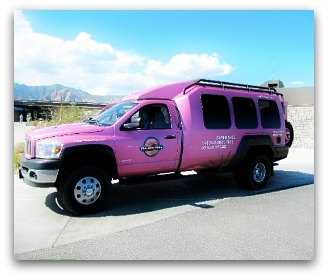 All Inclusive - From $249.99, duration - 13 hours
South Rim is so remote that there are very few Grand Canyon jeep tours that take you there. So here is your chance to explore the South Rim with Pink Jeeps! On the way to the South Rim you can admire the most scenic views of mountainous horizons and pine forests as the 4X4 jeep takes you along the historic Route 66 through, through the Mojave Desert. At the South Rim, you will have a scrumptious lunch, a fully narrated 3 hour tour, and possibility to take unforgettable pictures along the panoramic Rim Trail.
Tour of The West Rim and Hoover Dam by Pink Jeeps
From 304.00, duration - 10 hours
Pink Jeeps combined their two most popular tours into one! If you are pressed for time, you could see the top two Las Vegas attractions in one tour. These Grand Canyon jeeps tours include exploration of the West Rim and the Hoover Dam - all in one day!
You will get a briefing on the most important highlights of the two attractions - history of the construction of the Hoover Dam, geological history of the Grand Canyon. You will stop for unforgettable pictures and learn facts about living creatures of the region.
All Grand Canyon Tours
Please share this page with your friends!
Hottest Deals In Vegas
Explore The City
Do you have any questions or Comments?