Top Grand Canyon tours From Las Vegas
Grand Canyon tours from Las Vegas are a perfect pastime if you are in the city! The canyon leaves long-lasting impression on everyone who has ever visited it. The sun and the shadows of clouds running over the rocks create sophisticated palettes of red, brown, pink colors that leave everyone in awe. No description can not truly prepare you for the scale and grandeur of this vast valley. It sprawls as far as the eye can see!
My Top Picks
If you look into the Canyon from one of its cliffs or observation points, it's hard to believe that this enormous beauty was created by a tiny muddy river that runs down there. However, if you descend on the floor of the Grand Canyon, you will see that Colorado River is really fast and mighty - and it becomes easier to imagine how these fast rapids have made their way through the rocks. There are many ways to experience the magnificence of the Grand Canyon rocks and the Colorado River - rafting, hiking, ATV riding, taking a jeep or a bus tour, and even helicopter and boat rides. Most Grand Canyon tours depart from Las Vegas, Phoenix or Williams.
---
---
Grand Canyon tours From Las Vegas by Helicopter
The most incredible way to explore the Grand Canyon is, of course, taking a helicopter ride! Descending into the canyon by helicopter is included in many other tours - the trip usually lasts no longer than 10 minutes each way.
However, there are also extended multi-day tours from Las Vegas where you fly by helicopter to the West Rim of the Grand Canyon.
Grand Canyon tours From Las Vegas by Airplane
While there are many Grand Canyon tours by airplane to Grand Canyon West, the number of tours to the South Rim and North Rim is limited. If you are not sure which Rim is "better", here is a brief info. West is the territory of Hualapai Indians. The famous Skywalk bridge is located there. Because if its proximity to Las Vegas, West is the most popular tourist destination. South Rim and North Rim are located farther from Las Vegas. Both West and South Rim offer multiple "extra" activities: walking, sightseeing, helicopter rides. North Rim offers ATV rides, horseback rides, but no helicopter. However, they are all very beautiful!
Grand Canyon tours From Las Vegas - Rafting Tours
One of the most exciting ways to explore the Grand Canyon is rafting the Colorado River.
There are many different rafting tours in oar, paddle or motorized rafts. Tours last anywhere from 1 day to two weeks - for the most adventurous. Most rafting tours operate between April and October, but you can also find tours that work year round.
Grand Canyon tours From Las Vegas By Jeep
Grand Canyon tours by jeep is one of the most popular ways to get to the Grand Canyon - from there, you usually have multiple options such as taking a helicopter ride or a boat ride with Skywalk.
Most of the jeep tours we recommend here take place in luxury Pink Jeeps, which are comfortable air conditioned jeeps/SUV, specifically designed for sightseeing. But if you prefer an extreme off-road experience, you can find an excellent Hummer tour.
Grand Canyon tours From Las Vegas by Bus
Grand Canyon tours by bus are a great introduction for beginners. Not to mention that they are usually cheaper than other tours! Some of these tours include and optional Skywalk, which is a new observation point with the most breathtaking view of the Grand Canyon. Other tours include airplane or helicopter flight, or an optional boat. You can easily customize most tours to include or exclude the optional upgrades.
There are also plenty of multi-day bus tours that include many other popular destinations in the US plus the Grand Canyon experience.
Grand Canyon tours From Las Vegas by Train
Train tours are probably the most fun way to get to the Grand Canyon. Most of the traind depart from Williams, Arizona, so you will probably need to drive there by yourself or take a shuttle bus.
Some train trips are conducted in a restored, authentically looking train that reminds you of the 1950s. On the train, you will be entertained by country music and other shows!
Hiking The Grand Canyon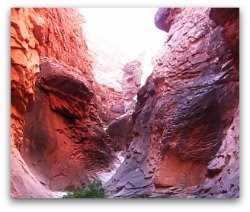 Hiking is another popular way to explore the canyon. Before taking a hiking tour, however, you need to get to the destination.
You could drive to the departure point by yourself. Often, however, hiking tours are part of multi-day tours that also include other parks or cities.
---
Vacation Packages
There are many extended vacation packages that include the Grand Canyon, and other parks and cities such as San Francisco, Los Angeles, Las Vegas, or the Yellowstone National Park.
There is no better way to explore the wonders of the world than taking guided multi-day Grand Canyon tours with one of the most trusted tour companies that we carefully researched and are happy to recommend.
---
Please share this page with your friends!
Hottest Deals In Vegas
Explore The City
Do you have any questions or Comments?