Best Hoover Dam Tours From Las Vegas
These best Hoover Dam tours from Las Vegas are probably the most popular day trips in the city. There are multiple ways to get to Hoover Dam - by bus, Pink Jeeps, helicopter, Hummer and even a biplane! Hoover Dam is the latest man-made construction miracle, located very close to the city, and it's super easy to get there. During your tours you can learn fascinating facts about construction of the Hoover Dam during the Great Depression, admire and take pictures of the penstock towers and Bypass Bridge, take a boat cruise on Lake Mead or ride a mountain bike around the dam. Read below reviews of the best Hoover Dam day trips from Vegas.
Ultimate Hoover Dam Tour From Las Vegas With Walk On Top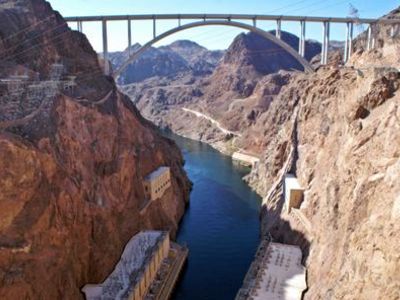 Book This Tour
Price from 79.99; Duration: 6 hours 30 minutes
Tour guides conducting this tour know their facts and figures by heart, and they are willing to share them with anyone who will listen! If you are looking for a fun, entertaining and memorable history lesson - this is your tour!
This extended tour is different from other Hoover Dam tours from Las Vegas primarily because it's really long, thorough and this is one and only tour that offers a guided 45 minutes walk on top of Hoover Dam. It also includes free lunch, a tour of the Visitor Center, a visit to a Chocolate Factory, and a Hoover Dam Engineering Tour - a Power Plant Tour organized by the Government, where you can get a close look of the generators.
What's Hot
What's Hot
What's Hot