Las Vegas Activities, Adrenaline And Extreme Adventures
These Las Vegas activities, extreme and adrenaline tours will make any thrill seeker happy! If "regular" sightseeing tours are not for you, if adrenaline from casinos is not enough anymore, or you like to be active - read on to learn what thrill adventures are available in the city and around!
I am always on the lookout for fun things to do in the city, so keep an eye on this page as I discover more and more extreme and adrenaline tours and other things to do in Las Vegas! Please note that some of the activities on this page are "extreme", while others are just "active" - we just make sure that they are fun, interesting and unusual!
Riding ATV, Dirt Bikes, RZR And Mini Baja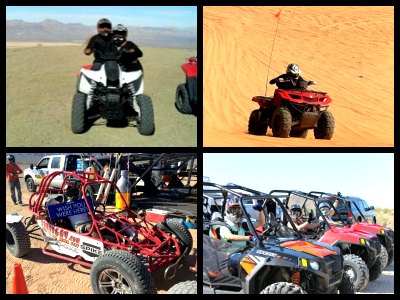 There are plenty of extreme and adrenaline tours among Las Vegas activities that involve riding ATVs, dirt bikes, RZR and Desert Buggies. The rides vary in difficulty - some RZRs are appropriate starting from age 16 and don't require any preparation. There are ATV tours that need you to be experienced, and for riding dirt bikes you need of course to be a seasoned biker! The rides usually take place in picturesque places - Hidden Valley, Mojave Desert, Valley of Fire.
More About Riding ATV, dirt Bikes, RZR And Mini Baja
---
Airplane Tours, Fight Pilot Rides And Sky Combat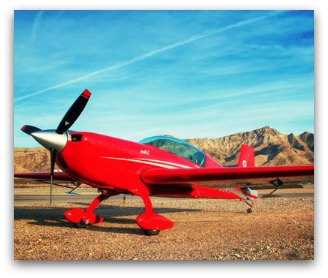 Are you looking for adrenaline rush? Fly a real Extra 330LC combat plane - one of the most extreme and adrenaline Las Vegas activities! You can control the plane and do spins and aerobatic twists! You won't be alone - a professional pilot will give you training session. If that is too extreme for you, you could try "Ace Simulator" - the closest experience to flying a plane, and see if you can take it further from there!
More About Airplane Tours, Gun and Air Combat Experience
---
Exotic And Race Cars Driving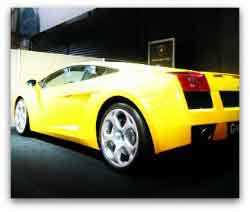 Riding an exotic or a race car is every man's dream! (Well, I am a woman, and I can definitely say that it's one of my preferred extreme Las Vegas activities, too!) In Vegas, baby, all dreams come true! You can drive some of the hottest newest exotic cars here including Lamborghinis, Ferraris, Jaguars and whatnot! What's even better - you could take a tour to Hoover Dam or to the Redo Rock Canyon - and change the cars along the ride!
More About Exotic And Race Cars Driving
---
Extreme Las Vegas Activities - Tandem Skydiving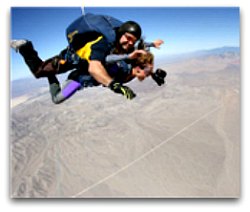 From $203.99; Duration: 5 hours
Another extreme example of Las Vegas activities - Tandem Skydiving!
If you enjoy the feeling of a free fall and adrenaline rush - you shouldn't miss the opportunity to jump off an airplane from about two miles above the ground. You will experience a 45 to 60 seconds free fall, before your parachute opens and you hover over the spectacular views of the Strip, Lake Mead, Hoover Dam and everything the Mojave Desert has to offer! You won't be alone in your jump - an instructor will be safely attached to your back along with a parachute (ha! ha!).
Book Tandem Skydiving in Las Vegas
---
Indoor Skydiving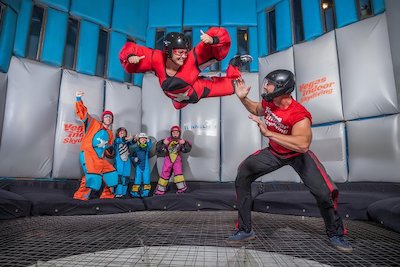 From 85.00 ; Duration: 1 hour
Las Vegas Indoor Skydiving is among our favorite thrill adventures in the city! If you are not ready for a real skydiving with a parachute, this might be just for you - you can experience the feeling of a free fall in a closed room, absolutely danger-free! They give you complete safety instructions, special outfit including goggles and earplugs - and off you go flying over wind coming from the floor at the speed of 120 miles (193 km) per hour!
Book Las Vegas Indoor Skydiving
---
Hot Air Balloon Riding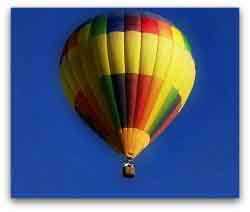 From $206.00; Duration: 3 hours 30 minutes
Taking hot air balloon rides is among the most thrilling extreme Las Vegas activities - and it's something you will never forget! The views of the city from the sky are outstanding. This is not just a ride - you will be present as balloon professionals prepare it for the ride - inflate it. The actual ride is about 1 hour long, but could vary depending on winds and availability of places to land (don't worry, you won't be landing your balloon - it's done by a professional pilot!)
Book Hot Air Balloon Ride
---
Zip Line Tour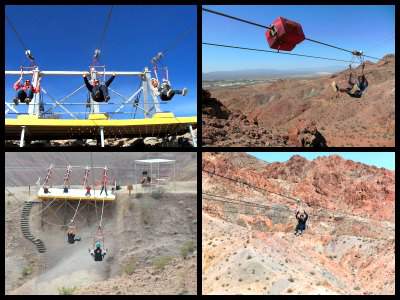 From $147.00 ; Duration: 4 hours
Las Vegas Zip Line tour, or, officially, Flightlinez tour is among the most adrenaline Las Vegas activities! It's not for you if you are afraid of heights or, speeds, for that matter! The zip lines (there are 4 of them) are located in Boulder City, on the Red Mountain. Before you slide down the zip line at the speed of 50 miles (80 km) per hour, you will need to hike up there for about 15 minutes.
Book Zip Line Tour
---
Fun Las Vegas Activities - Dig This!
From $248.99 ; Duration: Various
All reviews about Dig It adventure in Las Vegas are extremely positive. The premise is pretty simple: you get to drive an bulldozer or an excavator machine on a "construction site". You could actually drive both if you select the "Mega" option. You get to dig holes or stack tires, or even play "basketball" with big tires! This may sound simple, but many people rate Dig It as No. 1 thing to do in Vegas!
Book Dig This - Fun Las Vegas Activities
Lake Mead - Kayak And Canoe Rentals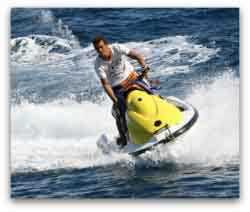 From $35 to $206; Duration: Various
There are plenty of adrenaline and extreme Las Vegas activities at the Lake Mead - if you like water fun! Other than taking boat cruises and paddleboat tours, you could actually rent marine equipment such as standup paddle boats, jet ski, kayaks, canoes and enjoy a full day on Lake Mead, explore the Black Canyon or ride a jet ski!
Rent Kayak Or Canoe at Lake Mead
3-Wheel Scooter City Tours - Downtown and Red Rock Canyon
From $ 249.99; Duration: 4 hours 30 minutes
Want more fun Las Vegas activities? Check out this fun tour to the Red Rock Canyon in little 3-wheel scooters with Scoot City Tours! While it's not really "extreme", we think this it's really fun and cool way to tour around the Red Rock Canyon or Downtown Las Vegas as opposed to trips by bus. We think you will remember riding a scooter much longer! You could also ride this fun scooters in Downtown.
Book Red Rock Canyon 3 Wheel Scooter Tour
Book Las Vegas Strip And Downtown 3 Wheel Scooter Tour
---
Off Road 4WD Activities
From $495.00 (2 hours) to $2995.00 (2 days) ; Duration: 2 hours to 2 days
Here are a few more extreme Las Vegas activities for you - off road adventures with VORE! VORE stands for "Vegas Off Road Experience" and they specialize in extreme off road race truck adventures - ideal if you are looking for extreme things to do! You could either ride with an experienced race car driver, or learn yourself how to operate a race truck and do all the jumps, swerves, spins like a pro!
book Las Vegas Off Road 4 WD Activities
---
Las Vegas Gun Shooting Experience
From $159.99; Duration: Various
Need more extreme Las Vegas activities? Try gun shooting experience! If you ever dreamed of learning how to shoot, this is a perfect chance! Their friendly stuff will help you choose firearm (and they have about 60 firearms to choose from, including automated machine guns and rifles). You will choose targets, and of course will learn how to handle a gun!
Book Las Vegas Gun Shooting Experience
---
Canyoning
From $139.00; Duration: 6 hours
Here is a fun adventure for you - Canyoning (Or Canyoneering)! Canyoning is perfect for outdoor Las Vegas activities for the whole family - even 6 year olds can do that (We don't think it's suitable for kids younger than that). If you don't know - canyoning is a fun sport that involves exploring canyons using various methods such as rock climbing, swimming, jumping. With the professional instructors you will easily learn to operate the necessary equipment. This is the ideal way to explore the Black Canyon or the Valley of Fire from inside!
---
Sky Jumping From Stratosphere Hotel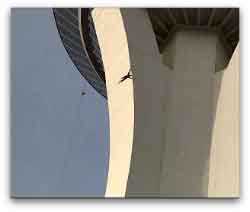 From $109.99
You are perhaps wondering what's the most extreme and adrenaline among all outdoor Las Vegas activities? Well look at the picture on the left - this is a person jumping from the roof of the Stratosphere Hotel! Sky Jumping from the Stratosphere is, hands down, the most extreme and thrilling thing you could do in the Sin City! We haven't done that, but according to testimonials the adrenaline rush can't be compared to anything else - after all, you would be falling down some 108 floors!
More About Sky Jumping From Stratosphere Hotel
---
Las Vegas Horseback Riding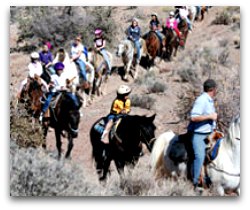 From $ 119.99 ; Duration: 5 to 7 hours
Horseback riding is also among the most fun Las Vegas activities. There are plenty of places to ride a horse - in the Red Rock Canyon, in the Grand Canyon, in the Mojave Desert. Along with the rides, you could explore real Wild West ranches, enjoy real cowboy shows. The views along the trails are simply breathtaking!
Book Morning Horseback Riding With Breakfast
Book Old Spanish Trail Horseback Riding With Lunch
book Sunset Horseback Riding With BBD Dinner
Book Wester Ranch horseback Riding at Grand Canyon
---
Please share this page with your friends!
Hottest Deals In Vegas
Explore The City
Do you have any questions or Comments?