Las Vegas Destination Weddings - Where To Get Married Outside of Vegas
These unique Las Vegas destination weddings offer an experience that will stay with you for ever!
More Weddings
There are many beautiful outdoor places that are used as popular wedding venues around Las Vegas.
You can tie the knot at the Grand Canyon, Valley of Fire, Red Rock Canyon, Mount Charleson, Nelson Ghost Town, and so many more.
Explore these unique destinations around Las Vegas below!
Grand Canyon Helicopter Weddings
Book Grand Canyon Helicopter wedding
Grand Canyon Helicopter Weddings allow you to celebrate your special day at one of the most beautiful natural wonders in the world- the Grand Canyon. Step aboard a luxury helicopter and fly high over Las Vegas, Hoover Dam and Lake Mead before landing on a beautiful bluff in Grand Canyon. This type of Las Vegas destination weddings is perfect for nature lovers because it will provide them a breathtaking location for wedding photographs and a wedding they'll never forget. Couples get to say "I do" in this majestic setting either in day time or in the evening while they enjoy a beautiful sunset over Grand Canyon.
What's Hot
Valley of Fire Weddings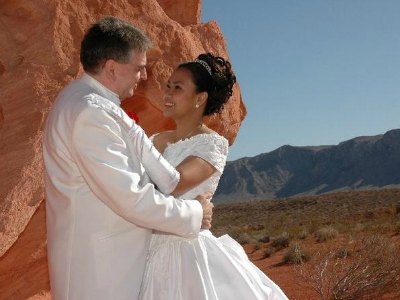 The Valley of Fire is named so because of its beautiful red sandstone cliffs formed millions of years ago. Today, this location is one of the most popular Las Vegas destination weddings for couples because of the fiery red rocks in the valley that proves to be a beautiful setting to get married near Las Vegas. The Valley of Fire is particularly popular with couples because it offers unbelievable views and an amazing backdrop for wedding photographs at any time of the day. Plan an early morning wedding to watch the sun rising over the valley or exchange your vows with the sunset in the background.
Red Rock Canyon Weddings
Couples looking for a unique way to celebrate their wedding will find the Red Rock Canyon a spectacular place to get married. The site offers a beautiful panoramic backdrop of impressive red rocks and a desert landscape that is spectacular for photography. Located not far from Las Vegas, this site is close enough to the city but still manages to look remote. The Red Rock Canyon has become a very popular venue for Las Vegas destination weddings. Most wedding packages include limousine pick up and drop off service from the hotel along with everything needed for a memorable wedding.
Lake Las Vegas and Gondola Wedding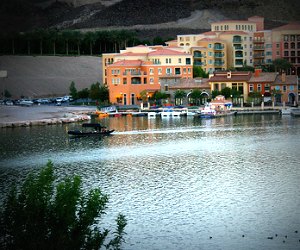 Photo by
Matthew Hoelscher
Delectable Dessert Gondola Ride
Exquisite gondola ride for two
Located about t 17 miles from the Strip, tranquil Lake Las Vegas offers a gorgeous Italian-style scenery for Las Vegas destination weddings. All resorts located at Lake Las Vegas offer outdoor wedding packages with like front views. The Westin offers gorgeous wedding venues Andalusian Gardens and Lotus Court; Aston Montelago and Hilton also organize gorgeous lakeside traditional wedding ceremonies. For even more memorable wedding ceremony, you can take a gondola ride on Lake Las Vegas, or have a wedding right there on the gondola!
Nelson Ghost Town
This photo of
Scenic Las Vegas Weddings Chapel
is courtesy of TripAdvisor
Book wedding at Nelson Ghost Town
Located not too far from Las Vegas, Nelson Ghost Town is a dream destination for photographers because of its deserted landscape, old barns, rusted vehicles, old fashion saloon and the crashed plane left over from a movie shoot. While it is an unconventional location for weddings, it is still a very popular option for couples that want a very unique and fun Las Vegas destination wedding. The location transports couples back hundreds of years to the time of miners and prospectors that came to find gold. Indoors and outdoors, Nelson Ghost Town offers many cool wedding photograph opportunities and with every little detail taken care of, it will be a place where couples can truly enjoy the ceremony.
Mount Charleston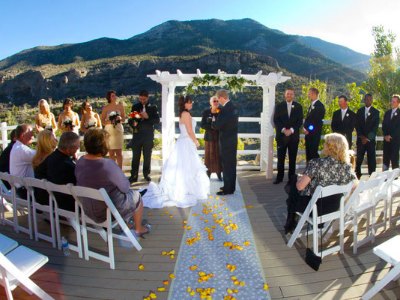 The Resort on Mount Charleston offers beautiful outdoor Las Vegas destination weddings for couples looking for a serene landscape. Located only 30 minutes away from Downtown Vegas, couples can tie the knot in a gorgeous mountain retreat. The resort offers the services of wedding specialists so you can enjoy the day instead of taking care of small details. Couples can choose from an intimate wedding with up to 5 guests or go with an elaborate, classic wedding with as many as 75 guests. Suites and guest rooms are also available on site so the bride and groom can enjoy a few blissful days enjoying each other's company after the wedding.
Lake Mead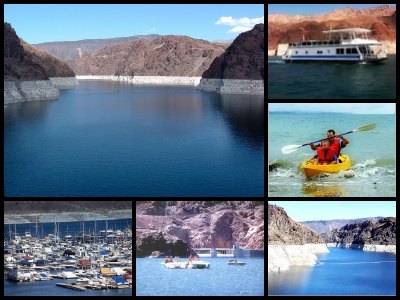 Lake Mead Cruises offers couples full service packages that include everything you would need for a memorable Las Vegas destination wedding. From intimate ceremonies to large receptions, this location offers a lot of options to choose from. The Landing is a large wedding venue with a patio overlooking Lake Mead and the mountains. It can accommodate as many as 500 guests. For a private charter, The Desert Princess is a charming paddle-wheeler, ideal for 200 guests. With enclosed as well as open decks, this paddle-wheeler is great for couples who want to tie the knot out on the water on an open deck.
What's Hot
Do you have any questions or Comments?