Las Vegas Musicals and Broadway Shows 2013
In a city like Las Vegas musicals may be rare, but they do exist! Many of them have a special "Sin City" flavor - that is to say, they are light and funny. However, a few serious Broadway productions find their way to Las Vegas as well. Check below the Broadway shows and musicals playing in Vegas in 2013.
Broadway Musicals Playing in Las Vegas in 2013
Priscilla - Queen of the Desert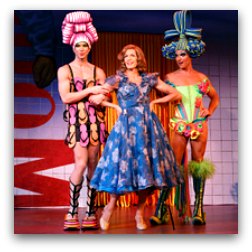 Venue: The Venetian
Date & Time: Every day from June 18 to August 18, 2013
Meet Priscilla - Queen of the Desert - the smash hit Australian musical, that made it to the Broadway and won Tony Award® in 2011 for Best Costume Design. The popular show joins the ranks of Las Vegas musicals for a limited 9 weeks engagement only!
The musical is based on book by Stephan Elliott and Allan Scott and an Australian movie The Adventures of Priscilla. It incorporates many popular songs such as I Will Survive, Girls Just Wanna Have Fun, Material Girl and others.
Synopsis: Priscilla - Queen of the Desert is an extravagant adventure of 2 extravagant drag queens and a transsexual travelling through Australia to a remote town, where one of them has a son, born during his "straight" days. The trio are virtuosos of the art of getting into troubles during their journey, which results into multiple hilarious situations.
Back to top
Las Vegas Musicals - Rock Of Ages
Venue: Rock of Ages Theater at The Venetian
Date & Time: Every day, see schedule
Tags: Musical, Concerts, Best Shows
Discount Tickets
Review: Rock of Ages is a very funny, feel-good Broadway musical with a never-aging story of Sherrie, a "province girl" who dreams to conquer a Los Angeles with her singing talent. Along the way, she meets a boy named Drew, with a passion and ambitions of his own. Whether they fulfill their ambitions or find love is for you to discover:-).The show employs classic rock music from the 80s that evokes nostalgia (provided you were there in the 80s!). Rock of Ages was nominated for five Tony Awards including Best Musical.
Back to top
Las Vegas Musicals And Broadway Shows - Million Dollar Quartet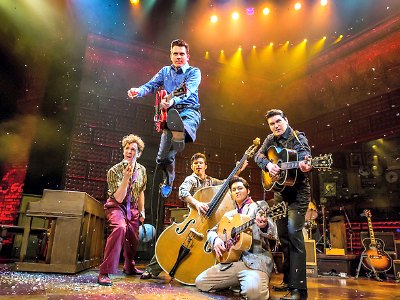 Dates & Time: Almost daily at 7:00 pm, select days also at 9:30 pm
Venue: Harrah's Showroom - Harrah's Hotel
Discount Tickets
Review: Finally the Winning Broadway musical found its new home in Vegas! If you don't know the story - this show is about the night of December 4, 1956, when four famous artists - Elvis Presley, Johnny Cash, Jerry Lee Lewis, and Carl Perkins, met at Sun Records studio for a recording session. The memorable night of music-making and fun is brought to life by talented actors (I heard that the actor playing Jerry Lee Lewis is really good!) who sing all favorite rock 'n' roll songs. If you like musicals and rock 'n' roll from the 1950s, this show is for you! The musical won Tony award for Best Performance by a Featured Actor in a Musical by actor Levi Kreis, and was nominated for Best Musical and Best Book of a Musical.
Back to top
Las Vegas Musicals And Broadway Shows 2013 - Jersey Boys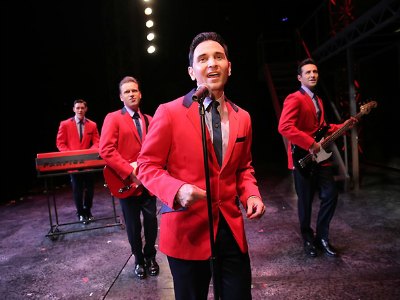 Dates & Time: Saturday-Thursday at 4 pm
Venue: Le Theatre Des Arts - Paris Hotel
Age restrictions: 5+
Discount Tickets
Synopsis: Jersey Boys is one of the most popular permanent Las Vegas musicals! This documentary-style musical tells the story of how the world-renown American rock and pop band The Four Seasons formed and rose to fame. During the show you will hear the smash hit songs from the 1960s, performed by the legendary band. The show is actually so good that the audience goes wild!
Back to top
Evil Dead The Musical 4D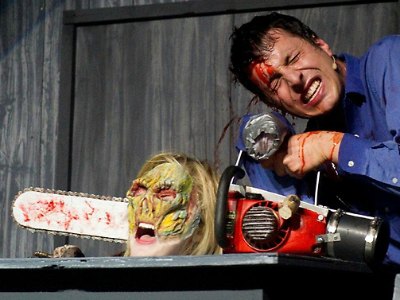 Venue: V Theater Miracle Mile Planet Hollywood
Date & Time: Friday - 10:00 pm, Saturday - 11:30 pm
Discount Tickets
Review: And here is a musical for horror film fans - a true 4D experience of blood, slaughter and walking demons! Just in case you are wondering - it's 4D because the audience experiences it all - especially the blood flying all over. Don't worry - you may buy ponchos right before the entrance. The show is actually one of the funniest Las Vegas musicals - it's a satire of the horror movies - especially Evil Dead and Evil Dead 2. The plot is set in a cabin in the woods where students release an evil spirit.
Back to top
Las Vegas Musicals and Broadway Shows - Broadway Celebration
Dates & Time: Tuesday - Sunday at 7:00 pm
Venue: New York NY Broadway Theatre
Age restrictions: 5+
Discount Tickets
Broadway Celebration is a new show playing at the Broadway Theatre in New York Hotel & Casino. A young cast of actors performs live on stage most prominent songs from Broadway shows - Les Misèrables, Chicago, Cats and others. Can I recommend it? Perhaps it wouldn't be my first choice of a show in Vegas, but if you love Broadway, feel nostalgic and want to hear your favorite songs (my favorite being I Dreamed A Dream)- this is one of Las Vegas musicals that nails it. This show can also be a good introduction for your kids to a real Broadway show.
Back to Top
Las Vegas Musicals and Broadway Shows - Menopause The Musical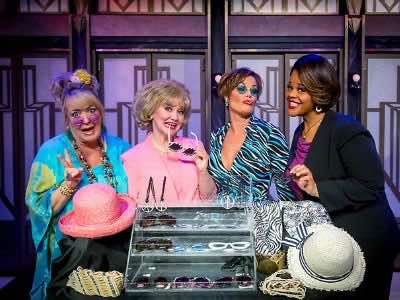 Dates & Time: Almost every day at 5:30 pm or 8:00 pm
Venue: Atrium Showroom - Luxor Hotel
Age restrictions: 18+
Find Menopause on Discount Show Tickets
Synopsis: Menopause The Musical is a hilarious celebration of women going through The Change. The story is about 4 women who meet in a department store - each of them is experiencing hot flashes, wrinkles, mood swings and everything else that comes with the "wonderful journey" that is a menopause. The show raises awareness about the issue all the while lifting up the mood of the women in the audience who experience the change as they realize that they are not alone in this journey. Although we were sceptical at first about this play, it turned out to be one of the best current Las Vegas musicals - highly recommended for every woman over 45 and especially for their husbands!
Back to top
---
List of Las Vegas Shows 2013
Please share this page with your friends!
Hottest Deals In Vegas
Explore The City
Do you have any questions or Comments?