Las Vegas RV Parks And Resorts
Which are the best Las Vegas RV parks and resorts? Whether you are just passing by or want to stay for a few weeks or months in the Sin City - there are plenty of choices for RV enthusiasts!
Below, you will find a list of the best RV parks in Vegas along with a helpful map and my reviews, summing up all the important information. All this information I learned from real RVers who stayed at these resorts. If I haven't learned anything, I left the review blank - please feel free to add your own!
What's Hot
Las Vegas RV Parks Map
Oasis Las Vegas RV Resort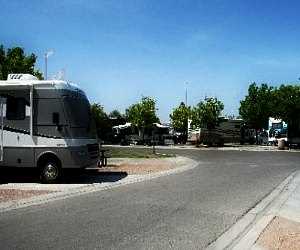 Address: 2711 W. Windmill Lane
Rates: Daily: $42-$90; Monthly :$525-$944
Sites: 936
Review: Although a bit on the expensive end of the price range, Oasis is one of the nicest and largest Las Vegas RV parks. It's not your regular "parking lot". Although Oasis is located pretty close to the Strip, it offers plenty to do inside the park. There is a Jacuzzi and two swimming pools on site - one adult and one family (although there are complaints about kids being present in the adult pool). There is also an 18 hole golf course, and many bike lanes to enjoy a ride.
Oasis offers security on site, a good restaurant, private washrooms. Most common complaint is that WiFi is extra and is not that great, but if you are able to live without it, you can't ask for a more luxurious RV resort. The park does have some trees, although shade lovers might be in for a disappointment.
Circusland RV Park
Address: 2880 Las Vegas Boulevard South
Rates: $50 +
Sites: 368
Review: Nested between Circus Circus Hotel and Hilton Grand Vacations Suites, Circusland (also known as KOA Las Vegas ) boasts the most prime location on the Strip among all Las Vegas RV parks. This makes it perfect for RVers who want to explore the city! I'd also recommend this park to families with children. Circus Circus hotel is packed with things to do for kids - from Midway games, to the huge attractions park Adventuredome, to pools.
It's worth noting that the park also has a great playground for dogs - so it's perfect if you want to bring your pets along to the Sin City.
The park features clean washrooms, laundry facilities (although more laundry machines would be welcome). There is no cable TV but WiFi is pretty good.
The downside is that Circusland does not have many trees, but there are plenty of other activities in Vegas other than sitting around in a shade. If you prefer shade, they do have prime spots with grass and trees for some extra pay.
Sam's Town RV Park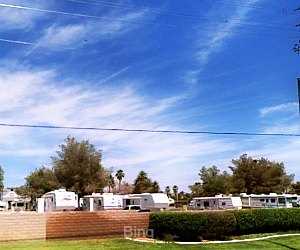 Address: 5225 Boulder Highway, Las Vegas, NV 89122
Rates: $22-$33
Sites: 287
Review: Less luxurious than the Las Vegas RV parks reviewed above (Oasis and Circusland, Sam's Town is a really cheap option to camp, with prices starting as low as $22 per day!
There is much to be desired in terms of facilities and service. But if you can ignore minor inconveniences such as slow WiFi and a smallish swimming pool, Sam's Town RV Park is a pretty good option for RVers on a tight budget. There is a free reliable shuttle service operated by the Sam's Town Hotel that can get you to downtown or to the Strip. There are also plenty of attractions inside the Sam's Town Hotel - including movie theater, bowling and Mystic Falls Park. If that's not enough - there is Eastside Cannery Casino & Hotel nearby for some extra gambling.
Hitchin' Post RV Park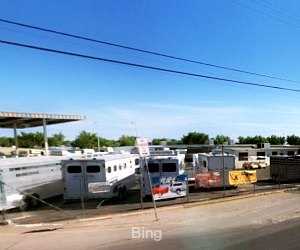 Address: 3640 Las Vegas Boulevard North
Rates: From Daily: $29.70; Monthly: $430
Sites: 196
Review: Despite it's location close to the Nellis Airforce Base, Hitchin' Post is a quiet Las Vegas RV park. Many reviewers commented on the staff being very nice and attentive. The security, washrooms and laundry facilities at the park are impeccable.
As for amenities, the park offers a nice clean pool, a saloon with a patio, golf putting greens and a pretty good WiFi. Besides, there is a really large city park right across the street with a playground for kids and basketball courts for adults.
Arizona Charlie's RV Park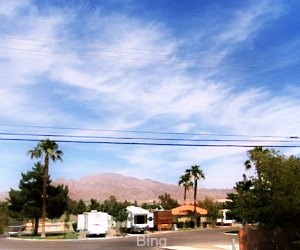 Address: 4445 Boulder Highway
Rates: From $32
Sites: 239
Review: Another option for budget-conscious RVers to camp around Vegas could be Arizona Charlie's RV Park. The park is located about 10 minutes drive or 20 minutes ride by bus from both downtown and the Strip. Reviewers say that this is one of the nicest and well maintained Las Vegas RV parks. Arizona Charlie's features beautiful landscape, clean bathrooms, nice pools, and most importantly it has a pretty good WiFi.
If you don't like the proximity of large casinos, this is a perfect place for a quiet camping. RVers are free to use the hotel's facilities, and if you want to venture downtown, there is a bus stop nearby.
Arizona Charlie's RV Park Reviews
Duck Creek RV Park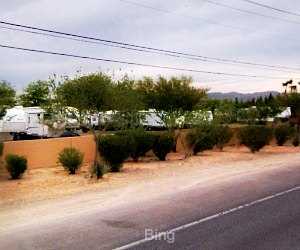 Address: 6635 Boulder Highway
Rates: Daily: $27.00, Weekly: $160.00
Sites: 209
Review: One of the nicest Las Vegas RV parks with friendly staff, Duck Creek offers its guests plenty of recreational activities. In addition to cookouts, ping pong and swimming, the park offers a discount on various Las Vegas tours. The washrooms and showers are in great condition, WiFi is pretty good. Please note that you may experience some noise from the Mcarran airport at Duck Creek, but not too extreme.
Las Vegas RV Resort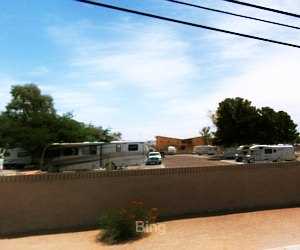 Address: 3890 South Nellis Boulevard Map
Rates: $29.00
Sites: 401
Review: One of the largest Las Vegas RV parks, RV Resort is a very secure and well maintained park. The park offers recreational facilities such as pool and spa. There is also a fitness center and a club house with various games on site.
Do you have any questions or Comments?