Vinnie Favorito: WINGIN' IT Las Vegas
Vinnie Favorito: WINGIN' IT Las Vegas is a very hilarious take on the audience.

All throughout this one hour show Vinnie Favorito is ruthless and relentless when quizzing the guests about where they are from and where they might work. Nobody is immune to the funny quips that sprinkle from Favorito's mouth. The beauty of Favorito is that each night the show can move several directions depending on the audience. People from all walks of life are roasted to perfection by Favorito and his stereo-typical jokes that fit the person's life to a tee.
Part of what makes WINGIN' IT with Favorito so much funnier is the expressions that appear on his face. He can look perplexed or excited or Favorito's attitude can shift to cynical. When he throws out his I don't care attitude toward a patron then the fun is just heating up with another fast punchline delivered that hits the nail squarely on the head. Favorito examines his prey rapidly as his mind conjures up the perfect comical phrase or insult that will set the audience into a laughing frenzy. There is nothing politically correct about Favorito and he does not shy away from some controversial issues whether it might be about race, politics or sexually charged. Favorito's has a true gift of taking a small sentence of someone's life and creating something that is appealing or appalling; all in the name of comedy.
The Tommy Wind Theater is located near the MGM Grand as well as the Monte Carlo Hotel and Casino. This grand theater has many entry points to and from the stage which helps entertainers like Favorito to interact more freely with the audience. The intimate seating plays right into the hands of Favorito as he moves from one guest to another while creating a wonderfully funny stage show. The state-of-the-art sound system filters the joke filled audio to all patrons in the theater and the sightlines are great from every seat.
Vinnie Favorito: WINGIN' IT is the ideal show when you are looking for an outside comical opinion about life in general. His stage presence is great and Favorito brings the house down with his over the top look at other people's lives. An added bonus with Favorito is patrons don't have to break the bank for a nice night of laughs in Sin City.
About the Cast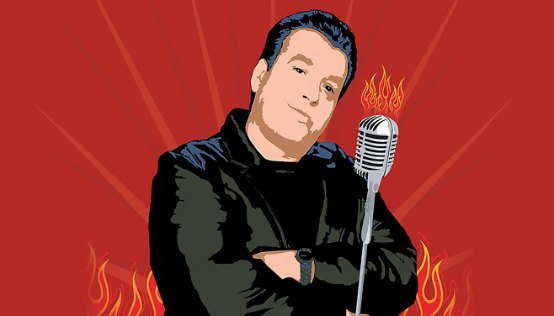 Growing up as an inner city child in Boston, Favorito quickly learned that being quick witted was always to his advantage. Vinnie Favorito has been honing his comical skills since 1985 when he was working the comedy club scene in New York City. Moving to California in the 1990s helped Favorito's career take a turn upward and he soon found himself headlining in such famous venues as the Comedy Store and the Improv in Los Angeles. Favorito brought his comedy show to Las Vegas over eight years ago and he is proud to have a new home at the Tommy Wind Theater.
Ticket information
Vinnie Favorito: is performing at the Tommy Wind Theater that is located near the MGM Grand and the Monte Carlo Hotel and Casino. The theater is intimate with a variety of seating from chairs to booths and each has a great sight view of the stage. The Vinnie Favorito: WINGIN' IT Las Vegas show is an adult only show and patrons must 21 years of age or older. The event runs Thursday through Saturday at 10:00 P.M. Tickets are on sale now with a selection of balcony and mezzanine tables to a VIP floor table.
Do you have any questions or Comments?