Banachek's Mind Games Las Vegas Review
Banachek's Mind Games Las Vegas show playing at The Strat brings some unreal actions right in front of your eyes that will blow the top off your head.
Part mentalist and part magician, Banachek brings all of his mighty mind powers to the stage during his new 75-minute Las Vegas show. When the action is over, you will still be wondering how in the world he does what he does with his mind.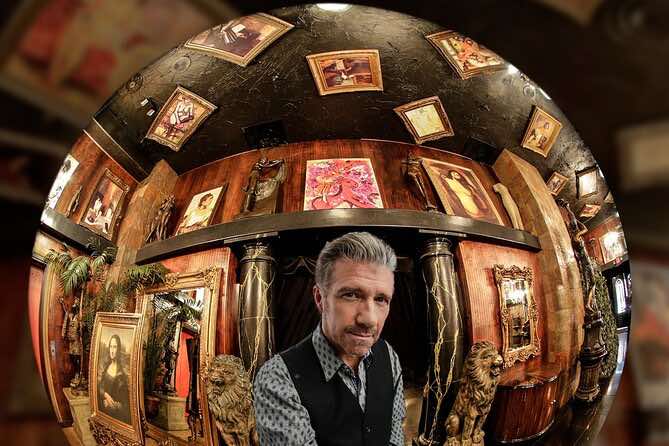 Banachek's Mind Games Las Vegas show is truly something that bewilders the mind. He is the most prominent mentalist in the world and has been featured on hundreds of television shows including Penn & Teller where he created the famous bullet catch illusion. Banacheck mixes mysticism and his mental powers to provide the audience with a once-in-a-lifetime experience.
During the show, you will be amazed when he bends a fork with his powerful mental ability and when Banachek teaches a child from the crowd how to bend a fork on stage your mouth just drops to the floor. The production is clever with many illusions as he even calls out the serial number off a random bill out of someone's purse or wallet from a member of the audience. But that is not all Banachek does during this innovative and high-powered production and you will be scratching your head when he refers to someone in the crowd by their initials and then tells them about their most cherished celebrity. The production is masterful with Banachek in total control throughout the show and now we know why Adam Steck of SPI Entertainment was so excited to have Banachek' show at the revamped Strat Theater.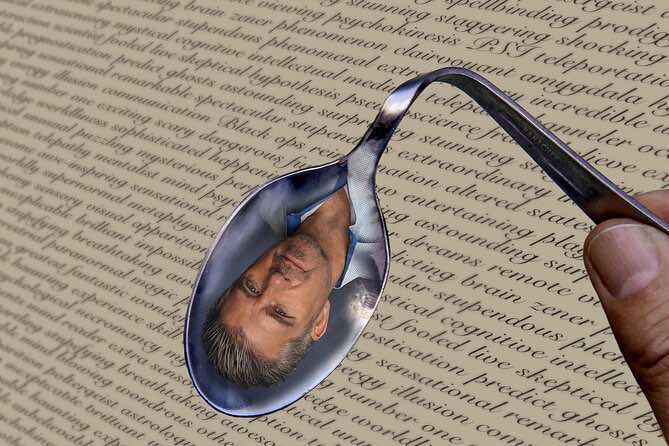 Other interesting portions of Banachek's Mind Games Las Vegas show is when he is blindfolded and he calls for someone from the crowd to hold something above his head and Banachek determines what the object is that their holding over his head. Sure, some people might think this is all staged with props in place but his actions and his mind powers makes him the best psychic in the world. When he asks an audience member to open a book to any page and pick a word, you think to yourself there is no possible way he knows which word. But to the crowd's astonishment he belts out the word with no problem or hesitation.
  The most memorable moment of the show is Banachek's signature event where he plays Russian Roulette by having a member of audience choose which knife to stab him with. Yes, you might think he is crazy or pays a lot of money to the crowd but Banachek is truly playing mind games with people and making them believers.
Watching from the crowd it's hard to believe that his mind is so powerful and you know that his tricks are really just illusions but when you actually see them happen live, Banachek's Mind Games Las Vegas show leaves you wondering about his special powers. In the end, Banachek's Mind Games is a must see event when you are visiting Sin City.
Banachek's Mind Games Las Vegas Venue
Banachek's Mind Games is performing at the 620 seat Strat Theater. The theater has comfortable seating and good sightlines from almost every seat, booth, or table in the theater. The best seats are located in the VIP Booths which are directly behind the VIP table seating in front of the stage. The VIP Booth seats offer a somewhat elevated view of the stage which allows for great sightlines throughout the whole show. VIP tables in front of the stage also provide great sightlines with V23-V25 and V34-V36 being the best selections. Preferred seating includes booths, tables, and individual seats which are elevated in the amphitheater style venue. Tables P52-P58 offer the best location and better sightlines of the stage. Rear seating includes booths and individual seats. Individual seating between D112-D142 offer the best sightlines but at a distance from the stage.
Banachek's Mind Games Las Vegas Cast
Banachek was born in England and went to school in South Africa and the United States. He first became interested in psychic powers at 18 years of age when he signed up for scientific study called Project Alpha at Washington University. Banachek has performed on more than 50 television shows from Penn & Teller to Today to CNN Live and has helped produce around 100 shows for Criss Angel. He has won hundreds of awards including the prestigious Psychic Entertainers Creativity Award and the coveted Mentalist of the Year Award (aka The Merlin Award) by the International Magicians Society.   Banachek's Mind Games is produced by Adam Steck of SPI Entertainment who recently took over the responsibilities at the Strat Theater.
Banachek's Mind Games Las Vegas Tickets
Banachek's Mind Games Las Vegas show is playing at the Strat Theater within the Strat Hotel, Casino, and SkyPod. The 75-minute production runs Wednesday thru Monday beginning at 4:00p.m. Tickets are available for Rear Seating at $29.00, Preferred Seating at $39.00, VIP Tables at $49.00, and VIP Booths at $59.00 (taxes and fees excluded). Tickets may be purchased for guests 5 years of age or older.
Get Your Free Las Vegas Events Calendar!
Best of Vegas