Christmas Events in Las Vegas 2015
Christmas events in Las Vegas begins when you step out of your hotel and visit some of the more interesting Christmas attractions that are happening every year. Sin City changes from a desert oasis to a warm wintery wonderland that is filled with exciting holiday cheer and includes more neon lights then even Clark Griswold could imagine. The warm atmosphere of Las Vegas during the holiday months will leave lasting memories for years to come for you and your loved ones. From fascinating attractions like the Bellagio Conservatory and Botanical Gardens to the Mystical Forest Park to the Las Vegas 2015 Santa Claus Race for charity, the Sin City is the only place to spend Christmas and the Holiday Season.
Piff The Magic Dragon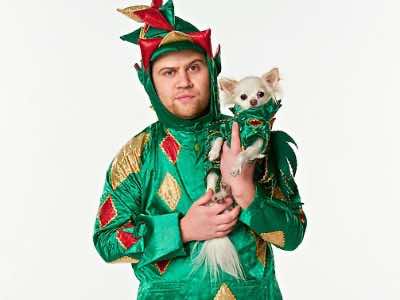 Dates: Now
The hilarious and magical duo of Piff the Magic Dragon and Mr. Piffles the performing Chihuahua has created a wonderful Las Vegas Christmas show called Piff's Piffmas Piff-Tacular. This special 75 minute holiday show features magic and lots of cheer from this acclaimed tandem of America's Got Talent. Piff's Piffmas Piff-Tacular will start at 8:00 P.M. during the holidays from December 21 through December 30, 2015 at Bugsy's Showroom at the Flamingo Hotel and Casino. Patrons must be thirteen years of age or older with ticket prices ranging from general admission at $52.65 to VIP seating at $62.95 to Circle of Friends seating at $72.95.
What's Hot
Ronnie Spector's Best Christmas Party Ever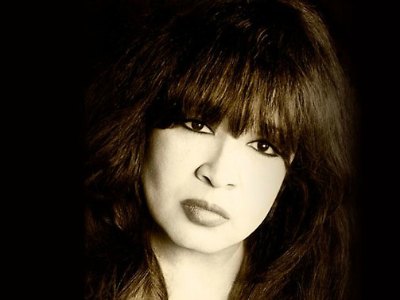 Dates: December 19-20
If you are coming over during the Holiday Season then one option for entertainment is the Ronnie Spector Christmas Show in Las Vegas on the 19th and 20th of December 2015. Formerly of the famed Ronettes during the 1960s, Ronnie Spector has that classic Las Vegas voice, which is highlighted in her 90-minute concert. With her release of "Best Christmas Ever" in 2010 which includes five original Christmas songs, Ronnie has been delighting the crowds in Sin City during the Holiday Season. Her two night engagement at the Orleans Showroom located in the Orleans Hotel and Casino will truly be a holiday treat for the family. Tickets are $33.00 and participants must be four years of age or older.
The Nutcracker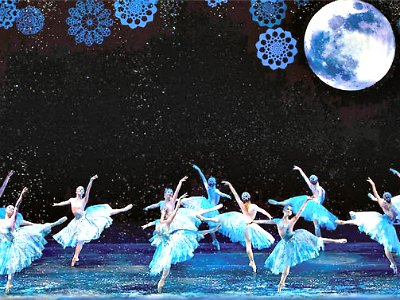 Dates: December 12-13, 18-20
The Nutcracker is the classic holiday performance for families and individuals to attend. This rendition is absolutely fantastic with the highly skilled dancers of the Nevada Ballet Theatre performing at a level of excellence seldom to be seen. The Nutcracker was first performed in Russia during 1817 based on the novel entitled "The Nutcracker and Mouse King". This classic holiday show is being held at Reynolds Hall at the Smith Center to celebrate Christmas in Las Vegas. This 140 minute performance is limited to December 12-13 and December 18-20, 2015. Ticket prices are $40.00 and patrons three years of age or older are welcome.
Mannheim Steamroller Christmas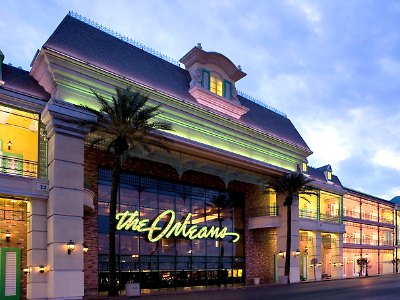 Dates: December 3
Grammy award winning artist Chip Davis presents all of your favorite holiday music in his production of Mannheim Steamroller during Christmas in Las Vegas. This show is spectacular in nature with its multimedia visual effects and the classic sounds of Mannheim Steamroller which have left audiences amazed for 30 years. Tickets start at $35.00 for this one night engagement on December 3, 2015 that will be performed at the Orleans Arena located within the Orleans Hotel and Casino.
Cosmopolitan Hotel and Casino-Ice Rink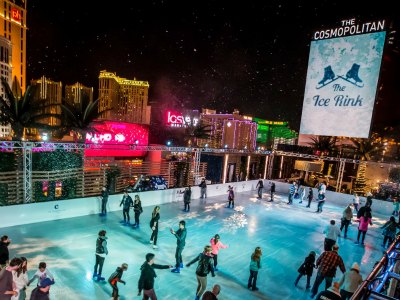 Dates: November 21-January 3
The one and only place in Las Vegas where you can ice skate outdoors is the Cosmopolitan Hotel and Casino. The Ice Rink is located above the Strip and features such traditional items as hot chocolate, ear muffs, fire pits and snow showers. The views of the city's skyline are brilliant from this rooftop Ice Rink within the Cosmopolitan. All day passes are available and the Ice Rink is open seven days a week with snow showers produced in the evening hours Wednesday through Sunday.
The Fashion Show Mall-Adventure to Santa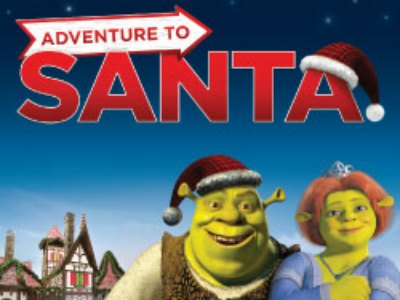 Dates: November 5-December 24
This is a great family atmosphere for Christmas events in Las Vegas that includes an adventure to the North Pole with Shrek and his companions. There are quite a few activities for people to enjoy that include exploring Santa's home, a sleigh ride and posing for a photograph with Santa. The real life interaction between the DreamWorks animated characters is fascinating for people of all ages. This is the perfect adventure to help place your family in a joyous holiday spirit. The 20 minute Adventure to Santa show is located within the Las Vegas Fashion Mall and is open from November 5 through December 24, 2015 with ticket prices ranging from $40.00 to $74.00 per family.
Opportunity Village-Magical Forest Village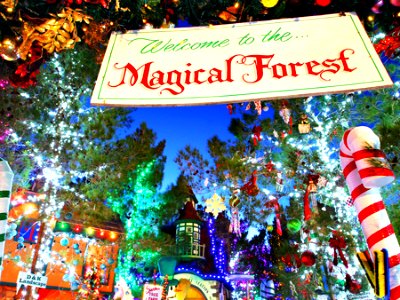 Dates: November 20 - January 3
The Magical Forest Village is an experience that brings every aspect of the holiday season into play. Located within the Opportunity Village, this activity is a must for those that want to be immersed in the holiday spirit during Christmas in Las Vegas, surrounded by a forest of magical holiday lights. Activities at the Magical Forest include such things as an Avalanche Slide, Rudolph's Raceway, Boris the Elf's 3D Experience, Rod's Mini-Golf (with a holiday theme), nightly entertainment and a huge gingerbread house display that will amaze the family.
Opportunity Village-Great Santa Run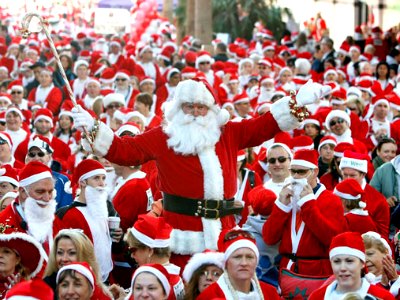 Dates: December 5
If you are looking for a unique way to donate during Christmas in Las Vegas then you might want to consider participating in the 2015 Great Santa Run sponsored by the Las Vegas charity group Opportunity Village. Every year thousands of people from around the world visit Sin City to dress like Santa Claus and run one of the most family friendly holiday fundraising races. The Opportunity Village provides great services to the local Las Vegas area and your participation in the 2015 Great Santa Run on December 5 will be appreciated by thousands of people in need.
Bellagio Resort and Casino-Botanical Gardens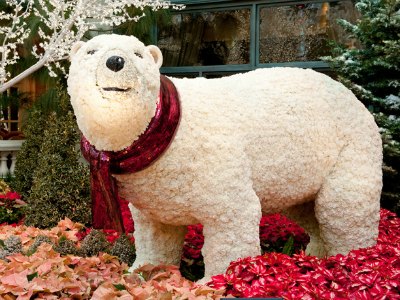 The Conservatory and Botanical Gardens at the Bellagio Resort and Casino are a must see during Christmas in Las Vegas. The botanical garden is transformed from a wonder land of autumn golds to a wintery theme of Christmas with beautiful light displays and exhibits of fine art. The fascinating flowers and floral beds display the brilliance of the holiday season with many choreographed arrangements. This venue highlights different plants and ecosystems as well as cultures from around the world. The Bellagio Conservatory and Botanical Gardens is free to the public seven days a week and 24 hours a day.
Sam's Town-Mystic Falls Park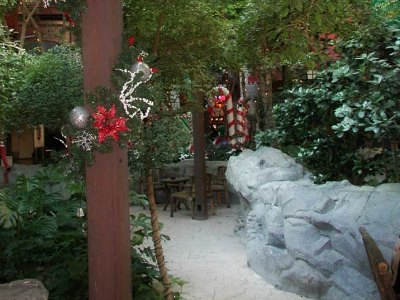 Mystic Falls Park is a magical place during Christmas in Las Vegas, with brilliant lights and numerous holiday exhibits. There is a fascinating holiday laser light show that happens several times during the day and night. This indoor park is perfect for watching dancing lights and cascading waterfalls that are choreographed to the best holiday music while you look in amazement at the hundreds of decorated trees. Located in Sam's Town Hotel and Gambling Hall the Mystic Falls Park is a free attraction open to all ages.
Ethel M Chocolate Factory-Cactus Garden Christmas Lights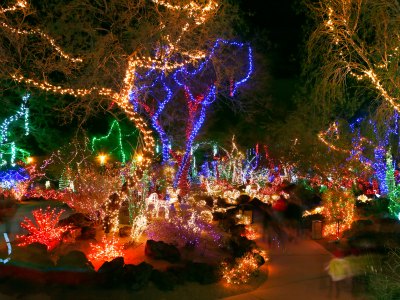 Most people visit Ethel M Chocolate Factory to view the factory and taste many of their delightful chocolates but more and more people are visiting during the holiday season because of the exquisite light display that is located within the Cactus Garden. The Cactus Garden is a generous piece of land that is decorated with various cactus and desert plants for most of the year. During the holiday season the landscape is decorated with many thousands of lights that form a wonderful holiday theme that is sure to please. Ethel M Chocolate Factory is a purveyor of fine chocolates under the Mars brand. The tour of the factory and the Holiday Cactus Garden during Christmas events in Las Vegas are free to the public.
What's Hot
Do you have any questions or Comments?