Divas Las Vegas Show Review
Divas Las Vegas show exemplifies the type of premier entertainment a person can experience while visiting the Sin City. Frank Marino and his female impersonation crew bring laughter as well as music to a new plateau in another highly choreographed show in Las Vegas.
Divas Las Vegas Tickets

This Vegas drag show shows being performed at the LINQ Hotel and Casino. The auditorium offers reserved seating to reserved table seating to VIP table seating. There are tickets available at an additional cost that include the delicious cuisine of the Flavors Buffet. You must be 12 years of age or older to attend.
The Divas Las Vegas show is centered on female impersonations of big name Divas such as Rihanna, Lady Gaga, Diana Ross, Bette Midler, Katy Perry and many more. Your eyes will not believe what they see. Each performance by the crew of remarkable female impersonators hits the mark of authenticity, creativity and fun. The elaborate wardrobe that is worn by the various performers is one-of-a-kind with lots of glitter, boas and sequences. There is no live singing as the music is piped in allowing the impersonator to concentrate on the intricate dance moves and body gestures that accompany each delightful act. The accuracy of the performers lip syncing on every song is quite impressive. The show also offers up a tremendous amount of detailed dancing that has been choreographed to enhance the brightly lit stage in which the Divas perform their classic music.
The emcee for the Divas is none other than Frank Marino and his witty sense of humor. Marino is pervasive as a female impersonator and you will think that Joan Rivers has never left this world. He is the perfect reminder of how funny Joan Rivers really was during her fabulous entertainment career. Frank Marino started by performing in the hilarious show "An Evening at La Cage" where he honed his many talents as a female impersonator. Later on,he renamed this show "Frank Marino's Divas Las Vegas". His comedic commentary is laced throughout the show with many appearances and different dialogues that bring cohesiveness to this adorable show.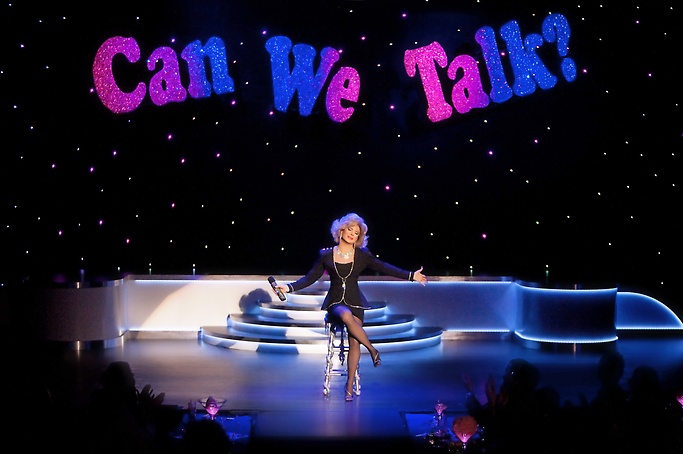 The Divas show is filled with provocative commentary, costumes and dancing. One of the most amazing dance troupes of Las Vegas accompanies some of the female impersonator's with all of the enthusiasm of a newly released music video. With new dance routines being performed all the time the synchronicity of the six men is impeccable. The energy that these dancers put forth in each stage production is only heightened when a female impersonator looks and moves like the real Pink or Liza Minelli.
The choreography is simply stunning in is this one-of-a-kind Lad Vegas drag show. The incredible stage props and lighting can only be rivalled by some of the best shows on Broadway. The wardrobe changes are numerous and count over twenty for the show. This is not just one person but the whole cast changes into costumes that fit the mantra of the new performer. Gowns filled with sequences and boas wrapped around the neck each performer from Dolly Pardon to Bette Midler to Madonna to Katy Perry will make you feel like you are watching the person live.
About the Cast
Frank Marino is known as the "The Queen of the Strip" and for good reason. This New York native has thrilled audiences in Las Vegas for over 20 years. His female impersonation of the late great Joan Rivers is quite unique. He has also been seen in several television appearances and movies such as Miss Congeniality 2 and Baywatch.
Steven Wayne has been a female impersonator for over twenty years since he moved from the East Coast. Wayne found a place for his passion on the stage in various Las Vegas venues. He is known for his impersonations of Cher and the Canadian superstar Celine Dion.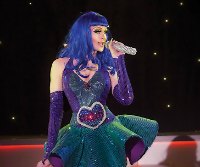 Andrew Ryan has been an active person in the entertainment world since his childhood. He is an accomplished musician and singer who moved to Sin City in 2008 to pursue his female impersonation career. Today, at Divas show, Ryan has a firm grip on his subjects that include Katy Perry and Shania Twain.
Kenneth Rex has been performing for over 28 years and his efforts have landed him on the stage in Las Vegas. Formerly a part of the cast of the famed An Evening at La Cage at the Riviera, Rex has an outstanding ability to bring such female superstars as Gwen Stefani and Pink to life.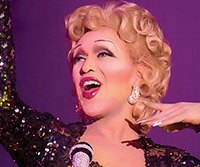 Joseph Santellana better known as CoCo Vega continues to impress audiences since his arrival in Las Vegas over five years ago. Santellana is also an intricate part of the design team where he helps to create and design the wardrobe of other performers. Santellana has great fun in his impersonations of Bette Midler, Shirley Bassey and Tina Turner.
Derrick Barry is a dynamic entertainer that more recently was featured on America's Got Talent and one of Katy Perry's most recent music videos. After portraying Brittney Spears at the Riviera for over four years during An Evening at La Cage, Barry has moved on to include the superstar Lady Gaga to his portfolio at Divas show.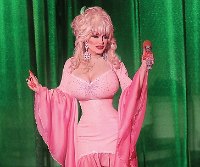 Kenneth Blake is an outstanding performer who was hooked on female impersonations after he saw La Cage aux Folles on Broadway. He has also won several female impersonation contests including Miss Gay Western States America. Currently Blake is performing as Dolly Parton and Madonna.
Chris Woods has been highlighted on several shows over his lifetime including The Tonight Show, Maury Polvich and The Kathy Griffith Show. Woods brings an excellent performance to the stage of Whitney Houston and Diana Ross.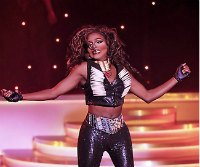 Martin Cooper honed many of his skills while working for Disney in Orlando. He is dedicated to becoming the best female impersonator on the planet. Cooper was discovered by Frank Marino while he was entered into the 2011 Miss Gay America pageant, and Cooper joined the cast of Divas . Cooper gives a powerful performance of Janet Jackson, Rihanna and Dionne Warwick.
Sammy Gonzales was never interested in a country lifestyle and boldly pursued his passion of acting and dancing. He is somewhat the new comer to the show but his performances of Liza Minelli and Mariah Carey are absolutely perfect.
Larry Edwards is a famous female impersonator, featured on multiple shows such as The Tonight Show and Oprah. On Divas Las Vegas, he performs the roles of Beyonce and Tina Turner.
The Frank Marino's Divas Las Vegas Dancers are a very talented group of sexy men. The group is also quite international in nature with Aaron from Australia, Jesus from Mexico, Jean-Luc who studied ballet and Africa dance, Daniel is a local homegrown dancer, Nicholas has studied in New York as well as Chicago and Warren is an ex-Chippendale dancer who first got his start performing for Enrique Iglesias.
Divas Las Vegas Tickets
The show plays daily at The LINQ Theatre at The LING Hotel & Casino, Divas Las Vegas tickets are available with a choice of Preferred, VIP or Dinner + ticket special.
What's Hot
Do you have any questions or Comments?