Extravaganza Las Vegas Show Review
The blockbuster Extravaganza-The Las Vegas Spectacular show playing at Bally's is a variety that brings 30 super talented artists and personalities on stage.
The 90-minute performance draw dropping experience has it all for any in the family and the offers a heartbeat all of its own to the stage during each performance.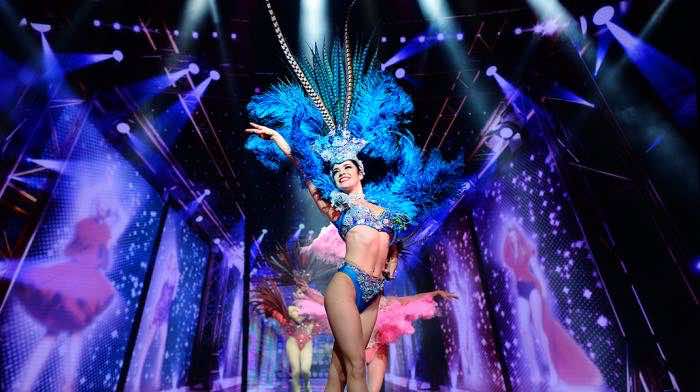 Extravaganza Las Vegas Show Review
Performing at the Jubilee Theater, Extravaganza is next big hit brought to the stage by none other than creator and director Hanoch Rosenn, who is credited with creating WOW- World of Wonder which has notched more than a 1,000 performances in Sin City. Extravaganza is just what you would expect and more from this legendary creator and director.
Extravaganza Las Vegas Show opens with a disgruntled, down and out gentleman walking the streets of New York City in the rain. He stumbles upon a homeless and gives the homeless man his umbrella to help shield the rain. To show his gratitude the homeless man then gives the gentleman a one-way bus ticket to Las Vegas which he had received early in the day. From here the show really takes flight into another world as the gentleman is transported rapidly to Sin City and the stage lights up with 3D-LED screens portraying the city's famous landmarks.
Once in Las Vegas the gentleman finds himself in the middle of an extravagant show complete with iconic showgirls in their feathery glitter covered costumes and of course incredible death defying acts, comedians, skaters, acrobats, and aerialist artists that take his and the audience's breath away. Extravaganza takes you through a fully-immersed 24-hours in Las Vegas by following this gentleman throughout his journey in Sin City.
During Extravaganza Las Vegas Show the crowd experiences many interesting sideshows throughout the revue. Emcee and plate spinner, Victor Ponce keeps the acts flowing in a timely fashion and there is an exhilarating Globe of Death routine that features three-fearless motorcycle riders within a globe chasing each other in circles. When the LED screens light up with holograms of Frank Sinatra, Elvis, and Marilyn Monroe you will be fixated on the real life imagery your eyes see on the screens. But the production has real life tribute artists that look and sound like these iconic Las Vegas figures too.
There are dance routines featuring the iconic glamorous showgirls of Sin City which made the city The Entertainment Capital of the World and don't be surprised to see a very funny ventriloquist with an Elvis puppet and a couple skating on stage so gracefully your eyes won't believe it's truly happening.
But Extravaganza has more while you are fully enthralled by the death defying aerialist artists swaying gracefully in the air above the stage and there is even a juggler or two to help ease the transition between contortionists and more brilliant acrobatics on stage. There is also an unbelievable display of archery sharpshooting featuring Silvia Silvia who hits a single bull's eye that trips seen targets and eventually pierces an apple laying on her head.
The choreography displayed during Extravaganza Las Vegas Show is simply marvelous with beautiful showgirls in gorgeous outfits, seamless transition between acts, incredible stage lighting that enhances the performance, and the story line is pure Las Vegas.
When you go to watch Extravaganza while you are vacationing in Sin City, you will experience one of the most entertaining family-friendly Las Vegas variety shows to hit the stage since Jubilee and guess what it's playing in the same theater, so you know Extravaganza is something special to witness in person.
Venue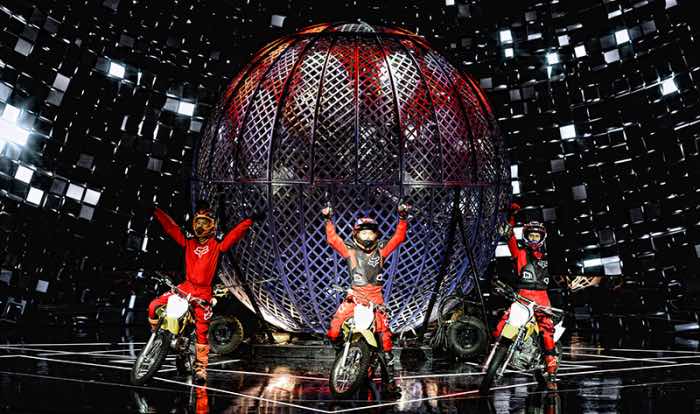 Extravaganza Las Vegas Show is performing at 1,000-seat Jubilee Theater. The venue is spectacular with comfortable velvet seats. The table seating with four guests per table with the best views are Tables EE-GG in the front row, Tables KK, QQ, and RR in the second row, and Tables VV-YY in the third row. Booth seating can accommodate up to six guests and are directly behind the table seating with every booth offering good sightlines of the stage.
Individual Front Orchestra seating is in the middle of the venue with three sections. Any seat in the middle portion of this section offers perfect sightlines and a little bit of value. Individual Rear Orchestra seats offer more value and still have good sightlines of the stage. Some people prefer these types of seats in order to view the whole stage but you are still further away from the action on stage.
Extravaganza Las Vegas Show Cast
Extravaganza is created and directed by Hanoch Rosenn who brought the incredible show WOW-The Las Vegas Spectacular to the stage.
There are 30 cast members that perform during Extravaganza Las Vegas Show. Some of the more memorable cast members are the emcee and plate spinner Victor Ponce; archery expert Silvia Silvia; ventriloquist Kevin Huesca; roller skating marvels Pavel Bahaslou and Anastasiia Bogoslova; Madison Antcliff is the principal showgirl; aerialist artists Svitlana Rohozhyna, Cameron Turner and Jenalee Thompson and performer Van McWilliams.
Tickets
Extravaganza is playing at the Jubilee Theater within Bally's Las Vegas. The 90-minute production runs Monday thru Saturday beginning at 7:00p.m. There are additional shows beginning at 9:30p.m. on Monday, Tuesday, Friday, and Saturday. Tickets start at $44.70 for rear orchestra seats, $60.24 for middle orchestra seats, $84.02 for front orchestra seats, $102.91 for booth and table seats (taxes and fees excluded). Extravaganza Las Vegas tickets may be purchased for guests five years of age or older. 
Get Your Free Las Vegas Events Calendar!
Grand Canyon Helicopter Tours by Papilloin
Grand Canyon Helicopter Tours by Maverick
Awesomest Things to do in Las Vegas Every Day!