Las Vegas Weather Guide - Information For Visitors
What will Las Vegas weather be like when you visit? When is the best time to visit Las Vegas? You probably already know that the city is quite hot in summer. With Vegas located in the middle of the Mojave Desert, you can bet that it won't snow during your vacation in winter. Maybe occasional rain here and there. But no matter when you visit, I can almost almost certainly promise you'll get some sunshine.
Calendar
Use this monthly Las Vegas weather calendar below to plan your vacation and pack your suitcase accordingly!
January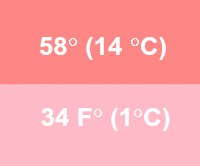 Las Vegas weather in January is actually quite pleasant. On average, temperatures in Las Vegas in January range between 57°F (14°C) to 34°F (1°C) during the month. Although it rarely ever snows in Las Vegas, the surrounding mountains do receive some snow during the winter months. While days in January tend to be quite pleasant, nights can get quite cold. The coldest day to be recorded in Las Vegas was in January, 1963 when the temperature plummeted to 8°F (-13°C). Wear layers so you can stay comfortable throughout the day and into the night if you plan to stay outdoors longer. Most of the rain that Las Vegas gets tends to fall during these winter months. However, this still is only 0.50 inches on an average in January. Those who find the heat levels in summer months quite extreme in Las Vegas would find the temperature during winter months the most pleasing. Although you may not be able to enjoy the famous pool parties in the city, there are plenty of heated pools you can still soak in during your time there. Pack enough warm clothes to keep you comfortable. If you're planning to visit with kids don't forget to bring a pair of good boots, woolen scarves and hats for the chilly nights.
More Attractions