John Caparulo MADCAP Comedy Las Vegas Show
One thing for sure is when you go to watch the Comedy Lineup with John Caparulo MADCAP Comedy you will laugh until your belly hurts because the show is widely entertaining and funny. Caparulo brings a different kind of down to earth type of comedy to the stage that is hilarious to listen.
Caparulo likes to make fun of everyday problems like get a speeding ticket in a rural community where the fine of the ticket is more than a month's rent. Other situations he jokes about are quite common for the average person and he can make the audience laugh with a simple pundit. He likes to make fun of life and his nothing barred attitude is his shining light when he is on stage.
Show Highlights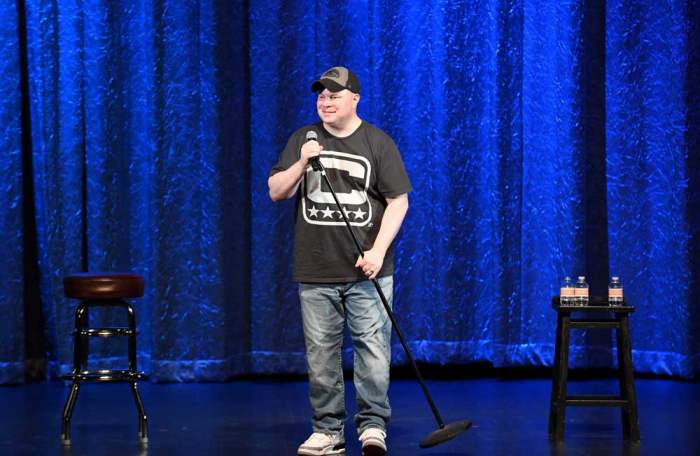 During his performance he brings up subjects like his front yard karate school where he decided his dojo would teach karate to blind students. After teaching his students all the right moves of Jackie Chan or Hong Kong Phooey his students finally found out that Caparulo did not know anything about karate. He also talks about his employment situations such as when he joined the Navy. He thought he would be traveling the world but he became dismayed with work after never being promoted past stock boy.
Caparulo has a great stage presence and brings the audience into play whenever possible which leaves a few audience members a little red in the face when he is finished making fun of them. He also jokes about his marriage in a series of jokes he labels Domestic Disputes. The jokes are hilarious and detail problems he has with his wife which every married couple can relate to while laughing until they cry.
Caparulo is masterful with interjecting his blue collar comedy into his show. He is funny, witty, and off-the-cuff with his stories that make the audience roll in aisles with laughter. Now the language may not be for all ages but the jokes and everyday situations that he laughs about on stage are reason enough for you to go watch this one-of-a-kind comedian who is blazing the trail for others behind him to follow.
Biography
John Caparulo started his comedy career when he was a senior at Kent State University. He began performing in night clubs, bars, and even bowling alleys if they would hire him. He would later become a doorman at the Comedy Store in Hollywood where he learned more about the job of telling jokes.
He got his big break while appearing on Chelsea Lately the iconic television series on E! where he has made more than 140 appearances over the show's lifespan. He has also appeared on The Late Show with Craig Kilborn and the Tonight Show with Jimmy Fallon. He also spent time on tour with Vince Vaughn on the Wild West Comedy Tour and was featured on the Blue Collar Comedy Tour: The Next Generation. He also created a radio show on Sirius XM with his wife Jamie Caparulo and fellow comedian Mark Ellis. All of this led to his first stint in Sin City which was at Harrah's Las Vegas.
Tickets
The Comedy Lineup with John Caparulo MADCAP Comedy is performing at the House of Tape within Harrah's. The intimate venue is perfect for his style of off-the-cuff comedy. The 90-minute show is open to all people 14 years of age or older. The show runs Wednesday through Sunday at 9:30 P.M. General admission tickets are available as well as VIP meet and greet tickets.
Get Your Free Las Vegas Events Calendar!
Grand Canyon Helicopter Tours by Papilloin
Grand Canyon Helicopter Tours by Maverick
Awesomest Things to do in Las Vegas Every Day!