Rock of Ages Las Vegas
Rock of Ages Las Vegas is one of the most entertaining musicals performing in Las Vegas.

This 2-hour plus event is packed with high energy and storyline that is easily followed by the audience. Playing at the Rio Hotel and Casino, Rock of Ages has been satisfying crowds night after night with their 1980s themed musical that brings plenty of past-time memories back to life.
The story behind Rock of Ages revolves around two young people that are chasing their dreams of stardom in the music business while living in Los Angeles during 1987. The main characters are Drew a young man from Detroit and Sherrie a typical young lady from a small town in nowhere America. The couple meets on the famed Sunset Strip and falls in love while living out their dreams of loud guitar solos, heavy drums and big hair of the poser rock band era. Classic 1980s poser rock songs are sprinkled throughout the musical in a jukebox fashion with such hits as We're Not Gonna Take It and Can't Fight This Feeling.
Rock of Ages has plenty of exciting scenes throughout the musical which features over 28 songs of big hair, big guitars and loud lyrics. Anthem songs from this era like We Built This City and The Final Countdown have had the audience dancing in the aisles as well as their chairs. Other hit songs patrons can expect to hear are: Here I Go Again, Nothin' But A Good Time and Want To Know What Love Is.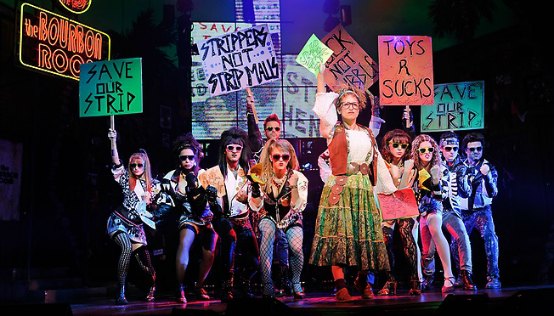 The Rock of Ages Theater located within the Rio Hotel and Casino is an ideal venue for this musical. The event utilizes many different multimedia effects as well as video screens which add value to the musical. The live band is composed of highly talented musicians and is brought crystal clear to the audience through a state-of-the-art sound system.
All-in-all the music fits well with the theme of the storyline nicely and the choreography keeps the audience engaged. Patrons will be satisfied and singing their favorite rock anthem from 1980s after watching Rock of Ages Las Vegas.
About the Cast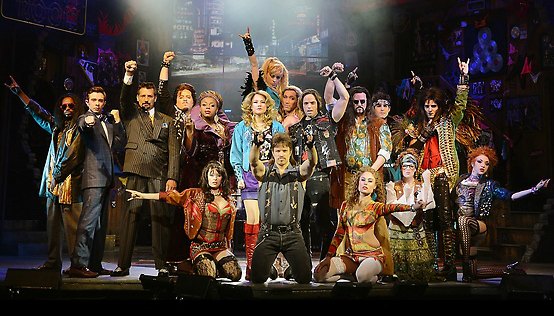 There are several cast members from musicians to dancers to singers in the production of Rock of Ages. The two main characters are Sherrie who is portrayed by Becca Kotte from Fargo, North Dakota and a graduate of the University of Miami. Drew is played by Paul Johnson who has performed in the Peepshow, Bite and Vegas! The Show. He has also honed his skills for Holland America Cruise Lines.
Other members of the show include Mitchell Jarvis as Lonnie. Jarvis has performed in such hits as Jesus Christ Superstar, Sweeney Todd and The Toxic Avenger; Dennis is portrayed by Troy Burgess who has worked on such productions as West Side Story, Ring of Fire and Starlight Express; Dane Biren plays Franz. Birens is known for his work in Noises Off, You're a Good Man, Charlie Brown as well as Antony and Cleopatra; Ricardo Antonio portrays Hertz. Antonio has performed in such blockbusters as Grease, The Music Man and Kismet; Sara Andreas is Regina. Andreas credentials include Legally Blonde, Anything Goes and the Addams Family; Deidre Lang portrays Justice/Mother and is known for her performances in Cats, Hairspray and Ragtime; Brett Stoelker is Stacee Jaxx and has performed in Les Miserables, Miss Saigon and Next to Normal.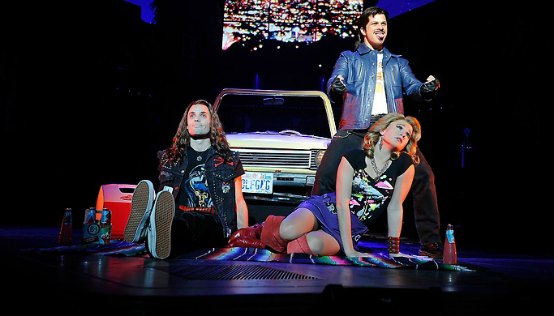 Ensemble and Swing performers include Amber Ardolino of Flashdance and Legally Blonde; Tiffany Cole who has performed with Stevie Nicks and Reba McEntire; Jared Dalley who has sung with Andrea Bocelli's chorus; Dana Henneborn has honed her skills at Holland America Cruise Lines since graduating from the University of Buffalo; Michael Mahany from High school Musical and The Rocky Horror Show; Ashley E. Matthews has performed in Miss Saigon and A Chorus Line; Kelly Methven from Damn Yankee and West Side Story; Brandon Nix performed in Saturday Night Fever and We Will Rock You; Leah Read graduated from Pace University and starred in The Cat's Away; Amy Ryerson is known for her work with 50 Cent, Kayne West and Ricky Martin; Eric Jordan Young starred in Ragtime, Starlight Express and Chicago.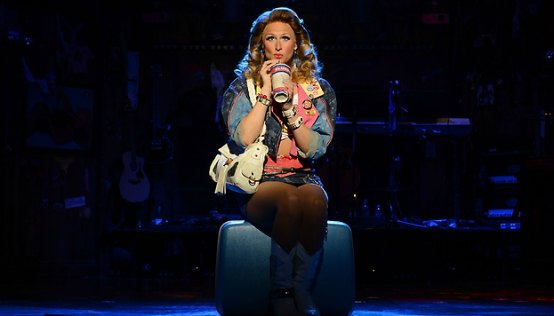 The live band on-stage is composed of the following musicians: Musical Director/Conductor and keyboardist David Richardson has lived in Las Vegas for eighteen years. Richardson has performed in Mamma Mia, Hairspray and The Lion King; Bassist Dan Grennes has played with American Idiot and has won an American Music Award; Andy Gerold is one of the guitarists in the band and he is the former bassist for Marilyn Manson; Drummer Alan Childs has played with Rod Stewart and David Bowie and has performed in many musicals like Hairspray, The Who's Tommy as well as Rent and Chris Cicchino is the lead guitarist and has performed with Brian Johnson, Rob Halford as well as Hootie and the Blowfish.
Ticket information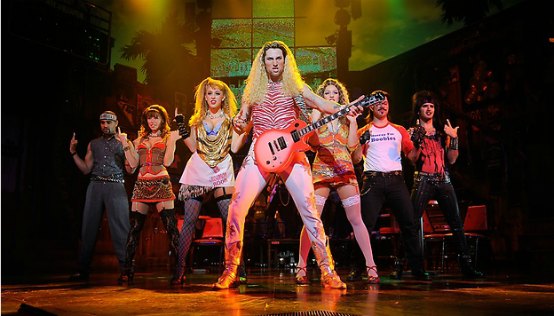 The musical Rock of Ages is performing at the Rio All-Suite Hotel and Casino in the Rock of Ages Theater. The venue has good sight lines and excellent sound system for this type of musical. Patrons must be five years of age or older and accompanied by a parent or guardian. Rock of Ages Las Vegas is playing every night of week starting at 7:30 P.M. Tickets are on sale now and range from general admission seats to patrons wanting a VIP Rock Star seat.
What's Hot
Do you have any questions or Comments?