Sex Tips for Straight Women from a Gay Man - Tickets & Review
A tantalizing Las Vegas show that combines raunchy sexual humor with everyday life of a straight woman, gay man and seductive model is Sex Tips for Straight Women from a Gay Man.
The show is based on the comedy book written by Dan Anderson and Maggie Bergman and first opened off-Broadway in 2014, where the show ran for more than four years. Now in Las Vegas the theme is bigger and the audience interactivity is greater.
The show begins with Robyn as a moderator for a monthly book club where Dan starts to lecture about the contents of his book. As the performance progresses, Dan quickly realizes the sexual tension between Robyn and Stefan who is a hunk of all hunks.
The performance is laced with spicy adult talk that leads to Robyn learning from Dan's experiences as a gay man and tries desperately to encourage Stefan into something more than just a book lecture. The three actors are genuinely engaged throughout their performance with each other offering quick one-liners, pundits and skits that include several members of the audiences.
The show moves quickly through each chapter of the book with numerous conversations about sex that can be construed at times as reading a sex manual. As the three dig deeper into the book, each chapter becomes more outrageously raunchy with an attitude of shock and sometimes embarrassment of the audience participates brought up on stage.
In the end, Sex Tips for Straight Women from a Gay Man is the perfect show for all types of audience members who can laugh at themselves and others over relatively everyday sexual thoughts that enter our minds. Perfect for bachelorette and bachelor parties as well as couples who like to explore their sexuality.
Seating Chart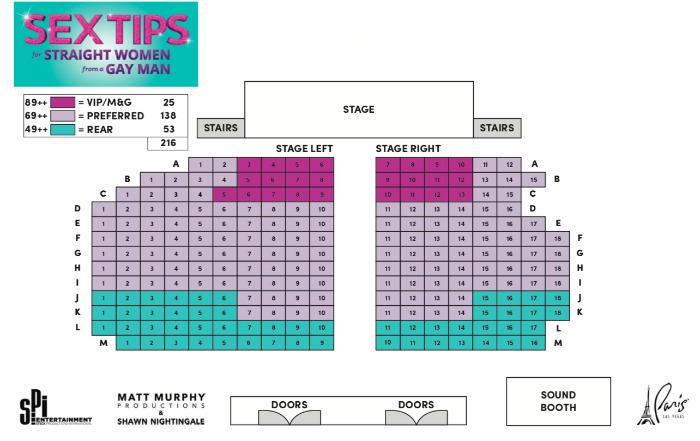 Sex Tips for Straight Women from a Gay Man is playing at the intimate Anthony Cools Showroom. The 210-seat theater offers excellent sight lines and acoustics at all level of seating. All seating is reserved with the best seats in the first five rows for guests that wish to participate in the show on stage, which will add value to your experience.
Cast
The cast for Sex Tips for Straight Women from a Gay Man includes three members who are Douglas Katch Gray as Dan the Gay Man, Katie Kenner as Robyn and Chris Hodgson as Stefan the Seductive Model.
Douglas Katch Gray was born in Texas and has been performing around the world for more than 11 years. He has been seen in other shows in Las Vegas such as the Dancing Queen, Chippendales, Tony and Tina's Wedding as well as Vegas: The Show!
Katie Kenner is originally from the San Joaquin Valley in California. During her early career in college and as a professional actress, she has been featured in plays as well as musicals such as Grease, Oklahoma, 42nd Street and Gypsy. She made the move to Las Vegas from Modesto, California 10 years ago in order to work in the David Copperfield Show. Katie has also been featured in other venues as a standup comic, dancer and a lounge singer. Chris Hodgson was born in Leeds, England and attended college for the performance arts in London. Chris has performed for several cruise lines including Holland America and P&O Cruises. He moved to Las Vegas in 2012 to further his career in acting and has been featured as the lead singer in the musical Jubilee! as well as 50 Shades! The Parody in Las Vegas.
Tickets
Sex Tips for Straight Women from a Gay Man is performing at the Anthony Cools Showroom within the Paris Las Vegas. The 75-minute performance runs Tuesday through Sunday beginning at 7:00 P.M. with additional shows on Monday at 9:00 P.M. and Saturdays starting at 11:00 P.M. Ticket holders must be 18 years of age or older to attend. There are three categories of tickets available which include reserved seats, preferred seats as well as VIP seats that include a meet and greet after the show.