Tony and Tina's Wedding Las Vegas - Tickets & Review
Ever wonder what an event like an Italian-American wedding would be like to attend? If so, then Tony and Tina's Wedding is a great dinner show in Las Vegas for you to attend. With laughter, dancing and a three-course meal, this is a hilarious evening of fun and food.
Tickets

Once you are seated within the intimate setting at Bucca di Beppo Italian Restaurant, the fun begins with a little bit of laughter as the crowd gets seated. From here you are treated to a traditional Italian wedding buffet that includes goodies such as baked ziti, chicken parmesan, garlic bread, Caesar salad and there is also plenty of cuisine that pleases vegetarians.
During dinner you will listen to plenty of interesting jokes from the parents of the couple as well as an entertaining drunken priest who is to perform the wedding ceremony. Guests and actors that are planted in the audience have a great time talking with one another without really knowing who is a guest and who is in the cast.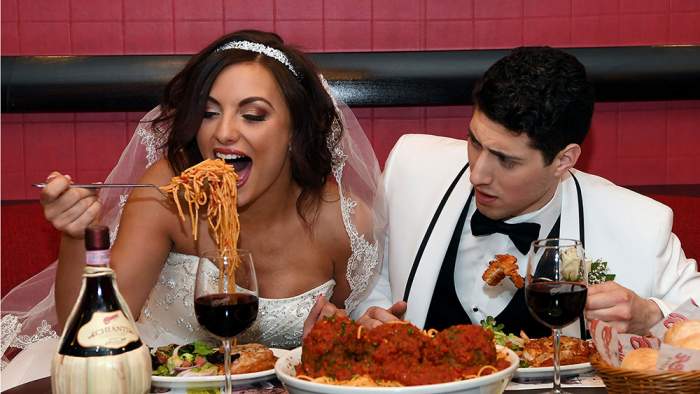 Guests are thrilled with the wedding speeches which turns the event into something reminiscent of a comedy theater with people dressed up for a weeding. One particular scene has a pregnant bridesmaid making funny jokes about the groom's ex-girlfriend who is a stripper and when the drunken priest tries to invoke the wedding vows, the crowd goes wild when he cannot remember Tony and Tina's names.
After a little dancing to some classic Italian wedding music, guests are served a piece of traditional wedding cake but not until Tina plasters Tony face with a nice big chunk of cake and frosting.
Overall, Tony and Tina's Wedding is an entertaining dinner show that provides guests with a nice meal before and during a very funny as well as realistic show that would make any Italian-American wedding proud. An added bonus for VIP ticket holders is a funny meet and greet with the cast after the show.
Seating Chart
Tony and Tina's Wedding is playing at the Buca di Beppo Italian Restaurant where guests will indulge in a three-course meal during the show. Guests looking for good general admission seats are advised to wait in line before the doors open for seating at 6:30 P.M. VIP tickets include the best seats with priority seating arrangements once you enter the venue. The venue is intimate with good sight lines from every table.
Cast
The cast that performs in Tony and Tina's Wedding includes Rachel Swindler as Tina and Joseph BenShimon as Tony. The show is produced by the original creative team of Raphael Berko and Jeff Gitlin along with director Larry Pellgrini. There are also numerous cast members strewn throughout the restaurant during the performance such as a drunken priest, a stripper and a pregnant bridesmaid. The show has performed in 150 cities around the world including stops in Canada, Germany, the U.K. and Japan.
Tickets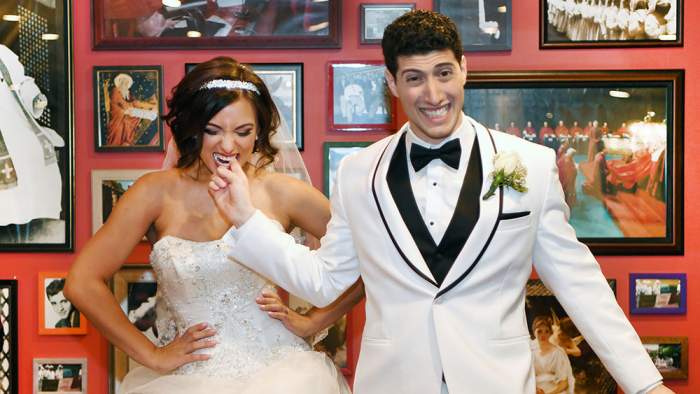 Tony and Tina's Wedding is performing at the Buca di Beppo Italian Restaurant within Bally's Las Vegas. The 2-hour show runs Friday through Wednesday starting at 7:00 P.M. There are no age restrictions for this show. General admission tickets include a three-course dinner and VIP tickets include priority seating, first serving of a three-course meal, a 2-hour bar package as well as a meet and greet with performers when the show is finished.
What's Hot
Do you have any questions or Comments?