V Card Las Vegas Package Reviews ***CURRENTLY CLOSED ****
Check out all available Vegas shows
V Card Las Vegas is a nightclub hopping package. Many people ask this question - is V Card worth it? If you enjoy club hopping, dancing and night life in general, then you definitely need to get it for your trip to Las Vegas. For one very low price, you can visit multiple participating night clubs, strip clubs, pool parties and bars and justify the cost of the card by visiting only 3 venues of your choice.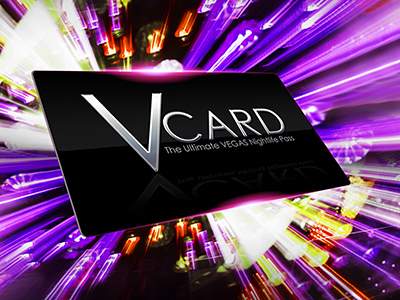 Participating NightClubs
Many nightclubs are participating in Las Vegas V Card.
Strip Clubs Participating in the V Card
Pros And Cons of V Card Las Vegas Package
Free access to around 50 ultra lounges, bars, strip clubs and pools
Low Cost - Only $99.00 - Compare with $30 cover charge at most Las Vegas nightclubs
VIP access - avoid the lines
Transferable - you can give it to your friends, or use it on several trips
Perks such as 2 for 1 drinks
Free limo transportation to strip clubs
Does not work on big holidays in certain night clubs (still works on most)
Does not work when someone famous is performing at certain nightclubs
Limited choice - not all nightclubs are included (I wish!)
Get Your Free Las Vegas Events Calendar!
Frequently Asked Questions
Do women need a V Card Las Vegas package?
Women can often get into a club for free. However, if you are in a company of men, I recommend getting a it for everyone so you won't have to stand in the line while they guys are already in. Or get a What Women Want Pass (described below) where the V Card is already included. If you are traveling with a bunch of girls, you don't really need it.
Each club, lounge and pool has a different pass. Rules of entry into each club are written on the back of each pass. General limitations are:
Proper dress code for each club
fully clothed when entering a pool
arrival by free shuttle or own vehicle to Gentlemen's clubs (arrival by taxi cancels the free entry offer)
V Card Las Vegas Package Review
If you don't already know that, getting into a night club in Vegas can be very expensive for a man (women rejoice - you pay much less, and can often get in a club for free!)
There are several limitations - for example, some passes must be used before 12:00 pm.
One important limitation for Gentlemen's clubs is that if you arrive to a club by taxi or in a hired limousine they won't let you in - you have to to use their shuttle service (and tip the driver) or arrive by your own car.
The package may not be valid on certain nights - for example, when someone famous is performing at the club, or if there is a holiday. You wouldn't have to guess though - all the information would be on the back of your card.
If you are ready to plan your vacation all by yourself and want to incorporate a night club hopping - then this nightclub package is definitely a top choice!
Besides, you don't need to use all the passes during one visit to Vegas - this package is valid as long as the clubs are participating in the program!
This nightclub package is especially valuable if you are planning to go clubbing during weekend because the entrance to certain clubs may be free during week days!
V Card Las Vegas Night Club Package
More Nightlife