X Rocks Las Vegas Tickets
X Rocks Las Vegas is one of the hottest adult Las Vegas shows for you to enjoy which mixes plenty of gorgeous women, lots of skin, and great music. The show is a masterful bit of entertainment that does not just stop with sexy women and rock-n-roll but also includes incredible choreography that brings the best out of all the performers.
Created by the husband and wife team of Angela and Matt Stabile, the producers of X Burlesque, X Rocks takes you on a sensuous ride through the annals of heavy metal rock-n-roll with beautiful women, at times topless, dancing to the heavily laden guitar music. You can expect to hear heavy metal music from all the greats but what is really entertaining is the scantily clad sexy women on stage.
During the show the choreography is perfect with different stage props to go along with incredible costumes that really make the dancing more appealing. You can expect to see plenty of black leather, high heels, and even some chains swinging as the women prance their intensely perfect bodies to the music. Some of the props are quite unique like a spider web that engulfs a sexy lady during Alice Cooper's Welcome to My Nightmare and the huge 8-track tape player comes to life when topless women appear from within the prop dancing to their hearts delight to Whitesnake.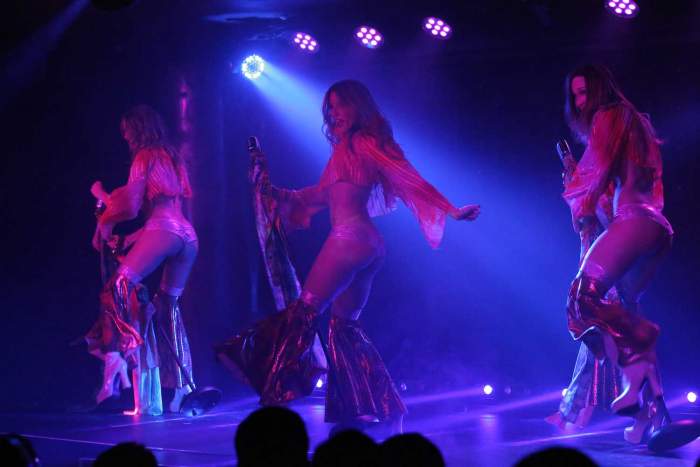 There is more for you to enjoy during the show too with songs by Kid Rock, Poison, Black Sabbath, Alice in Chains, and Awolnation. The choreography for all songs is superb and when they roll out faux-looking motorcycles during Montley Crue you know you are in the right place for some extreme sexy women and plenty of heart pounding rock-n-roll. Other songs may include gymnastic hoops, bathtubs, a welder's torch, and don't forget about the multimedia effects that include plenty of lasers, fire, and pyro-techniques.
The show is much more than just music and skin with plenty of funny anecdotes on stage by stand-up comedian John Bizarre. He enjoys introducing the beautifully sexy women with quick funny pundits or a little comedy about Slash, Ozzy Osbourne, and other musicians that are featured on the soundtrack.
X Rocks is ideal for all kinds of parties from bachelor and bachelorette to the guy's night on the town and couples looking to spice up their evening while visiting Sin City. After all, if the X Rocks was good enough to open for Metallica on the road, then the show is a definite must see for any rocker and lover of sexy women.
Cast and Creators
X Rocks Las Vegas was created by Matt and Angela Stabile who previously created X Burlesque. Angela is a former Crazy Girl made good and wanted to create a show that reviled any topless or adult show in Sin City. The show is co-produced by Tiffany Koepp, Angela's daughter, and choreographed by Anthony Cardella.
The beautiful women of X Rocks rotate on a nightly basis and may include sexy dancers from other X shows too. But you can expect gorgeous bodies that are toned, tanned, and sultry on stage.
John Bizarre provides comedy during the performance. He has appeared on several late night shows including The Tonight Show with Jimmy Fallon and he appears regularly at Brad Garrett Comedy Club in Sin City.
X Rocks Las Vegas Tickets
X Rocks Las Vegas is performing at the Back Room within Bally's. The intimate venue is ideal for viewing the topless women as they dance on stage and the sound system is state-of-the-art for your listening pleasure. The 75-minute adult Las Vegas show is open to all people 18 years of age or older. Performances run Thursday through Monday at 8:00 P.M. Tickets are available in preferred seating and VIP front-row seating. Patrons can add-on a meet and greet which includes a signed poster and selfies with the gorgeous women.
What's Hot
Plan Vacation
Strip Hotels

Shows

Fun Activities

Tours

Grand Canyon