All Motown Las Vegas Show Review
All Motown Las Vegas show by very talented all-female vocalists is perfect for anyone that likes to listen to all the Motown greats during a night of reminiscing of days gone past. You better get ready to dance and sing all night long when you go watch the of The 60-minute production features The Duchesses of Motown who are blessed with all the right dance moves and beautiful voices which give their performance an unbelievable attitude of goddesses on stage. Read below my review of All Motown Vegas show.
All Motown Las Vegas tickets start at $43 and the show has no age restrictions.
Performing at the Athena Show Lounge at Alexis Park Resort, All Motown Las Vegas show is the only all-female Motown tribute concert playing in Sin City. The show is packed with all of favorite songs from the past when Motown ruled the music world and the production is second-to-none throughout the fabulous evening of groovy music.
The Duchesses of Motown is compiled of leader Ms. Tonja Jones accompanied by Tai Lewis, Le'ana Carter, and Gwendolyn Moore Forsythe who are not strangers to Vegas scene having performed previously in Las Vegas shows such as Forever Doowop, Forever Motorcity, and Timeless. The all-female cast is exactly what Sin City needs to bring all the best Motown hits from the lovely ladies of days gone past.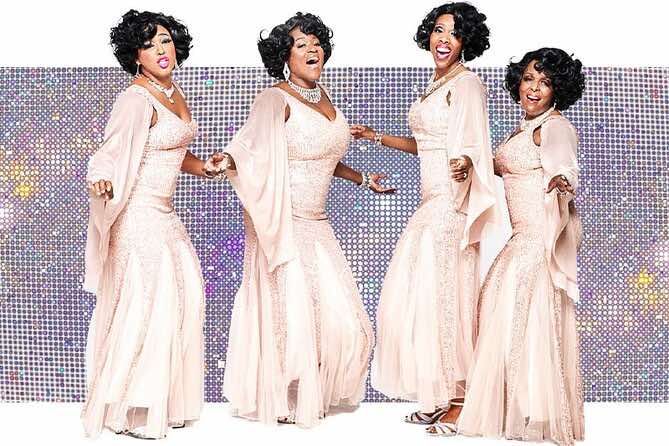 During the production of All Motown Las Vegas you will experience classic Motown songs from iconic artists' like The Marvelettes, Mary Wells, Martha and The Vandellas, The Supremes, and Gladys Knight. The talented group of singers also throw in a few songs from male artists such as Michael Jackson, The Temptations, and The Jackson 5. Your ears will ring with joy as they belt out all right tones on every song.
You will experience listening to songs from the 1960s, 1970s, and the 1980s that include hits like My Guy, Please Mr. Postman, The Nitty Gritty, He Was Really Saying Something, Jimmy Mack, and Stop In The Name of Love. Each set of classic features one of the Duchesses at their best with plenty of costume changes that bring glittery gowns flowing on their bodies from head to toe.
The dancing choreography is superb as well with each member of group moving in unison with each other like you have never seen before. Their beautiful voices are only enhanced by a minimal stage design but what are really going to All Motown Las Vegas to watch are the women singing more elegant songs like Dancing In The Street, Where Did Our Love Go, Shop Around, Two Lovers, I Want You Back, Behind The Groove, and I'll Be There.
Executive Producer Pete Housely has chosen the right women to perform this tribute concert to the female legends of Motown and Housely knows that Motown is just as much a part of Las Vegas as Elvis and The Rat Pack. There are also two rotating hostesses that help the show move seamlessly throughout who are Erica Bowers and Patrice Petway Compton.
So when you are ready to get your groove on again, then the best tribute concert in Las Vegas that is still bringing a Heat Wave is All Motown Las Vegas and is a must see when you are visiting The Entertainment Capital of the World.
Venue
All Motown Las Vegas is performing at the intimate 122-seat Athena Show Lounge. The venue offers great sightlines from almost all seats. Seating includes tables and booths. The best seats in the house are upfront in the first two rows with table seats accommodating two people. For Larger groups there are booths that accommodate parties of six people in the middle section along the sides and there are tables that accommodate parties of two to four with good sightlines for the show. The farthest seats in the back of venue can accommodate parties of two to four and offer value with good sightlines of the action on stage.
Cast
The executive producer of All Motown Las Vegas is Pete Housley who is widely known for bringing Gordie Brown, Electric Candy, BurlesQ, and Motown Extreme to the various stages in Sin City.
The cast of All Motown Las Vegas is highlighted by The Duchesses of Motown. The all-female group has performed in numerous productions in Las Vegas including Forever Motorcity, Timeless, and Forever Doowop. The Duchesses of Motown are led by Ms. Tonja Jones and she is accompanied on stage by Tai Lewis, Le'ana Carter and Gwendolyn Moore Forsythe.
There are two rotating hostesses for the production who are Patrice Petway Compton and Erica Bowers.
Get Your Free Las Vegas Events Calendar!
Best of Vegas