22 Cool Things To Do In Las Vegas Arts District in 2023-2024
Here are 22 cool things to do in the Las Vegas Arts District, also known as 18b. A vibrant and creative neighborhood, located just south of Downtwon Las Vegas, has a rich history dating back to the 18th century. Laid back and chill, this neighborhood bears a stark contrast to both The Strip and Downtown areas. But it's so worth exploring! You can find here plenty of art galleries, murals, a thriving culinary scene, the most unique vintage shops, a few thriving bars and breweries, and tattoo shops.
Las Vegas Arts District Sightseeing and Foodie Tour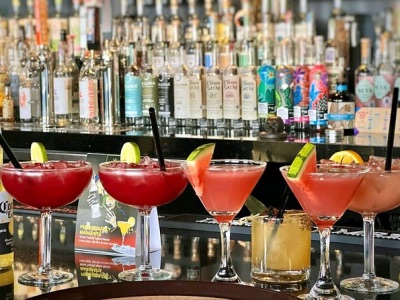 The Arts District is the newest and hippest area in Las Vegas that highlights the area's local art community and a great way to experience the district is by trying the Las Vegas Arts District Sightseeing and Foodie Tour. Your 3-hour excursion begins when you meet up with your tour guide inside the Arts District. Here you grab a little something to eat from one of the four superb restaurants you visit and learn about the Arts District. First stop is the Arts Factory where you gaze at galleries and studios packed with exquisite artwork created by local artists. After another quick bite of food, you walk inside the Las Vegas Antique & Gift Mall to peruse hundreds of unique collectables within the largest antique mall in Vegas. Now you get to chow down on some more delectable food while strolling the street murals painted on several buildings before stopping at the Greetings from Las Vegas mural for a quick snapshot. Devour one last delicious treat before your last stop at the Little Vegas Chapel where your tour concludes.
The Garden: Bottomless Brunch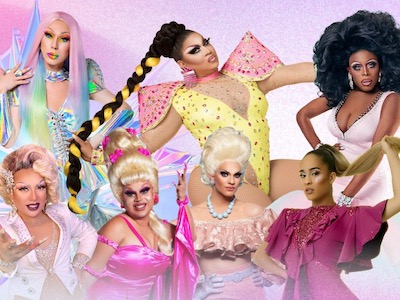 A superb thing to do in the Las Vegas Arts District when you're hungry or hungover on the weekend and want to experience live entertainment and great cuisine is to book The Garden: Bottomless Brunch. The lively 2-hour event on Saturday and Sunday is loaded with perfect performances from some of the raunchiest drag queens in Sin City who can belt out a tune, play a little music, and dance until they can't dance anymore. The show is full of fun and witty commentary that blends everything together while you sip on your Bottomless Mimosa and laugh your night before's misery away. They offer a set brunch menu that includes delights like the Hangover Burger, Berry French Toast, Spicy Chicken Sandwich, and tasty Chicken & Waffles. You can also upgrade to a Bottomless Cocktail and sip one of their many specialty drinks that are sure to make you smile at the gorgeous and talented drag queens.
First Friday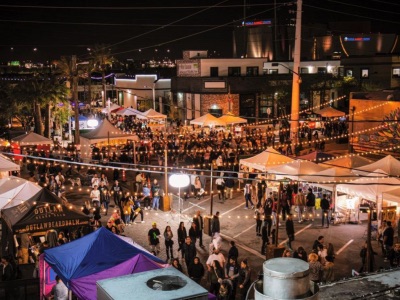 Photo courtesy of firstfridaylv
First Friday is a monthly arts and cultural event that takes place on the first Friday of every month in the Arts District. Visiting suring First Friday is a superb thing to do in the Las Vegas Arts District when you want to experience the livelihood of this historic neighborhood while viewing numerous galleries, talking with artists, eating some great food, and listening to live entertainment. First Friday in the Arts District highlights one of the hippest new areas in Las Vegas for you to visit and brings to life all the wonders of artistry from tasty cuisine to live artists to live entertainment. As you wander from gallery to gallery, you visit with local artists talking about their creations and artistic backgrounds. There's a wide assortment of events at The Arts Factory like a live music venue with top-notch bands and DJs and special pricing at local eateries for patrons who delight in the culinary arts. If that's not enough to entice you, there's another stage where local artists create something new right before your eyes as they paint their imagination on canvas or mold a spectacular sculpture.
Best Restaurants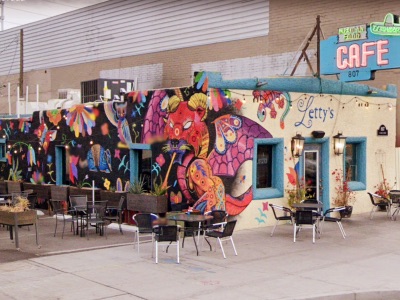 While visiting the Las Vegas Arts District you are gonna get hungry and you will be overjoyed with the vast selection of fresh, quality, and family-owned restaurants they will encounter. This is probably the funnest thing to do in the Las Vegas Arts District for foodies but anyone who likes culinary artistry created from family recipes will come away happy. You'll devour homemade Mexican specialties at Letty's de Leticia's Cocina, Dona Maria Tamales, and South American fare at Makers & Finders. There's tasty Italian goodies from family recipes at Chicago Joe's Restaurant and Esther's Kitchen. The uplifting handicapped employees at Dig It! Coffee Co. will make you smile and The Garden is ideal for the LGBTQ community with a weekend Drag Brunch serving Bottomless Mimosas. You'll indulge in authentic treats at The Great Greek Mediterranean Grill and indulge in superb upscale Asian-fusion cuisine at The Pepper Club by Todd English.
Art Square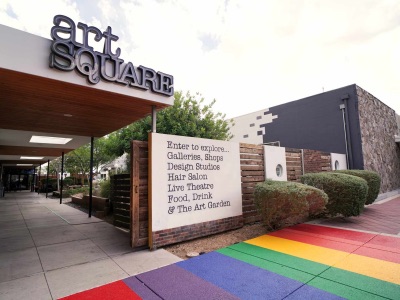 Photo courtesy of the Art Square
One of the centerpiece places in the Arts District and a perfect thing to do in Las Vegas Arts District is to make a visit to the Art Square. Situated along South 1st Street, the Art Square boasts 30,000-square feet of space within three historic buildings which have been restored and renovated to house more than 16 different organizations, artists, and businesses. Once there, you'll find a splendid outdoor art garden to stroll through coupled with numerous galleries packed with local artworks from traditional to contemporary to various other types of media. There's a wide range of activities from Josephine Skaught Hairdressing to Ruben Martinez Photography Gallery to Helios Fine Art Gallery to libations at the Artifice Bar. The Art Square is the central hub of the Arts District and houses several important organizations like The First Friday Foundation, Nevada Humanities, DTLV Arts, and educational events for the public.
The Arts Factory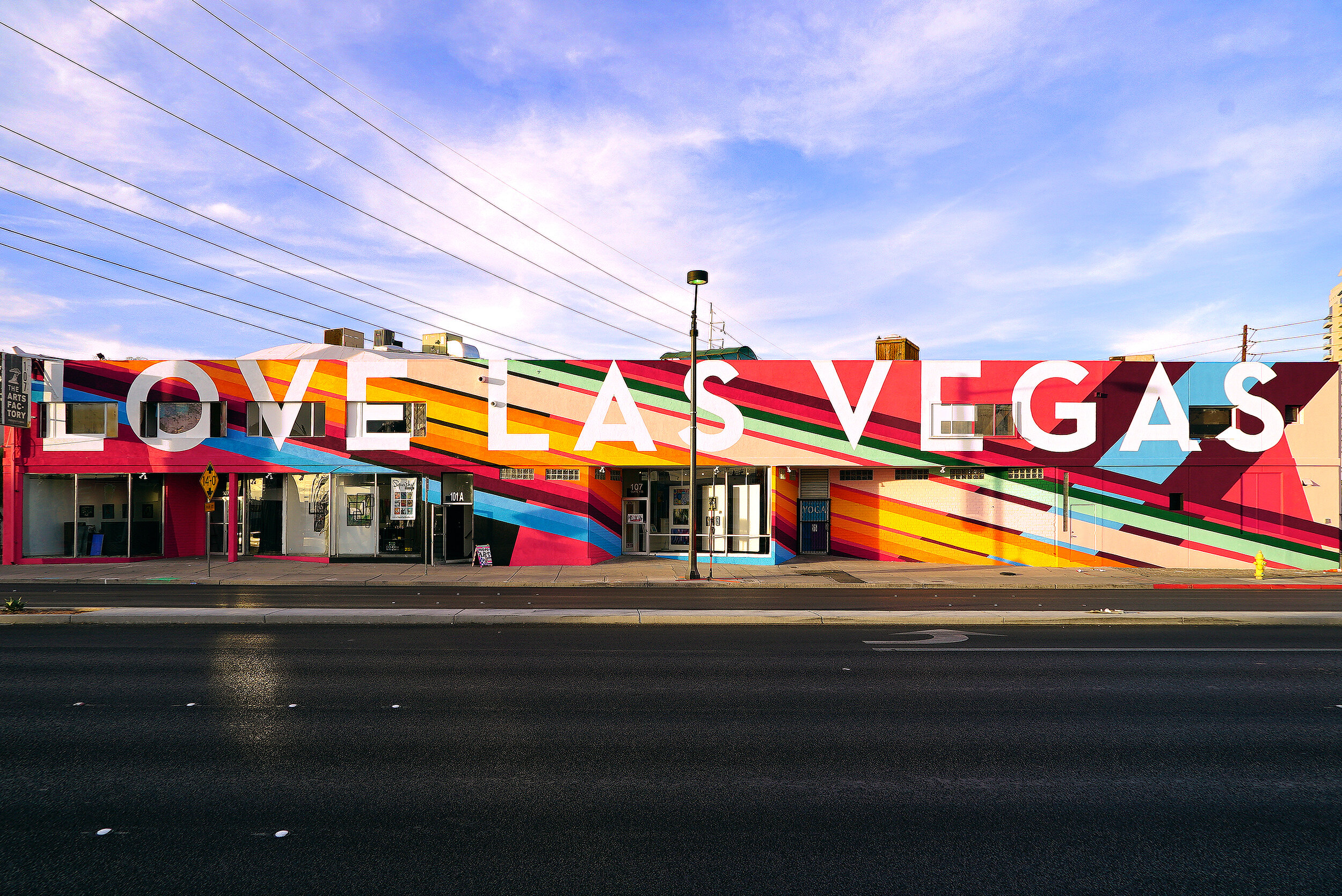 Photo courtesy of The Arts Factory
A must thing to do in Las Vegas Arts District for anyone interested in the budding art community is to visit the splendid shops, restaurant, and galleries at The Arts Factory. Located along East Charleston Boulevard, The Arts Factory is one of the central hubs within the Arts District and boasts a wide assortment of activities for visitors to enjoy. The space is packed with 30 different art galleries and art studios offering a unique opportunity for the public to gaze and purchase some of the most outstanding artwork in the region. The Arts Factory is instrumental within the district offering a number of special events from sponsoring First Friday to poetry readings to live concerts to imaginative theatrical performances. The Arts Factory also has some of the leading art supply vendors in the city and caters to all types of media within the Art and Humanities community. When you get hungry stop by the 18Bin Bar & Restaurant for tasty bites from the culinary arts or just enjoy a cold libation.
Burlesque Hall of Fame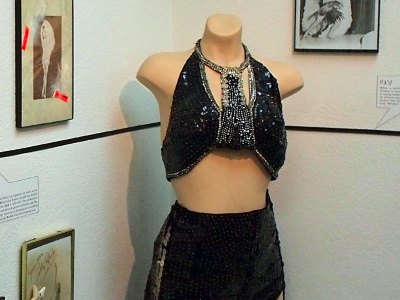 Before there were glitzy showgirls gracing the stages of Las Vegas and theaters around the world, there was burlesque and the best thing to do in the Las Vegas Arts District for people interested in learning about the history and legendary performers is the Burlesque Hall of Fame. The museum offers a fascinating look at the progression of burlesque and performers from its beginning through a series of cleverly curated exhibits. Situated on South Main Street, the Burlesque Hall of Fame houses the most extensive collection of burlesque memorabilia in the world from performers personal diaries to clothing to original photographs to famous people who supported the art of burlesque. Once inside, you'll see exhibits on famous performers of the past, learn about the burlesque theaters, the history of burlesque, how burlesque fits into American culture, and even how their risque clothing was produced to perform that perfect striptease.
Artifice Bar
Looking for a cool lounge to hang in while enjoying the Arts District, then a great thing to do in Las Vegas Arts District is to stop by the Artifice Bar. The lounge is the longest running bar and lounge within the Arts District and is situated along South 1st Street Within the Art Square.The 3,400-square foot lounge encompasses three rooms offering different eclectic styles of music for patrons to dance, listen, and let their hair down for an evening. The interior decor is subtle with plenty of artwork on the walls in each room along with comfortable couch seating to help guests relax while watching the diverse crowds. The lounge hosts a wide assortment of special events from First Friday '80s Night to Karaoke Nights to an interesting Scarlet Deepest Red Gothic Night, and they offer live models on selected nights for artists to draw, sketch, paint, or photograph. The lounge boasts live musical performances showcasing the best Indie bands to hit the stage anywhere in Las Vegas.
Priscilla Fowler Fine Art
Making a visit to Priscilla Fowler Fine Art gallery is a superb thing to do in Las Vegas Arts Districts for people interested in high-quality artwork, whether you're just interested in artwork or wanting to buy something unique. Priscilla Fowler Fine Art gallery opened in 2016 along South Main Street and is a staple within the Las Vegas art community for people to view and buy high quality artwork and fine crafts for their homes and businesses. Inside you'll find plenty of thematic exhibits featuring high-quality artwork from Priscilla herself to regional to national artists as well as local artists emerging on the scene from the University of Nevada Las Vegas and the College of Southern Nevada. Priscilla Fowler Fine Art gallery was selected the Gallery of the Year in 2019 by Desert Companion Magazine and continues to grow roots in the active arts community for artists and connoisseurs of fine art.
Las Vegas Dream Factory
For aficionados of hand-blown glass, smokers, or someone that likes cannabis fashion, then a super thing to do in the Las Vegas Arts District is to make a trip to the Las Vegas Dream Factory. Located along South 1st Street, the Las Vegas Dream Factory is the creation of legendary glass blower Jason Harris and features his collection of Jerome Baker Designs products. Over the years, Harris has created masterpieces of blown glass artwork for hundreds of celebrities, athletes, and rock stars. His Jerome Baker Designs collection features hundreds of one-of-a-kind pipes, bongs, storage containers, and a clothing line that all speaks to cannabis smokers. At his store you'll find that perfect smoking device to enjoy or maybe just set on a shelf because the colors are vibrant, the craftsmanship is superb, and each design is truly a masterpiece of blown glass artwork. His clothing line of hoodies, skull-caps, and t-shirts showcase his innovative designs of brilliant colors and eco-friendly fabrics.
18Bin Las Vegas
A perfect thing to do in the Las Vegas Arts District after looking at all the beautiful art galleries is to quench your thirst and hunger at 18Bin. Opened in 2019 along East Charleston Boulevard within The Arts Factory, the restaurant and bar features a stylish decor inside and a garden like patio for patrons. 18Bin boasts live music and is a sponsor of First Friday when the place really comes to life. They offer handcrafted cocktails, bottle service, and a variety of other libations like a bottomless mimosa during their weekend brunch which is quite popular. They boast an assortment of upscale pub-style cuisine such as burgers, sandwiches, and new twists on fan favorites like Tuna Poke Tacos and a Fried Chicken Caesar Salad along with vegan menu options. They offer some of the best lunch deals in all of Las Vegas and happy hour boasts discounted prices along with a doggie menu for those who choose to bring their furry friend with them.
Velveteen Rabbit Las Vegas
One of the more interesting things to do in the Las Vegas Arts District for people who like a somewhat quirky setting while relaxing with a unique handcrafted cocktail is to stop by the Velveteen Rabbit. Sisters Christina and Pamela Dylag opened their dream bar along South Main Street and have received numerous accolades for their tasty handcrafted libations which change seasonally based on the freshest ingredients the sisters can find. The interior decor is packed with vintage goodies from the chairs to memorabilia to artwork which give the atmosphere the perfect setting for a relaxing cocktail or libation with your friends. They offer special events like cocktails and a story but the most pleasant part is the wild pink patio that sports a gorgeous decor to help you relax after making it through antique stores and art galleries. You won't find much food here, maybe some pretzels, because the special seasonal cocktails take the stage front and center.
Neon Desert Brewing
If you're an aficionado of handcrafted specialty beers then the only thing to do in the Las Vegas Arts District is to visit Neon Desert Brewing. Situated along South Main Street, the industrial style building is easy to spot with its vibrant paint, neon signs, and outdoor patio. Inside you'll find an open space with plenty of bar railing for standing to comfortable seating for you to relax on and sip one their 19 handcrafted specialty beers. The decor is simple with plenty of artwork on the walls and the brewing facilities are behind glass for patrons to watch all the action of making their beers or you can take a tour of brewing facilities. On tap you can enjoy a variety of flavors all made in house that range from Circles of Helles (think spicy) to Love You a Latte to a New England-style IPA called Neon Haze. They offer flight tastings as well as half and full pours when you find that special beer you like.
Jammyland Cocktail Bar & Reggae Kitchen
When you're seeking a vibrant atmosphere packed with plenty of pirate's punch and tasty Caribbean cuisine, then an ideal thing to do in Las Vegas Arts District is to visit Jammyland Cocktail Bar & Reggae Kitchen. The establishment is not hard to stop with its Jamaican colors and intense wall mural in the front while walking along South Main Street. The interior is lively and loaded with Caribbean themed artwork from reggae dancers to pirates to tropical sceneries, and plenty of unique wall murals. Their Caribbean themed menu is a hit with specialty items like Trinidadian Mac Pie, Pepper Pot Sliders, Jerk wings, and Berbere Sweet Potato Fries are a must try for foodies. In the evening the outdoor patio comes to life with live reggae music for dancing while you sip on one of their many handcrafted specialty rum drinks that brings memories of the Caribbean Islands.
Spinettis Gaming Supplies
People like their poker and gambling parties at home and when you are in search of any type of gaming equipment or specialty chips to impress your friends at your next poker party, then you need to go to Spinettis Gaming Supplies. Visiting this place is a great thing to do in the Las Vegas Arts District when you're looking for gaming collectibles or supplies. The company boasts an eclectic inventory of collectible poker chips and dice from closed down casinos to name brands like Harley Davidson to customized chips you can order for yourself. But that's not all you will find. They boast an extensive inventory of collectible playing cards in the same fashion with decks from major casinos, hotels, and even cruise ships. If you're looking for a new gaming table then Spinettis Gaming Supplies can help you with that too or when you need something for a special event they offer affordable rentals.
Modern Mantiques
When you want to take home that special souvenir to showcase your trip to Las Vegas or if you're looking for that special something for your mancave, then the perfect thing to do in the Las Vegas Arts District is to make a trip to Modern Mantiques. Once inside in their nestled on South Main Street your jaw will drop when you gaze at the packed shelves with all kinds of collectibles. Modern Mantiques specializes in many areas of collectibles from porcelain signs to car memorabilia to military items like uniforms, patches, medals, swords, and even historic firearms. Other collectibles include a variety of vintage fishing lures, lunch boxes, railroad, and antique pipes and cigar collectibles. Make sure you spend some extra time looking at the tin toys, stuffed taxidermy animals, and you'll be thrown back into memory lane with their movie collectibles. They also buy selected items so you can try your bargaining skills here as well.
Nightmare Toys
A must thing to do in the Las Vegas Arts District for anyone who likes scary movies and various collectibles from horror films is to make a visit to Nightmare Toys. Located on South Commerce Street, Nightmare Toys is your go to store for all types of collectibles from just about any horror film produced. Once inside you'll find incredible memorabilia from all the classics whether it's an original Chucky Doll, an autographed Friday the 13th poster or something from your favorite B-horror flick like Sleepaway Camp. But there's more with a wide variety of costumes, masks, and clothing that will make the envy of any costume party. For those looking for something for their home there's artwork, original movie posters, wall decor, pillows, and even stage props to help you decorate your home or dungeon. Nightmare Toys is not just for Halloween and is the true horror movie junkies dream place to find that special collectible.
Glam Factory Vintage
The Glam Factory Vintage is loaded with one-of-a-kind vintage clothing that pops with vintage fashion ideas and visiting the store is a great thing to do in the Las Vegas Arts District. Nestled inside an older home painted a bright yellow and orange, Glam Factory Vintage is located along East Colorado Avenue. Inside the store your senses might get overloaded with all the vintage apparel from the 1940s thru the 1970s which are brilliantly colored from the days of the early days of rock-n-roll, the James Dean and Rat Pack look, and the Flower Power Movement. Owner Stephanie Roshto has scoured the country for unique items of second hand fashion from shoes to shirts to skirts to dresses and all the cool accessories to match. Don't worry guys there's plenty of clothing and accessories for men that will make you look like a million bucks. When shopping, look out for those dresses which were once worn by a famous stripper/burlesque entertainer or a gangster's loved one.
Rockin Bettie
If you're a fan of retro apparel that snaps with class and gives you that extra edge, then a superb thing to do in the Las Vegas Arts District is to go shopping at Rockin Bettie. The retro clothing boutique is packed with unique items that celebrate the glory days of rockabilly, pin-up clothing, and retro styles. Situated on South 3rd Street, the owner Amy Ortiz has a keen eye for retro fashion and personally chooses the incredible retro merchandise from clothing to housewares to shoes to gifts to matching accessories, and there is a nice selection of one-of–a-kind items for women, men, and children. The retro styles including flowing swing dancing skirts, rockabilly bowling-style polo shirts for men, and polka dot dresses are packed with memories reeking of good times when style was a statement of your lifestyle. While you're visiting you can even get your photographs shot in the back studio and create your own personalized pin-up which makes for great memories and a beautiful souvenir.
The Red Kat Vintage
Vintage fashion lovers and people who like to give clothes a second chance will fall in love with the fashions they find at The Red Kat Vintage. The vintage boutique is a super thing to do in the Las Vegas Arts District when you're searching for fashionable used clothing just waiting to be worn again. When you walk in you are treated to bins of vinyl records but the space quickly opens up to racks and racks of quality vintage apparel. Men and women peruse the racks for that special something to give them an edge at the club, on a date, or at their place of work. At The Red Kat Vintage you'll find a perfect sequined dress with large shoulder pads or that ideal pair of high cut jeans and men can browse the hundreds of tweed suit coats, cowboy boots, quality made button down shirts of the past, and even a vintage ugly Christmas sweater.
The Good Wolf Lifestyle Co.
There's more to the Las Vegas Arts District than art galleries and antiques and a fun thing to do in the Las Vegas Arts District for people that like to support small businesses which support local manufacturers is to stop by The Good Wolf Lifestyle Co. The boutique is awesome with hundreds of items locally purchased from artists to fashion designers to a diversity of products that will leave you with a smile. Located on South Commerce Street, owners Sean and Lisa Blachard pride themselves in developing a boutique which gives people a choice to enjoy a different type of lifestyle. Once inside, you'll find unique household items made by local artists, fashionable clothes for women, men, and children from bathing suits to button down shirts and stylish polos to quality jeans to accessories like hats, bracelets, and necklaces. Many of the quality apparel items are made from eco-friendly material making their brand name a choice for conscientious buyers.
Get A Tattoo In Las Vegas
Lots of people visit the Las Vegas Arts District to find that special one-of-kind souvenir from artwork to antiques which will bring back memories for years, but an excellent thing to do in Las Vegas Arts District that guarantees you taking home a one-of-a-kind souvenir is to get a tattoo. Getting inked up while you're in Las Vegas is not a new idea and over the years thousands of people from service personnel to business people to performers have been inked up in Sin City. But when you're looking for that one piece of lasting artwork to showcase your good times in Las Vegas getting a tattoo is the perfect idea. Many of the tattoo artists are nationally known with accolades from prestigious art colleges or universities and their skilled knowledge of drawing and sketching is reflected in their beautiful artwork. There are lots of tattoo parlors to choose from in the Arts District with places like Koolsville Tattoo, and Top Cat Tattoo Club leading the way with plenty of delighted customers.
Get Your Free Las Vegas Events Calendar!
Best of Vegas