Las Vegas Cirque du Soleil Shows 2023
Las Vegas Cirque du Soleil shows rank among the best on the Strip. Each show is completely unique, and at least one must be experienced at least once in your life - there is nothing like it in the entire world. Each production plays in theaters on stages specifically adapted for this particular show. There are currently six Cirque Du Soleil shows playing on Las Vegas Strip in 2023 - O at Bellagio Hotel, Mystere at Treasure Island, Michael Jackson ONE at Mandalay Bay Resort & Casino, Ka at MGM Grand, The Beatles: Love at The Mirage, and Mad Apple at New York New York Hotel. Here are my reviews of all the shows by Cirque du Soleil playing in Las Vegas in 2023.
O by Cirque du Soleil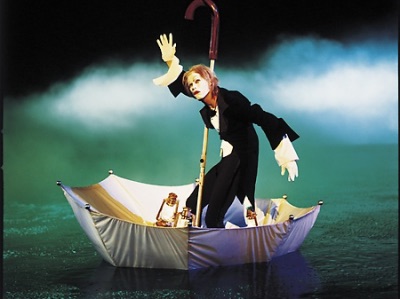 Location: O Theater at The Bellagio
Show Times: Wednesday-Sunday at 7:30 pm and 9:30 pm, Usually black out Mondays and Tuesdays.
Age limit: 5+
O by Cirque du Soleil Las Vegas, playing at the Bellagio Hotel, comes from the French word "Eau", which means water. It is a stunning performance that takes place in and around a stage designed to look like a large pool. The production of O consists of highly choreographed jaw-dropping acrobatics and features incredible gymnasts and world-class synchronized swimmers demonstrating their artistic excellence underwater and above water. Needless to say, all the water performers are certified scuba divers.
Some of the acts in O by Cirque du Soleil Las Vegas include aerial hoops, divers plunging from great heights, hand-balancing acts, performers propelled by powerful jets of water, clowns, acts on a specifically designed ghost ship emerging from the water, and synchronized swimming. What's amazing is that the O cirque show is a multi sensory experience played on such a large scale and the stage has so many focal points that you might not be sure where to look.
O by Cirque du Soleil is a beautiful show recommended for adults and kids older than 5 years old. Even little ones will be able to appreciate this amazing cirque show.
More Shows
Get Your Free Las Vegas Events Calendar!
Best of Vegas