Best Las Vegas Strip Maps For Visitors
Here is a selection of Las Vegas Strip Maps, recommended by many travellers. These maps were carefully chosen, because they provide the most accurate and comprehensive information that is much needed when visiting or planing to visit Las Vegas. Choose one of the four presented maps or choose all, you will be very equipped and informed of Las Vegas areas, its' hotels and other popular amenities.
Printable Map
Here is a FREE printable Las Vegas Strip map showing major resorts and casinos.
Las Vegas Strip Popout Map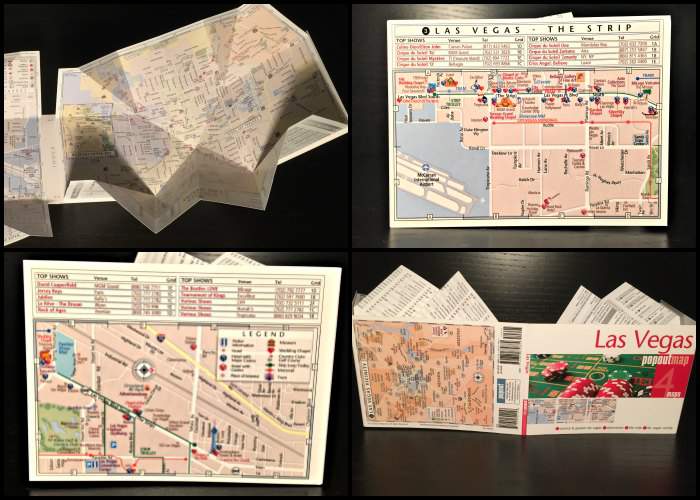 This is a very conveniently folded Las Vegas Strip map, that does not take up space in the purse or pocket. It is nice to the touch, easy to carry and has access to all the needed information. Inside, this popout map contains 4 small maps giving a glimpse of different regions in Las Vegas. These regions include Central (Downtown) and Greater Las Vegas, the Strip and Las Vegas Vicinity.
When exploring the city, this Las Vegas Strip map will become very handy with its right size, easy access and comprehendible information. Central region of Las Vegas has the popular Strip, where all the hotels and entertainment happens. There are 2 hospitals that are conveniently located close to the Strip and the highway, there is a fashion show mall, and Fremont street experience. The Las Vegas locator symbol allows for easier understanding of areas around the city.
When you pick up this cool map, you will recognize how accessible everything is. All the major and most popular hotels and resorts are situated right along the Strip. Their exact location with the correct hotel icon can be found on side number 2 called Central Las Vegas Map. On page 1 "Greater Las Vegas" at the top of the page, you can find a legend that allows for easier search and location of parks, museums, hotels and general visitor information.
Page 2 is Big Central Las Vegas Map which gives a closer look at the Strip: it lists all the major hotels, casinos and resorts, that are abbreviated with a small red dice cubes. Wedding chapels are marked with red hearts for easier viewing, and the legend at the bottom left corner gives specific icons for easier location on the actual map. Airport is close enough to the Strip and the downtown portion of the map has the street name index for easier finding.
Once you close the map, on both the right and left sides there is a close-up of the Las Vegas Strip map. The information at the top of the left page is of the top artists and shows and their schedules, which is very handy to have when strolling through the streets of beautiful Vegas. This way you will know which show is the closest to you at the moment and how you would like to entertain yourself.
Las Vegas Vicinity Map is a very practical side of this entire popout map showing the allocation of the nearby states that are situated near Nevada. While paying attention to the Legend on the left side of the page, this map gives a great outlook on the areas to visit and the approximate distances between them.
Customer reviews are high for this mini popout map being 4.7 out of 5 making it one of the most popular Las Vegas maps.
Streetwise Las Vegas Strip map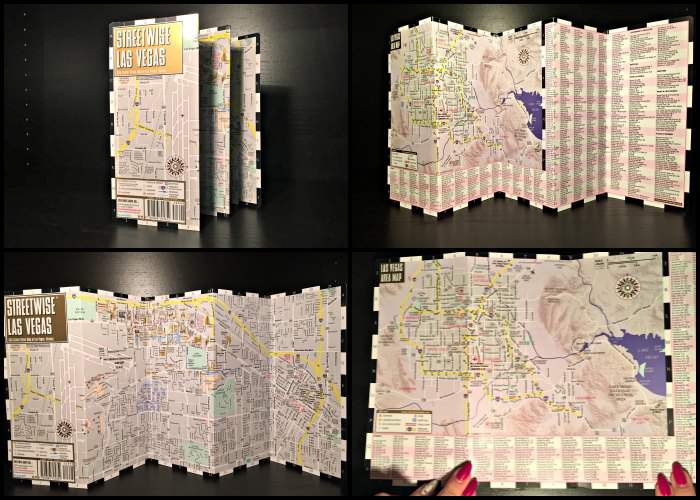 Streetwise Las Vegas Strip map is known for its durability, detailed information and accuracy. This CityCenter Street Map was revised in 2013, so it's a fairly new update of this map publication. Its laminated finish is lovely to the touch and does not get dirty. In case you have got a grease spot or dirt on it, you can always wipe it with a damp cloth and have a perfectly clean and new map to enjoy.
Travellers find this map easy to carry; it does not wear and tear easily. Its simple wording stands out making it easy for anyone to understand.
Map key is also available for your convenience. It tells you where to find many things including the pedestrian overpass. For someone who does not drive and wants to enjoy the scenery, there is a pedestrian overpass which is a great thing. A tourist can enjoy all the beautiful sights that Las Vegas has to offer, including stopping at one of the restaurants for a quick lunch/drink or an espresso.
On the back of this Las Vegas Strip map, you can find street names with a corresponding number next to them that you can quickly find on the map. In addition there is government of education, hospitals, museums, parks, golf courses and places of interest that you can visit. Also, please keep in mind that some hotels are indicated with an architecture sign rather than a colour.
Customers who used this map have given it a 5-star review saying that it is a handy map filled with useful and understandable information.
Streetsmart Las Vegas Map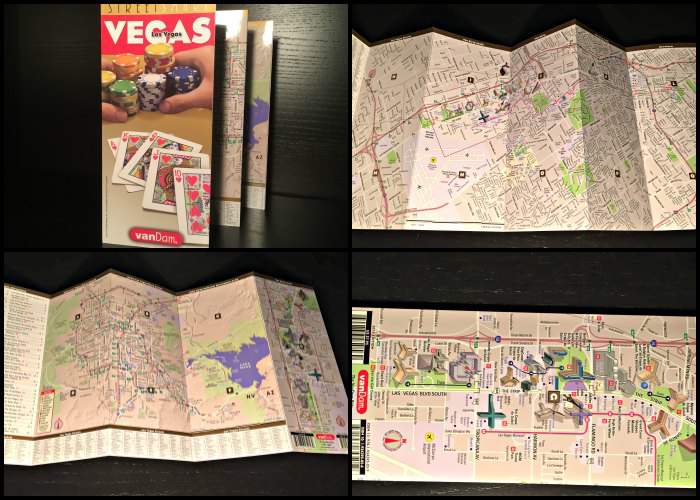 This easy to fold and carry Streetsmart Las Vegas Strip map is made of durable laminated material. Inside the front cover this map is divided into 3 sections: Metro Las Vegas/Clark County, Lake Mead National Recreation Area and the Strip South. The recreational area gives the up-close look at the parks and lakes, while the Strip South section gives you a more detailed description of the strip, its' hotels, shows and streets.
On the sides of the pages of Streetsmart Las Vegas Strip map are attractions with a corresponding number and letter, that you can easily locate on the map either on the front or the back of it. At the bottom of the map, you will find a list of hotels, buffets, and streets in Las Vegas. What you will find useful as well is the map key that allows you locate important things like a police station, a hospital or an airport. Back of the map is a much closer look with a thorough description of the downtown Las Vegas and the Strip that breaks into 3 sections south, mid and north. For easy spotting this side of the map even has hotel icons that are located on the Strip, they are very hard to miss.
For the golf lovers, all the golf courses are marked with a white flag, so you can estimate the approximate distance between the golf course and your hotel, for example, and successfully plan your outings.
This is a recent 2014 edition and has all the new streets, hotels and entertainment. Customers who used this Las Vegas Strip map have given it a high rating and a very confident and positive feedback that it is an easy-to-use durable map, that helps to navigate around a busy Las Vegas with no problems.
Fodor's Travel Las Vegas Strip map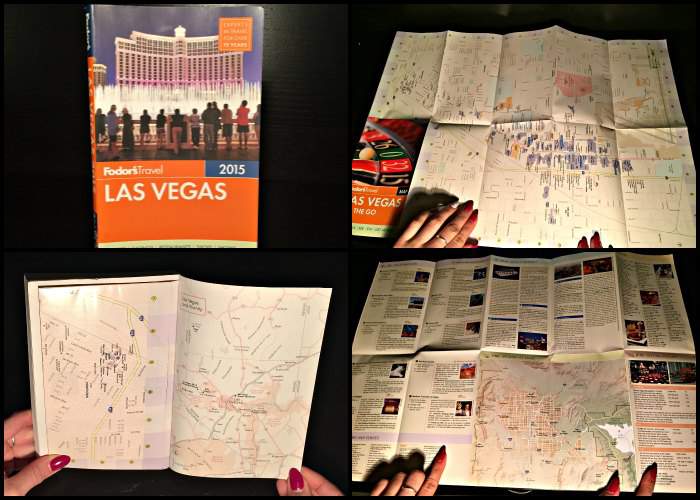 Purchase The most updated Fodor's Las Vegas 2016
The Fodor's Travel Las Vegas is the ultimate refer-to guide for any traveller wanting to visit Las Vegas. This is a very comprehensive Las Vegas Guide that has all the important Las Vegas information you can possibly think of. Fodor's Las Vegas Strip map has colourful photographic images of hotels and attractions and many things you can experience while being in Sin City.
This book is great for orienting you around the city, and is highly recommended by other travellers. It is a great way to introduce yourself to Las Vegas. This guide provides a section on history of Las Vegas that will sure help better understand what the city is about and how it all began more than 2,000 years ago.
This Travel Guide provides information on all the areas of Las Vegas including the Strip, downtown, east, west, south and north parts of Sin City, lakes and parks, attractions and restaurants. There are two phenomenal and super helpful attributes to this guide that you will find to be an essential addition to planning your vacation. This guide presents its readers with Las Vegas Strip map, displaying the location of specific facilities and establishments and all the pricing information so you can better plan your holiday and your budget.
Each hotel offers a scheme of that specific hotel where you can vision of what the hotel looks like inside and the location of its' amenities within the hotel. A ton of information is offered to the casino lovers who will enjoy this edition because it talks about all the different casino games, rules and strategies in the most specific and detailed way.
A large section of this Las Vegas Strip map is dedicated to restaurants and outside eateries providing addresses, prices and complete material on the dining options, spas, their treatments and prices, regular and high-end shopping experience, fascinating nightlife and many places to see.
At the back of the book is a very conveniently folded "Las Vegas on the go map", so this book is a must-have for any traveller who wants to experience the fun and enjoyment of Las Vegas. This is a 2015 edition, so all of the information on streets, the correct location and spelling of street names, the new hotels, shows, casinos, shops-is new and current.
Most customers who purchased this book with an attached Las Vegas Strip map are giving it a 5-star review for its detailed information, perfect sizing and describing it as a fun, informative and a complete guide that will help you get the best of Vegas each and every time you visit the Sin City.
Las Vegas Strip map of Free Attractions
This Las Vegas Strip map highlights major free attractions that you can enjoy on your own.
Las Vegas Strip Monorail map
This Las Vegas Strip map shows the monorail stations.
MGM station
Bally's/Paris station
Flamingo/Caesar's Palace station
Harrah's/The Linq station
Las Vegas convention Center station
Westgate station
SLS station
Free Attractions
This Las Vegas Strip map highlights major free attractions that you can enjoy on your own.
Monorail
This Las Vegas Strip map shows the monorail stations.
MGM station
Bally's/Paris station
Flamingo/Caesar's Palace station
Harrah's/The Linq station
Las Vegas convention Center station
Westgate station
SLS station
Plan Vegas Stay
Strip Hotels

Shows

Fun Activities

Tours

Grand Canyon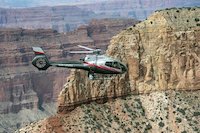 Do you have any questions or Comments?