The best Las Vegas nightclubs - DJ Schedule in 2023
Below are the best Las Vegas nightclubs in 2023! Only here you can find world-famous DJs - if you wish, on the same night! Here you can stumble upon party-loving celebrities such as Snooki, Kim Kardashian or Paris Hilton (hey, whatever rocks your socks!) You can find a club for any taste or budget, club-hop all night long, have a crazy bachelor party or order a VIP bottled service for any nightclub of your choice.
Hakkasan Las Vegas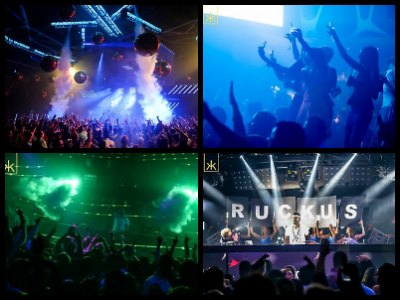 The Hakkasan Las Vegas nightclub is the king of night spots that allure patrons into having a great time with music, drinks and food. Located within the MGM Grand, Hakkasan Las Vegas has set the bar high for nightlife venues in Sin City. The interior is chic, upscale and lively with plenty of action as well as three distinct areas for partiers. The Ling Ling Lounge is situated on the third floor and is ideal as a private lounge with a beautiful Asian inspired décor. The Pavilion space is accented like an Oriental garden space that is tranquil in felling. The main floor has a huge dance floor with plenty of multimedia effects and the music is controlled by the world's best DJ's. If you are someone who wants to experience the best in nightclubs around the world, then Hakkasan is perfect for you.
Get Your Free Las Vegas Events Calendar!
Grand Canyon Helicopter Tours by Papilloin
Grand Canyon Helicopter Tours by Maverick
Awesomest Things to do in Las Vegas Every Day!

More Nightlife
Get Your Free Las Vegas Events Calendar!
Best of Vegas