Fun Things To Do In Las Vegas in 2019
These fun things to do in Las Vegas in 2019 will make any adrenaline junkie happy! If you are looking for something different to do while on The Strip, here are the most fun, unique and extreme sports, that you almost certainly can't do in your home city. You could do Indoor Skydiving, Tandem Skydiving, Zip Lines at the Bootleg Canyon and Voodoo Zipline, learn to fly an airplane (sky Combat), shoot machine guns, ride race cars, fly in a hot air balloon, do extreme canyoning, or even jump from the Stratosphere Tower, and other must-do crazy things in Vegas!!
What's Hot
Dig This Aggression: Session Crush a Car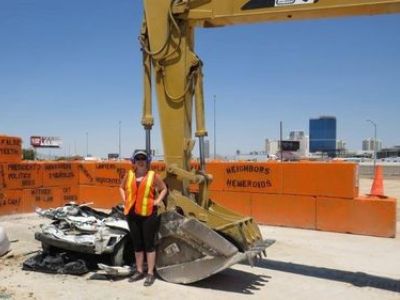 Everyone has a little pent up frustration inside and the best way to relief this pressure when looking for things to do in Las Vegas is to try the Dig This Aggression Session: Crush a Car. Your 45-minute crush it session begins when you arrive at the Dig This site just off the Strip. Once at the site you will be thrilled to see all of the construction equipment just waiting for you to use while you release your anger. Your adrenaline will start to rise when you are seated in a powerful Caterpillar Excavator and you will receive expert instructions on how to navigate this monster of a crushing machine. Next you will stroll through the work site and pick out your victim. When you finish spray painting the car the fun really begins. Taking control of the excavator you bash, pound and rip apart the perfectly good car until you finally pick-up the car and drop the car to its death. There will be nothing left when you are finished from the windshield to the hood to doors to the undercarriage. Your excellent aggression session concludes with all smiles and a great memory of bashing something to a pulp.
What's Hot