Adventurous Things To Do In Las Vegas in 2023
Looking for adventurous things to do in Las Vegas in 2023 that will take your adrenaline to new levels and have your heart pounding in your throat? These off-the-chain excursions range from shooting high-powered weaponry to soaring in a hot air balloon to driving a super-fast car around the Las Vegas Motor Speedway. Other tours include racing across the Mojave Desert in a dune buggy, jumping off the Stratosphere Tower, riding an incredible roller coaster, and even flying your very own fighter jet. People are also thrilled by destroying a car with a bulldozer, taking a horseback ride through the Wild West, and experiencing the adrenaline of indoor skydiving. The extreme adrenaline-filled Vegas activities are endless and are all guaranteed to leave you breathless. Skydiving and scuba diving are also available in the area.
Gun Ranges / Shooting Experience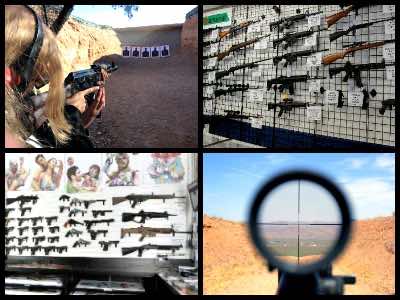 If you're looking for an exciting and adventurous activity in Las Vegas, visiting one of the many shooting ranges in the area might be just what you need. Shooting ranges offer a range of packages for you to choose from, allowing you to customize the types of guns you want to shoot and experience the extreme power of firing high-powered weapons.
From the M60 to the AK-47, the Glock 17 to the Barret Sniper Rifle, you're sure to find something that suits your preference. These shooting ranges even offer various scenarios to make the experience more fun.
All of the shooting ranges have state-of-the-art equipment and a safe, controlled atmosphere to ensure that you have a thrilling but secure experience. It's a great way to get your adrenaline levels rising and have some fun during your trip to Las Vegas. Don't miss out on this unique activity that's sure to make your trip unforgettable!
Get Your Free Las Vegas Events Calendar!
Best of Vegas