Unique Things To Do In Las Vegas in 2022-2023
These unique fun things to do in Las Vegas in 2022-2023 will take your adrenaline to new levels that will have your heart pounding in your throat! These off-the-chain excursions range from shooting high-powered weaponry to soaring in a hot air balloon to driving a super-fast car around the Las Vegas Motor Speedway. Other tours include racing across the Mojave Desert in a dune buggy, jumping off the Stratosphere Tower, riding an incredible roller coaster and you can even fly your very own fighter jet while engaging. People are thrilled destroying a car with bulldozer, taking a horseback ride through the Wild West and don't forget about experiencing the adrenaline of indoor skydiving. The extreme adrenaline-filled Vegas activities are endless and they are all guaranteed to leave you breathless.
Gun Ranges / Shooting Experience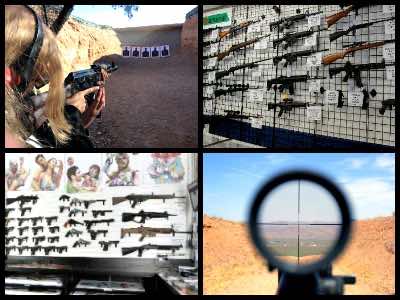 Going to one of the many shooting ranges is a fun thing to do in Las Vegas when you want to feel the extreme power of shooting numerous high-powered weapons. There are plenty of unique packages for you to choose from at these fantastic shooting ranges and each package allows you to customize the types of guns you want to shoot. The high-powered weaponry available ranges from shooting a M60 to AK-47 to a Glock 17 to a Barret Sniper Rifle. The options offered put you into the action where you can experience scenarios from WWII, Desert Storm, chasing Zombies or being a Mob Boss and if that's not enough try a package where you blow up a car. All of the shooting ranges offer state-of-the-art hardware for you to shoot in a safe and controlled atmosphere that will definitely have your adrenaline levels rising.
Get Your Free Las Vegas Events Calendar!