Las Vegas Food Tours of Top Restaurants
Las Vegas food tours are becoming a thing on The Strip and downtown. Sin City is not only about glitz, glamour and casinos. Hidden away on the Strip and Downtown are delightful authentic world class eateries. Discover them with a knowledgeable guide on unique walking and scooter tours. Combine learning about the history and culture of the city with sampling tempting dishes as you go along. Get behind the scenes to meet the chefs and restaurant owners for exclusive VIP treatment. Don't leave Vegas without trying a few of these fabulous food tours!
The Walking Gourmet Las Vegas
From: $200; Duration: 3-4 hours
The Walking Gourmet Food Tours are two separate events with each a flare of its own. Las Vegas has some of the most exciting new concepts of eateries that your taste buds will never forget. Your expert guide provided by Walking Gourmet Food Tours will give you all the details of Las Vegas and the wonderful dining options the Sin City has to offer.
Each one of the Las Vegas Walking Gourmet Food Tours is a 3-4 hour excursion that will take you to four to six the top restaurants, taverns and specialty restaurants. Enjoy appetizers and well-prepared entrees that will leave you in gastronomic heaven. You will also enjoy unique cocktails as you devour two to three appropriate sized food items while pairing these delectable works of art with the perfect alcoholic or non-alcohol beverage. The last stop your taste buds will enjoy an exquisite dessert. Currently there are two different tours being offered by the Walking Gourmet Food Tours.
Dine and Shop 'Til You Drop Tour: This tour begins at Town Square which exhibits a wonderful flare of a European city of yesteryear. You will meet your Walking Gourmet Food guide around the entrance to Tommy Bahamas. From Tommy Bahamas you will journey to Brio Tuscan Grille where rare Italian delights await your mouth. At English's experience the wonderful cuisine of British as well as eating exquisite gourmet snacks at Double Helix Wine and Whiskey Bar. After your culinary travels you will have the opportunity to shop at such noted stores such as Banana Republic, Abercrombie & Fitch, Armani Exchange Juice Couture, Sephora and many more. Guests must provide their own transportation to and from Town Square where there is ample free parking garages. Culinary Mystery Tour: This tour offers fine cuisine from several noted Las Vegas Strip restaurants that range from bistros to celebrity chef restaurants to unique clubs. Each location will involve an exquisite tasting of food and drink. The Culinary Mystery Tour is only available Thursday-Saturday with a different starting point for each day. Guests must provide their own transportation to and from the designated first location.
What's Hot
Happy Hour on The High Roller at The LINQ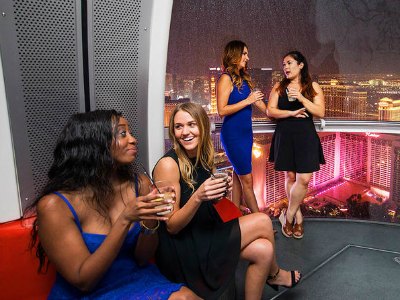 Start your first Las Vegas food tour high in the sky on the High Roller, the worldÕs largest observation wheel. Climb into a luxury, air-conditioned pod with your group of friends, only over 21's allowed, and be wowed by the panoramic views and witty commentary from the narrator.
You have access to a full bar for the 30 minute ride. The wheel is located in the fabulous LINQ entertainment center. Get the party started in the sky and when you touch down, head off to the Hash House A Go Go for traditional American comfort food, or experience the Mexican taste at the Chayo Mexican Kitchen & Tequila Bar.
Las Vegas Strip Afternoon Food Tour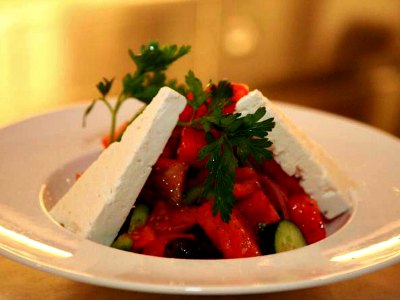 Skip breakfast if you intend doing this Las Vegas food tour!
This fabulous two and a half hour walking tour with a knowledgeable guide will take you to hidden gems. You will stroll along the Strip, see the sights and stop to sample twelve delicious dishes in four different restaurants.
Learn interesting facts about the venues and the passion that drives the Chefs. Enjoy VIP service and a variety of cuisines as you are treated like royalty. Try Spanish tapas and contemporary Mexican. Discover a French Brasserie and delight in fusion Japanese and Asian fare. Then gorge on the ultimate mega American Steakhouse treats that will leave you gasping. Your guide will leave you with a list of more fabulous eating venues, for another day!
Foodie Tour of Downtown Las Vegas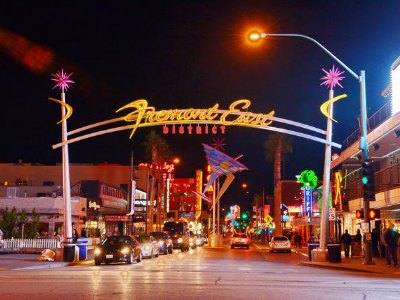 Food lovers cannot miss this next Las Vegas food tour, it will delight your taste buds as you eat at renowned impossible-to-get-into venues, unless booked months in advance. Walk around with your guide in the fabulous Downtown section and experience its unique and distinct urban character.
Stop at the acclaimed Carson Kitchen, founded by the celebrity Rock n Roll Chef, Kerry Simon. Enjoy the open kitchen and taste fresh seasonal ingredients used in the signature dishes. Then set off to Glutton, located in a mid-century, industrial-chic building. Sip a craft cocktail with a plate of scrumptious snacks. A taste of Japanese is next at Bitsy. Walk it all off as your guide updates you on the history and culture of Las Vegas Downtown.
Las Vegas Strip Evening Food Tour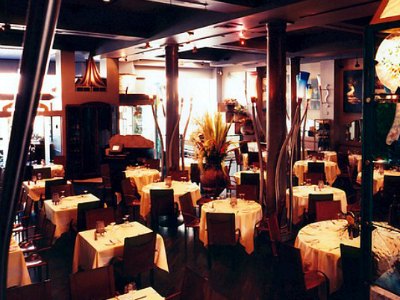 Get introduced to some of the best gourmet restaurants on the next Las Vegas food tour. This evening adventure is a three hour delight where you will walk along the Strip with a food loving guide and stop at five eateries and enjoy fifteen different dishes ranging from starters to mains and desserts.
World class chefs will tempt you with a variety of flavors. As you venture from venue to venue, your guide will keep you entertained with fascinating stories on the restaurants, their history and the chefs. The restaurants and menus change regularly, so you can take this tour many times and never get bored. At the end of the tour, you will have a list of more eateries and info on where to stop off for a late night cocktail and star-quality entertainment.
Downtown Las Vegas Food Tour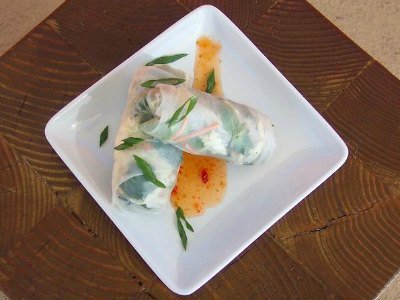 Head downtown for a delightful eating experience on this Las Vegas food tour. It combines history, culture and cuisine to show that Sin City is not all about casinos! The walking tour with a guide takes you down Fremont Street, where you will be updated with fascinating anecdotes about the area. Stop at off-the-beaten-track restaurants and enjoy delicious food while you chat to the owners and chefs. This tour is limited to twelve people and offers an intimate and relaxed experience.
Venues change but you may visit the fabulous Beef Jerky Store, the ChillSpot, a frozen dessert shop and Simply Pure, a speciality vegan and raw food cafe. This eye-opening tour shows you another side of Vegas and cannot be missed.
Las Vegas Strip And Downtown Scooter And Food Tour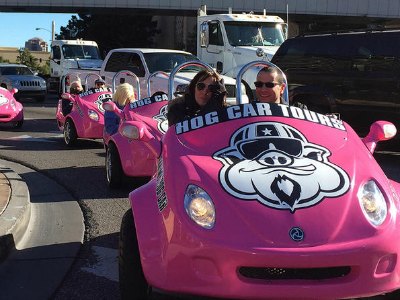 For the ultimate fun experience, ride a Hog Car scooter around Las Vegas to see the sights and enjoy fabulous eats on this unique Las Vegas food tour.
The four hour trip takes you to the famous Las Vegas sign, the Chocolate Fountain, the Venetian and the Palazzo as well as the iconic TV studios where world class shows are filmed. For the food, you will stop at famous eateries along the way, many of which have been featured on TV, and be welcomed by the owners and chefs to sample their signature dishes. End your day at the Rio Hotel where you will love the VIP treatment as you are taken up to the viewing balcony to admire the panoramic views of Sin City.
What's Hot
Do you have any questions or Comments?