Best Las Vegas Comedy Shows 2021
Las Vegas comedy shows are the funniest in the world! Sin City appreciates and rewards true talents with long-term contracts and possibility for stand up comedians to run their own shows in the city. Read reviews of the funniest shows and stand up comedians that live and perform in Vegas, and about those that are scheduled to come with gigs and comedy acts in 2021.
Plan Vegas Stay
What's Hot
Disclaimer: I receive a small commission from the links on this page.
John Caparulo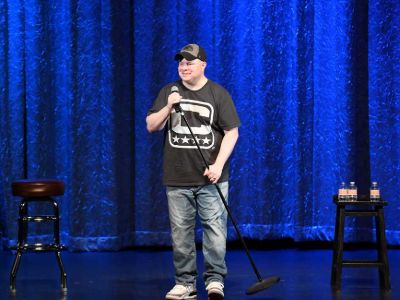 Venue: House of Tape, Harrah's
Schedule: Thursday-Monday at 10:00 pm
Age restrictions: 18+
When you are ready for an evening of intense laughter, eyebrow raising jokes, and just a good time then you need to see the Comedy Lineup with John Caparulo MADCAP Comedy. Performing at the House of Tape within Harrah's, Caparulo brings his off-the-cuff comedy to the stage for a delightfully funny and sometimes vulgar Las Vegas comedy show. Beginning his career as a regular on Chelsea Lately, he has propelled himself into numerous lineups that not only include comedy clubs but the police too. His style is often referred to as the madman on stage blurting out blue collar comedy that is not only Foxworthy but Vince Vaughn worthy. He has a quick-witted attitude that draws on many funny experiences the average person understands during his sarcastic show that mixes fatherhood, marriage, and a bit of self-deprecating jokes that leave the audience rolling with laughter in the aisles. On any given night he can tell you about his experiences in the Navy that concluded as a stock boy at Old Navy and let's not forget about his world famous karate school that he ran in his front yard for years even though he did not know karate. The jokes keep coming from all directions and his no-fear comedy is taking the Strip by storm and is a must laugh evening for you to watch.
What's Hot
Plan Vacation