Las Vegas ATV And off road Tours 2022
Try Las Vegas ATV tours in 2022 for extra adrenaline & excitement! Be prepared to feel the wind, take in the sights and get dusty, dirty, and very happy! There are plenty of trails, dunes desert and areas around Las Vegas - in the desert, Hidden Valley, Nellis Dunes, Lake Mead or Valley of Fire. There are all-terrain vehicle rides for beginners as well as for experienced adrenaline junkies, and anywhere in between!
Hidden Valley and Primm Extreme ATV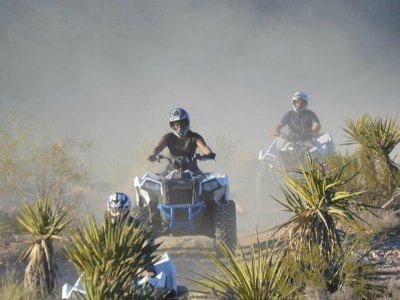 You always dreamed of taking your own ATV to a desert climate to experience the rush of adrenaline that pours through body as you maneuver your ATV around natural obstacles. Extreme Las Vegas ATV tours in Hidden Valley and Primm will satisfy your need for adventure that is lacking from your life.
You will first take a short van ride to Jean, Nevada where you will be outfitted with equipment for your journey. After a quick safety program, you will set out for some of the world's best natural scenery to be had. This tour is not for the beginner and requires prior ATV experience. You will travel between 20 and 50-miles of your ATV journey and visit such notable natural terrain such as Hidden Valley, the McCullough Mountain Range and of course the Mojave Desert.
This tour is offered in the morning and afternoon with the early tour offering a stop at Primm, Neveada. It should be noted that a $10 per patron fuel surcharge is payable at time of arrival.
Plan Vegas Stay
What's Hot