Best Las Vegas ATV Tours
Try Las Vegas ATV tours for extra adrenaline & excitement! Be prepared to feel the wind, take in the sights and get dusty, dirty, and very happy! There are plenty of trails, dunes desert and areas around Las Vegas - in the desert, Hidden Valley, Nellis Dunes, Lake Mead or Valley of Fire. There are all-terrain vehicle rides for beginners as well as for experienced adrenaline junkies, and anywhere in between!
Hidden Valley and Primm Extreme ATV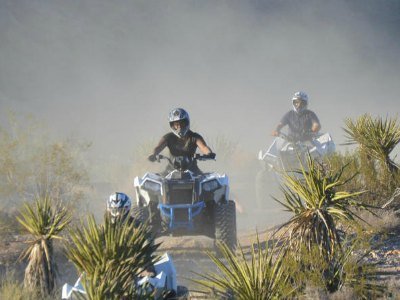 Book This Tour
Price: from $270.00; Duration: 6 hours
You always dreamed of taking your own ATV to a desert climate to experience the rush of adrenaline that pours through body as you maneuver your ATV around natural obstacles. Extreme Las Vegas ATV tours in Hidden Valley and Primm will satisfy your need for adventure that is lacking from your life.
You will first take a short van ride to Jean, Nevada where you will be outfitted with equipment for your journey. After a quick safety program, you will set out for some of the world's best natural scenery to be had. This tour is not for the beginner and requires prior ATV experience. You will travel between 20 and 50-miles of your ATV journey and visit such notable natural terrain such as Hidden Valley, the McCullough Mountain Range and of course the Mojave Desert.
This tour is offered in the morning and afternoon with the early tour offering a stop at Primm, Neveada. It should be noted that a $10 per patron fuel surcharge is payable at time of arrival.
ATV in Hidden Valley - Beginner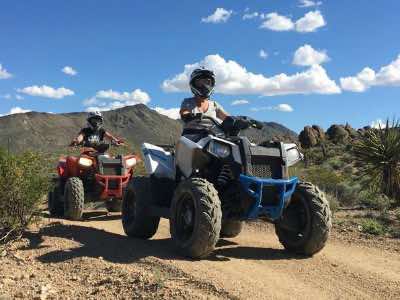 Book This Tour
Price: from $174; Duration: 6 hours
See the Mojave Desert and impressive mountains up close and personal as you drive an ATV through some of the most beautiful desert scenery you will ever see. These exciting Las Vegas ATV tours cover from 20 to 50 miles of travel depending on the experience of the riders in your group. You will arrive in Jean, Nevada where you will adorn a helmet, gloves and safety googles.
Then after attending a short safety training course you will engage in a two-hour cruise through the natural beauty of the Mojave Desert complete with terrain that will excite all of your senses.
Enjoy complimentary bottled water as you travel through the McCullough Mountain Range, the majestic Hidden Valley and the natural features of the Mojave Desert. Your tour includes hotel pick up and drop off service and you must wear closed toe shoes as well as appropriate clothing for desert and mountain travel. In addition all quad bike riders must be 16-years of age or older.
ATV Hidden Valley Fun Run - Beginner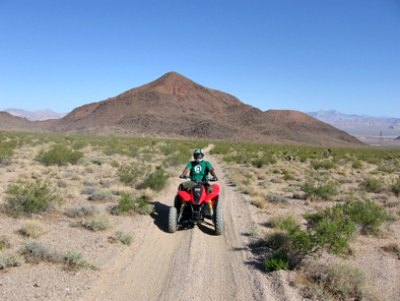 Book This Tour
Price: from $169; Duration: 4 hours
The Mojave Desert is uniquely situated to enjoy by taking an adventure on an ATV that will leave you with lasting memories of the Southern Nevada environment.
Your Las Vegas ATV tours in Hidden Valley start with pick off and ends with drop off at your hotel. You will take a short ride to Jean, Nevada where you will view a brief seminar on safety. After which, you will gear up with a helmet, gloves, goggles and fresh water for your two-hour cruise through the majestic landscape of the Mojave Desert, rugged area of the McCullough Mountain Range, and Hidden Valley. Your expert guides will give detailed information of the area as you are riding through this one-of-a-kind natural area.
On this 4-hour tour, guests are encouraged to wear clothing that is protective from the elements as well as closed toe shoes or boots. All participants must be at least 16-years of age to operate an all-terrain vehicle under Nevada law.
What's Hot
Off Road Desert Adventure - Valley Of Fire - Beginner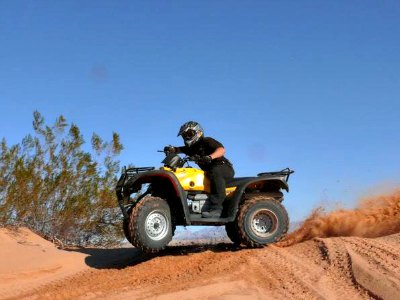 Book This Tour
Price: from $160.00 ; Duration: 6 hours
Review: This is the most popular and cheapest of all Las Vegas ATV tours. Whether you are a full-time thrill seeker or are just curious, you will love zooming on an ATV in the Southwestern Desert, located near the Valley of Fire! You will get picked up at your hotel and professional instructors will teach you how to operate the ATV and provide you with safety equipment.
Then you will go on a 2,5 hours ride along the private trails used just for the purposes of this tour. You will enjoy amazing views on the way - the Valley of Fire, the Grand Canyon and even Lake Mead if you can ride up the top of a cliff. The speed of the ride will depend on the level of experience of all the riders, but keep in mind that this tour is both for newbies and experienced riders.
Valley of Fire ATV Tour - Beginner
Book This Tour
Price: $332.00; Duration: 5 hours 30 minutes
Review: Valley of Fire, with it's red sand and rocks and picturesque landscape is another great place to ride an ATV! This Las Vegas ATV tour suits both beginners and experienced riders.
Your tour guides will provide you with all the safety ATV operation instructions, then show you the most exciting trails while you enjoy the sights as well as the ride.
Eldorado Canyon and Techatticup Gold Mine - Beginner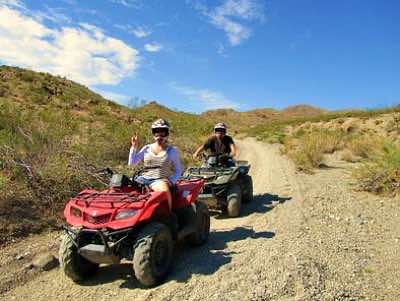 Book This Tour
Price: from $179.00; Duration: 6 hours
Review: You don't need to be experienced to ride the trails of the Eldorado Canyon, along the Colorado River! These Las Vegas ATV tours are designed for beginners and for experienced ATV riders. However, do not expect an easy ride - the mountain terrain is pretty tough and bumpy at places - you will love it!
This tour also includes a walking tour into the abandoned Gold Mine called Techatticup Mine that is now believed to be haunted. Listen to the story of lawlessness that was going on at the mine during the Great Gold Rush. You will also be amazed by the "bLast from the past" during your stop at the abandoned Old West Town for lunch.
ATV at Lake Mead and Colorado River - Beginner
Book This Tour
Price: from $179.00 ; Duration: 6 hours
Enjoy the highlights of the Hoover Dam and Lake Mead National Recreational Area on the only Las Vegas ATV tours offered for this majestic area. Your tour starts and ends with hotel pick up and drop off. Travel to the Hoover Dam where you will marvel at one of man's greatest engineering feats, which created Lake Mead the largest man-made body of water in the Western Hemisphere. From the Hoover Dam you will navigate your ATV to Arizona Last Stop and continue down trails that lead you to the mighty Colorado River. Feel the power of the river while taking up close and personal photographs of this world class scenery. This five-hour tour will leave memories etched in your mind forever as your expert tour guide explains the cultural and natural history of this pristine area.
All participants must be 16 years of age or older and wear closed toe shoes. There is additional $10 fuel surcharge per person due at the time of arrival at Hoover Dam.
ATV Bullets Burgers Hoover Dam Adventure - Beginner
Book This Tour
Price: from $ 409.00 ; Duration: 6 hours
Feel your blood boil with excitement as you combine the adventure of shooting exotic firearms, ATV riding, sightseeing and lunch on this action packed tour.
These Las Vegas ATV tours are combined with four levels of shooting excitement with some of the top weapons available from around the world in your own private shooting bunker. Your tour also includes the Hoover Dam, an ATV adventure on dirt trails through the Lake Mead area to the Colorado River, where you can enjoy a quick dip in the majestic river.
The tour starts and ends with complimentary service from your hotel, where you will be taken to the Hoover Dam for photograph opportunities of this engineering marvel. From there you will continue to Arizona Last Stop. Here you will be greeted by a weapons expert that will show you your private shooting bunker. These all-terrain vehicle tours offer a variety of different weapons for your shooting pleasure depending on which tour option you pick (Bronze, Silver, Gold or Platinum), you will have the opportunity to experience the power of a sub gun, a machine gun, the 9MM Glock or even a .50 caliber sniper rifle.
The third stop of your 6-hour tour will take you to Lake Mead National Recreation Area where you will board an ATV for a unique cruise to the majestic Colorado River. Once at the river you will enjoy time for photographs or a quick dip. Once finished taking in the grandeur of the natural scenery you will continue back to base camp where you will enjoy a wonder All-American hamburger before returning to your hotel. Please note that persons under 18 years of age must be accompanied by an adult and all persons must be 16 years of age or older to ride an ATV. Enjoy the wonders of the "Bullet and Burgers" tour that is available for your enjoyment.
Nellis Dunes ATV Tour - Beginner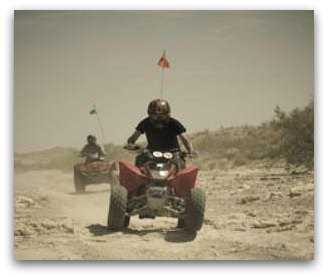 Book Nellis Dunes ATV Tour
Price: from $175.00; Duration: 3 hours
Review: Nellis Dunes is one of the most popular quad bike areas in Las Vegas, encompassing some 15,000 acres of pure off-road fun. Whether you want to take your first ATV lesson (provided you are at least 14 years old), or get your adrenaline pumping with extra-challenging trails, Nellis Dunes is a perfect place.
Although there aren't as many Sand Dunes as the name implies, its terrain includes multiple trails of different difficulty levels, suitable both for beginners and experienced riders. You can ride here on gravel, climb hills or kick up sand.
Las Vegas ATV tours at Nellis Dunes come with a hotel pick up and drop off, lunch and all the safety gear you may need, so just make sure you wear closed toe shoes and bring your happy smile and a camera.
What's Hot
Do you have any questions or Comments?