Las Vegas Country Music 2019 - Concerts, Bars And Shows
Here are the best Las Vegas country music concerts scheduled in 2019, plus top bars and permanent shows. Put on your cowboy boots, get prepared to learn line-dancing and set off to party the night away at the rocking Country bars in Sin City. These places playing country music range from adult only venues with scantily-clad sexy girls in leather to all-family outings. Classic country music is the vibe with live bands and world class DJ's. Trying to a ride and stay on a mechanical bull is a must, as is playing beer pong and eating home-made BBQ speciality foods.
Las Vegas Country Concerts 2019
Deals
Plan Vacation
Gilley's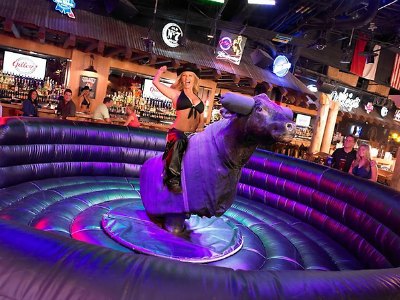 If whiskey, boots and sexy girls in shorts is your thing, head off to the next fabulous Las Vegas Country , Gilley's Saloon. The Wild West rocks here with a full time party. Sit on authentic saddle bar stools and enjoy a drink, then join the line dancers on the massive dance floor. The skimpily leather-clad bar girls will serve you and join you in the dance. Attempting the bull ride is a must, you only need hang on for 8 seconds, but no-one can do it. Then settle down and enjoy the great country classics with a touch of the Top 40's to mix things up.
Gilley's is a cowboy restaurant at Treasure Island and is another fantastic Las Vegas Country experience. Choose to relax in the dining area for a quieter meal or sit in the saloon and dance area if you want to get really involved. Join in and have a free line dancing lesson and then try to ride the mechanical bull. Gilley's features a rockin' live bandstand playing the likes of country western, blues, rock and folk. The food is top class BBQ fare, try the Sweet Potato Fries dipped in home-made molasses catsup. The views over the Strip are amazing, if you get the chance to take a look!
What's Hot
Plan Vacation