Best Las Vegas wedding venues in 2023-2024
Out of hundreds of Las Vegas wedding venues, which are the best place to get married ? There are so many unique ways to get married in Vegas - chapels located inside hotels and casinos, full-service freestanding chapels, outdoor and destination weddings, helicopter and gazebo, and so many others. Here is a list of the most popular places to get married in Las Vegas.
Freestanding Chapels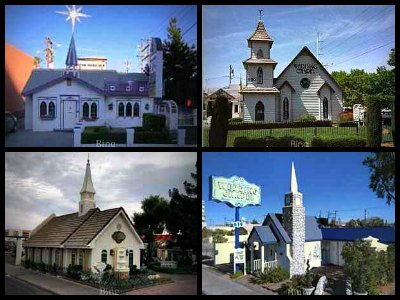 Las Vegas is home to dozens of free standing chapels in casinos and major hotels. Whether you are looking for a grand, elegant chapel or something a little more fun, you'll find Las Vegas wedding venues to accommodate any desire. For glamorous and fun weddings, head to Viva Las Vegas. This chapel is among most fun places to get married in Las Vegas with amazing themes like Elvis, Red Rock Canyon, Gothic and Helicopter weddings. For a Vegas style drive-thru wedding, head to A Special Memory chapel. Graceland or Storybook offers very romantic, fairytale style weddings in a peaceful atmosphere. Most freestanding chapels in Las Vegas offer several different packages to choose from and will accommodate a wide range of guests.
More Romance
Get Your Free Las Vegas Events Calendar!
Best of Vegas