Horseback Riding in Las Vegas
Put on your cowboy hat and boots and go for a horseback riding in Las Vegas - either in Red Rock Canyon or in Nelson Ghost town, where the infamous Techatticup gold mine is located. These fun riding tours are a great way to entertain kids (7 and older), and make a great addition to your fun Vegas vacation!
Old Spanish Trail Horseback Ride With Lunch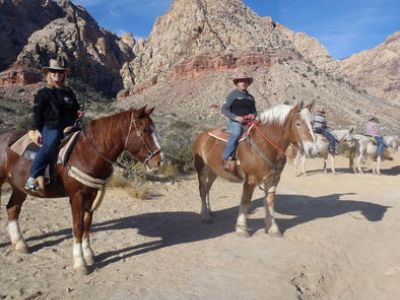 Book Wild West Lunch Ride
Prices from: $119.99
Travel along the Ol' Spanish Trail by horseback and experience the Old West like never before. Your 5-hour Las Vegas horseback riding tour includes hotel pick up and drop off service and you will be taken to a ranch within the beautiful Red Rock Canyon, where you will take a relaxing horseback ride along the famed Spanish Trail. The Ol' Spanish Trail was one of the original routes from Santa Fe to present day Los Angeles during the 19th century. The dusty trails will have you imagining of being in the Wild West as you explore a western style town complete with a petting zoo of animals.
After returning to the ranch, be prepared to chow down on a tasty western style lunch that can satisfy the hungriest of cowhands. You are encouraged to wear long pants and appropriate shoes for this excursion. All horseback riders must be at least 6 years of age to participate as well as under 250 pounds in weight.
What's Hot
Wild West Sunset Dinner Ride With dinner
Book Wild West Sunset Dinner Ride
Prices from: $153.99
Engulf yourself of the beauty associated with the sunset within a picturesque desert setting and experience a tranquil horseback riding in Las Vegas, before settling down for a cowboy cook-out.
Transportation to and from your hotel is included in this 5-hour tour that first takes you to a ranch in the majestic Red Rock Canyon situated within Mojave Desert. After saddling up on your horse you will experience a one and half hour horseback ride through the beautiful natural scenery of a rugged landscape that will transport you back to the Wild West when Native Americans and cowboys ruled the area. On your return to the ranch and stables you will enjoy an authentic cowboy cookout that will include entertainment and plenty of food.
All participants must be 6 years of age and weigh less than 250 pounds. Guests are more comfortable in long pants and closed toe shoes. Please bring a jacket if the weather dictates.
Morning Maverick Horseback Ride With Breakfast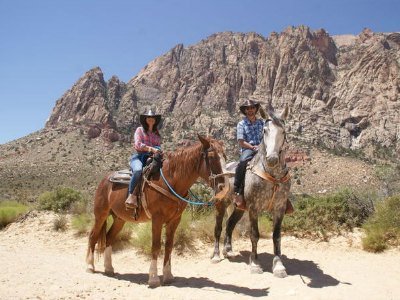 Book Wild West Sunset Breakfast Ride
Prices from: $119.99
This is an invigorating way to start your day when you decide on this horseback riding in Las Vegas, accompanied by a delicious breakfast, that takes you through some of the most iconic landscapes in the American West.
Enjoy complimentary pick up and drop off service to/from your hotel but first you will be driven to an authentic working ranch in the unique Red Rock Canyon. At the ranch you will eat a complete western style breakfast to help you through your one hour horseback ride. While on horseback you will view some of the most interesting and breathe taking scenery in the world. During your excursion you will have a chance to enjoy a petting zoo as well as an American West style town complete with entertainment. You will have plenty of time for photographs that will keep the memories fresh in your mind for years to come in the future.
It is recommended for all guests to wear protective clothing such as long pants and closed toe shoes. All participants must be 6 years old and weigh less than 250 pounds.
What's Hot
Do you have any questions or Comments?