Best Las Vegas hotels off Strip
These Las Vegas hotels off Strip are just as fun as those located on the Strip! Whether you are looking for a quiet time away from the Strip, or just passing by Las Vegas, most of these hotels cater to all your needs.
Other than being generally cheaper, many of these hotels offer something you can not find on the Strip - golfing, hiking, biking, horse riding opportunities, or great outdoor swimming pools.
M Resort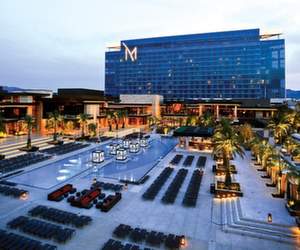 Book a room at M Resort

12300 Las Vegas Blvd South, Henderson, NV 89044
Review: The M Resort is a relatively small, chic off Strip Las Vegas hotel, located far from the Strip in Henderson and has only 390 rooms. The best part is that the hotel does not charge resort fee and you can enjoy all its amenities without paying extra. Being so far from the Strip, the resort offers a free shuttle service to other top Las Vegas hotels off Strip (the shuttle could run a bit more often).
The M Resort offers some of the most incredible views from rooms overlooking the Strip! But you won't get too nostalgic with all the concerts and other entertainment events the hotel hosts all the time at their Ravello Lounge and Lobby Bar, Villaggio Del Sole Pool and chic Entertainment Piazza.
The resort offers multiple dining options, including Anthony's Restaurant & Oyster Bar and Marinelli's restaurant offering Italian cuisine. The M Resort also offers a fitness room, spa and salon and a swimming pool with private cabanas.
What's Hot