The Best Restaurants in Las Vegas In 2023
Which are the best restaurants in Las Vegas in 2023? Thank you for asking! This guide features excellent buffets, best restaurants in the Arts District, steakhouses, sushi bars, seafood, vegetarian or gluten-free places, as well as other best places to eat in Las Vegas by most world cuisines: French, Italian, Mexican, Indian, Chinese, Korean and Thai. In fact, there are so many of them it's easy to get lost in all the great choices. But fear not! I have created this list so you can easily locate that perfect restaurant!
Arts district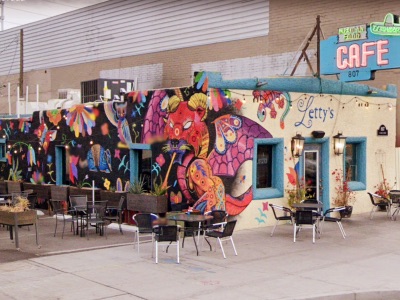 The Las Vegas Arts District is home to a variety of excellent restaurants that offer a range of cuisines and dining experiences. Some of the best restaurants in the Las Vegas Arts District include Letty the Leticia's Cocina, which not only serves delicious Mexican dishes but is also decorated with beautiful murals in the best Mexican traditions. There's also Esther's Kitchen, which serves up delicious Italian fare made from locally sourced ingredients, and Makers & Finders, a vibrant cafe with Latin-inspired cuisine and specialty coffee drinks. The newly established Pepper Club at the English Hotel by renowned chef Todd English, Dona Maria Tamales, founded in 1980 and being a staple ever since, and others are also great options.
Best Las Vegas Buffets
We all know Las Vegas has plenty of buffets but which is the best Las Vegas buffet? Here's a quick look at the best buffets to get your taste buds going before you choose your dining experience. For those foodies looking for meat, head to Texas De Brazil where a fine selection of meats is accompanied by a massive salad bar. Bacchanal Buffet boasts a selection of 500 choices teasing your taste buds with cuisine from around the world. The best happy hour buffet is the Wicked Spoon Buffet which offers a variety of worldly cuisine along with $5.00 cocktails and beers. The Wynn Buffet's atmosphere takes you to a new level of dining elegance while indulging in a variety of cuisine at one of the 16 stations. The Buffet at Bellagio lets you dine on fresh seafood and a delicious carving station of meats accompanied by an endless mimosa.
Best Romantic Restaurants in Las Vegas
Romantic restaurants in Las Vegas offer unique experiences with splendid decor, perfect ambience with views of spectacular sights, and deliciously innovative cuisine. Patrons experience superb seafood at the Lakeside Grill with its ocean to table concept with Hawaiian flare. Picasso boasts a French-Spanish inspired menu ideal for theater goers with price fixed menus featuring milk-fed veal chops and decadent chocolate fondant. Lago brings an Italian small-plate concept perfect for sharing and weekends sports a three-course price fixed menu for brunch. Mon Ami Gabi, a French Bistro inspired steakhouse serves all three meals presenting superb cuts of meats and banana foster waffles. Prime Steakhouse features dishes like Colorado lamb and truffle mashed potatoes. The Top of the World grills wagyu meat from Japan, Fijian tuna, and lobster thermidor along with big views. The Eiffel Tower has a French inspired menu preparing a ballotine of rabbit at dinner and lobster benedicts for lunch.
Best Seafood Restaurants in Las Vegas
The best seafood restaurants in Las Vegas range from quick service to casual to fine-dining where your dining experiences are filled with tasty treats from the sea. Gordan Ramsay Fish and Chips lets you devour tasty deep fried goodies with six flavorful dipping sauces. Lobster ME's signature lobster rolls and lobster tacos are delicious quick service bites. Emeril's New Orleans Fish House offers innovative seafood from fried frog legs to pecan crusted redfish to spicy gumbos. Estiatorio Milos sports Mediterranean specialties and a superb three-course price fixed menu at lunch. Michael Mina's cuisine boasts dishes like a caviar parfait, phyllo crusted sole, and a lobster pot pie. Upscale dining at Maestro's Ocean Club includes a huge three-tier fresh seafood tower along with Asian-style tuna and an Alaskan king crab black truffle gnocchi. The Lakeside serves up an ocean to table concept with a romantic view of the Lake of Dreams.
Best Las Vegas Asian Restaurants
This is a quick rundown on the best Las Vegas Asian restaurants which bring the fantastic flavors from Asian countries in a quick bite, family-friendly or upscale dining experience. Foodies experience a Korean-Mexican mixture of intense flavors at KoMex Fusion like the bulgogi cheesesteak torta and Soho Sushi Burrito features signature burritos wrapped with a tortilla, soy paper, or seaweed. A family-friendly option is the Biwon Korean BBQ and Sushi Restaurant with 214 items to mix and match in an all-you-can-eat format. You'll devour Hawaiian treats like loco moco and kalua pork at the Island Style Restaurant. There are Vietnamese specialties and Pho at District One and the Q Bistro boasts flavorful goodies like spicy chicken cheese buldak. The Gangnam Asian BBQ Dining exhibits plenty of banchans to feast on and Happy Hour serves up discounted libations. The upscale fusion dining is superb at TAO Asian Bistro bringing lobster pad Thai to your table.
Best Las Vegas Korean Restaurants
No matter whether you're a foodie, hipster, or traditionalist, there are a number of best Las Vegas Korean restaurants for you to experience. You'll find traditional Korean comfort foods like hot stone pot bibimbap at E-Jo Korean Restaurant and the braised pork belly bossam is delicious at the no-frills TangTangTang. The Honey Pig is open 24/7 with an all-you-can-eat (AYCE) which includes pork belly dishes, plenty of kim chi, and banchans. An upscale AYCE in-table grill option is the Gen Korean BBQ House boasting 39 selections from galbi to Korean fried chicken. The 8oz Korean Steak House delivers in-table grills with Combo C dishing up cheese fondue, galbi, and grilled bulgogi. The trendy Goong Korean BBQ Restaurant is known for its Goong Special Platter with wagyu sirloin, prime short ribs, and black tiger shrimp. At the Hobak Korean BBQ you'll discover black angus prime beef and beef honey tartare.
Best Indian Restaurants in Las Vegas
Wondering what is the best Indian restaurant in Las Vegas? Well there are a few to choose from that serve a lavish luncheon buffet and creative a la carte menu for dinner. Mount Everest India's Cuisine has exquisite Nepalese oriented cuisine like lamb biryani and aloo gobi. Mint Indian Bistro serves up tasty paneer tikka masala and Mumbai pav bhaji are favorites. Indian Palace boasts a splendid tandoori chicken and lamb sagwala. Delhi Indian Cuisine dishes up specialty items like navratan korma, lots of curries, thali, and lamb korma. Taj Palace cooks up a luscious chicken madras and lamb mango curry. The Curry Leaf Flavors of India has a hipster attitude with delicious idli sambar, kadai paneer, and dum biryani. Pure Indian Cuisine brings perfectly prepared chicken jalfrezi and lamb rogan josh to your table and the Tamba Indian Cuisine serves up samosa chaat, plenty of curry dishes, and a delightful lamb biryani.
Best Las Vegas Italian Restaurants
You'll be pleasantly surprised that the best Las Vegas Italian restaurants can accommodate everyone's taste buds including families, romantics, and upscale foodies. Diners enjoy the value at Battista's Hole in the Wall with a free carafe of wine and incredible traditional cuisine. Maggiano's Little Italy is perfect with its family-style servings of traditional Nonna-style dishes like rigatoni "D". Buddy V's Ristorante highlights Nonna's lasagna al forno and the savory Valastro Sunday gravy. Trattoria Reggiano has your taste buds jumping with specialities like lobster ravioli, and filet mignon meatballs. Il Fornaio boasts tasty dishes from linguine marechiaro to cannelloni forno to lasagna ferrarese. Upscale diners indulge in creative cuisine at Giada with lemon spaghetti and vegetable Bolognese rigatoni. Scarpetta cooks up an incredible veal chop parmigiana and happy hour brings discounted libations. Romantic and pure foodies will devour the atmosphere at Carbone with tableside service of treats like spicy rigatoni vodka and lobster fra diavolo.
Best Las Vegas French Restaurants
Take a trip to Paris when you visit one of the best Las Vegas French restaurants which bring superb service, decor, and ambience along with award winning cuisine. Experience Guy Savoy where the artichoke and black truffle soup is delicious. Le Cirque is colorful with price fixed menus offering dishes like carnaroli risotto and the BARDOT Brasserie features a weekend brunch with a bottomless glass of rose wine. Picasso is ideal for theater goers with several innovative price fixed menus and the Art Deco interior of Le Mode de Joel Robuchon is spectacular along with the la cuisse de grenouille. The L'Atelier de Joel Robuchon showcases a men's club feeling with perfect cuisine. The Eiffel Tower boasts views of the Bellagio Fountains and brunch serves up lobster benedict. The Buchon at the Venezia Tower delivers a stunning macaroni de homard. Along with views of the Bellagio Fountains, the Mon Ami Gabi cooks up a tasty beef bourguignon.
Best Mexican Restaurants in Las Vegas
There is an abundance of best Mexican Las Vegas restaurants that will heat up your dining experience whether you're a foodie or just looking to grab a taco. Tacos El Gordo is a foodie's dream serving up quick bites of tasty tacos. Indulge in creative nachos at Nacho Daddy along with grilled corn on the cob and T&T-Tacos and Tequila offers traditional fare with a bottomless margarita for Sunday brunch. The lively Border Grill serves up trendy new wave Mexican dishes. Cabo Wabo delivers delicious short rib barbacoa tacos and the Canonita highlights the flavors of Mexico City with pork pozole. With 60 different tequilas on hand, Yolos offers a great vegetarian menu. Hussong's Cantina Las Vegas boasts a live Mariachi Band and shrimp tacos. El Segundo Sol Taqueria and Margarita Bar serves traditional dishes made by hand. For an upscale experience Javier's boasts Colonial decor with flavorful trendy cuisine.
Best Thai Restaurants in Las Vegas
After foodies started craving Thai cuisine, Sin City was quick to catch on to the trend with several of the best Thai Las Vegas restaurants leading the way. At the Lotus of Siam indulge in the secrets of family cooking with fan favorites like beef khao soi, nam kao tod, and drunken noodle seafood. Weera Thai specializes in traditional Thai dishes from the Issan region preparing delights like roast duck pad, tom kha soup, and cashew chicken. At Le Thai you'll experience five different levels of spiciness along with delicious beef massaman curry, panang curry with chicken, and short rib fried rice and the Lemongrass Thai boasts a luxurious experience and a trendy twist on classic Thai cuisine like pad hoy, lobster satay, and panang duck. The Pin Kaow Thai isn't just for food court eaters with stellar dishes like green chicken curry and pad Thai noodles.
Best Las Vegas Sushi Restaurants
Looking for the best Las Vegas sushi restaurant? Then you will be delighted to know that many are all-you-can-eat (AYCE) and offer other Asian specialties. At Sushi 21 you'll experience 79 options for rolls and the Jjanga Steak & Sushi serves up a creative screaming orgasm roll and a teppanyaki menu and Sushi Kaya rolls out an impressive 145 item menu along with Korean delicacies and the low-key Sushi Mon has 50 different rolls. The upscale Umiya Sushi delivers a kiss of fire roll with other Asian infused cuisine with the love affair roll at Oyshi Sushi being a hit with foodies. Traditional California-style rolls are found at Yama Sushi with wet dreams leading the way and Sushi House Goyemon combines Japanese dishes with perfect rolls. House specialties like Sam's volcano light up your mouth at Sushi Koma. The family-oriented Island Sushi & Grill combines the flavors of Hawaii and Korean with Spam as a main ingredient.
Best Kid-Friendly Las Vegas Restaurants
Families struggling to find the best kid-friendly Las Vegas restaurants need not worry no more and here are the best choices around town. Kids love pizza and Pizza Secret delivers superb New York and Sicilian-style pizzas by the slice and whole pie. You'll find quick bite Mexican treats at Tacos El Gordo and trendy food like the bacon mac-n-cheese burger at Guy Fieri's Vegas Kitchen & Bar. The Burger Bar lets you build your own burger and the Shake Shack boasts delicious cheese fries. The Grand Luxe Cafe delivers stellar meals from breakfast through dinner and the Peppermill Restaurant and Fireside Lounge has been pleasing families for decades with a wide menu. There are tasty sweet potato fries and classic burgers at Holsteins Shakes and Buns. Buddy V's brings plenty of Italian goodies for little ones to the table and the Hash House A Go Go dishes up pancakes and one-pound burgers to share.
Best Las Vegas Steakhouses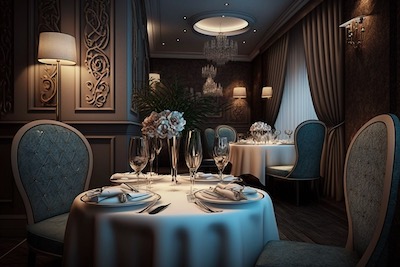 You can find a steakhouse on every corner in Sin City but here is what we think are the best Las Vegas steakhouses. Gordon Ramsey brings an English decor with flavorful beef Wellington and Pampas Churrascaria Brazilian Grille boasts 14 meats cut tableside. Tom Colicchio's Craftsteak pairs farm-to-table ingredients with dry-aged steaks and Joe's Seafood Prime Steak & Stone Crab is famous for mixing stone crabs with aged cuts of meat. Emeril Lagasse serves up dry-aged prime cuts with incredible sides at Delmonico Steakhouse and the STK Las Vegas has a lively atmosphere with a 34oz bone-in ribeye. Vic & Anthony's is an old-school place with superb meats and oysters Rockefeller and the StripSteak dishes up corn-fed Angus and wagyu beef. For a superb view along with a tender steak try the Top of the World and CUT by Wolfgang Puck offers wet and dry-aged meats with a 500 bottle wine cellar.
Best Fremont Street Restaurants
Downtown and Fremont Street are a world of their own in Sin City with plenty of entertainment along the streets and these are the best Fremont Street restaurants for foodies when you get hungry. The Hash House A Go Go is a perfect eatery with a brunch menu seven days a week and one-pound hamburgers to share and Hennessey's Tavern takes you to Ireland along with a shepherd's pie and plump reuben sandwich. The Park On Fremont has two patios for people watching with an innovative chicken and waffle sandwich. Looking for bacon, then stop at the Heart Attack Grill for a signature Bypass burger and Aloha Specialties serves up a wave of Hawaiian dishes including noodle bowls. Top of Binion's Steakhouse grills up corn-fed Angus beef with complimentary sides and Oscar's Steakhouse not only delivers delicious dry-aged steaks but a beautiful hostess will accompany you while eating, if you wish.
Best Las Vegas Vegetarian Restaurants
Las Vegas is home to a vibrant food scene, and for those who follow a vegetarian or plant-based lifestyle, the city offers a range of exceptional dining options. With an emphasis on fresh, local ingredients and innovative preparation techniques, Las Vegas vegetarian restaurants are serving up dishes that are both delicious and nutritious. From upscale dining rooms to casual eateries, the city has something to offer for every taste and budget. Whether you're a lifelong vegetarian or simply looking to try something new, Las Vegas has an array of options that will tantalize your taste buds and leave you feeling satisfied. So why not discover the best of what Las Vegas has to offer for vegetarians and enjoy a meal that is as good for you as it is for the planet?
Best Chinese Restaurants in Las Vegas
Las Vegas is home to a diverse culinary scene, and for lovers of Chinese cuisine, the city offers a range of exceptional dining options. With an emphasis on traditional flavors and innovative preparations, Las Vegas Chinese restaurants serve up dishes that are both authentic and delicious. From Cantonese to Szechuan to Hunan, there's something for everyone in this vibrant foodie destination. Whether you're looking for a casual meal or a luxurious dining experience, Las Vegas has an array of options that will tantalize your taste buds and leave you feeling satisfied. So why not explore the best of what Las Vegas has to offer for Chinese cuisine and indulge in a culinary adventure that is sure to be unforgettable?
Get Your Free Las Vegas Events Calendar!
Best of Vegas