60 Las Vegas Bachelor Party Ideas
Need Las Vegas bachelor party ideas? We have plenty! Choose among our 60 activities for guys only to create your own party package! If you want to have a "wild" party, but don't like planning - let organizers handle your party! All you need is send an inquiry, tell them briefly what you need, and professional guides will come up with a plan for a perfect party for you!
Deals
Plan Vacation
Top 10 Vegas bachelor party activities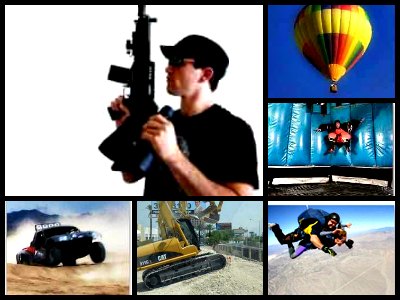 All Adrenaline Activities
Ok enough about clubbing and hot girls! Here are a few unique Las Vegas bachelor party ideas to do during daytime - Adrenaline activities! Fortunately, there are plenty of these in Las Vegas as well. So I've spoken with a few of my (male) friends and we voted on which are the best adrenaline activities in Vegas that all of them would love to take during their next bachelor party. I am happy to introduce the winners.
Your party would bang with Gun Range experience! Your friends can shoot from a wide variety of guns - MP5 with 25 rounds, M4, AK-47, UZI and other guns and rifles.
ATV Tours in several scenic locations such as Valley of Fire or Nevada desert are great for both beginners and experienced ATV riders.
Exotic Cars driving along a race track or even a tour to the Red Rock Canyon where you could change cars a few times.
Zip Line at Bootleg Canyon - an exciting adventure where you can zip over the valley at high speed
Indoor Skydiving - on of the most fun Las Vegas activities - perfect if you aren't ready for a real skydiving.
Off Road Adventure Tours where you could ride huge off road cars and get them dirty!
Dig This - fun with excavators and bulldozers in a real adult sandbox
Thrilling Tandem Skydiving with an instructor attached to your shoulders.
The most adventurous guys can try the Sky Combat Experience and fly real combat aircrafts.
Sky Jump - a bungee jumping from a Stratosphere hotel & Casino
What's Hot
Plan Vacation