50 Las Vegas Bachelor Party Ideas In 2023
Who needs Las Vegas bachelor party ideas in 2023? We have plenty!
Choose among our 65 ideas for a guys' trip to Vegas to create your own bachelor party package!
Quick links
Las Vegas Bachelor Party Ideas - 5 Best Hotels
Let's start from the essentials - you will need a hotel for your Las Vegas bachelor party! What you will need is hotels with a "party" vibe, lot's of action, night clubs and very active night life. There are a few hotels in Vegas with a party going on nearly 24/7 so you can have lots of fun without ever leaving the hotel room! I recommend the following hotels on the Strip:

1. Caesars Palace
Book your Las Vegas bachelor party hotel at the legendary Caesars Palace. You'll feel like the ancient Romans as you dine, sleep, and play amongst the beautiful architecture fit for an empire. Play the tables or relax in one of the most trusted sports books in the world as your bunch parties like the ancient Roman Emperors.
2. Planet Hollywood
Lots of onsite entertainment, a huge casino, and plenty of shopping can be had when you make reservations to stay at Planet Hollywood. Feel like one of the Hollywood stars as you enjoy great cuisine and comfortable accommodations second to no place on the Strip.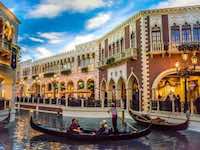 3. The Venetian
Your group doesn't have to go to Italy for your Las Vegas bachelor party when you decide to book at The Venetian. While staying you can revel in tasty cuisine, view some exciting shows, and the casino is comfortable for any type of gambler who is about to tie the knot.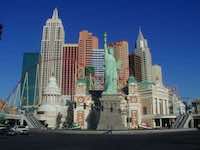 4. New York New York
When you reserve your comfortable rooms or suites at New York New York, you can experience the city that never sleeps while visiting Sin City. The location along the Strip is ideal for all of your activities and you can't go wrong with the strong drinks poured at the bars that even make Old Blue Eyes happy.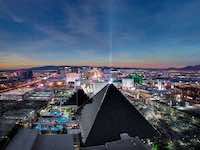 5. Luxor
Walk like an Egyptian or crawl to your room like an Egyptian. The choice is yours while staying at Luxor, the pyramid themed hotel along the Strip. Feel like a pharaoh of the ancient times with premium services that would even make King Tut blush and come back to life.
Need more ideas? Check out the selection of other best hotels in Vegas.
Las Vegas Bachelor Party Ideas - 5 Best Topless Shows
There are many ways to create a Las Vegas bachelor party agenda, but I can't imagine one without at least one topless show! And by "show" I mean an actual show - we'll get to strip clubs too. We'd like to draw your attention to 5 sexiest and hottest adult topless shows in Las Vegas, ideal for a guys' night out. One thing to remember - enjoy these shows for what they are - light, sexy, a bit silly and fun.


1. Fantasy
There might not be many fantasies left after you get married, so take advantage of watching all of your Fantasy girls on stage while you can. Sure they might be totally nude but there's gotta be something left to the imagination at the end of the night.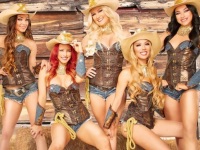 2. X Country
Daisy Duke shorts, stunning women, and plenty of country music is what you will enjoy when your crew goes to watch X Country. Your eyes will pop with these incredible women on stage stomping to your favorite two-step, swaying to swooning love song, and don't be surprised if they hop on a horse.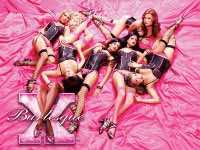 3. X Burlesque
No Las Vegas bachelor party is complete without a little skin dancing on stage and you can be assured your future wife won't get mad because there is just enough clothing to keep you safe. X Burlesque is perfect for your crew that wants to have some fun without causing problems at home by going to a strip club.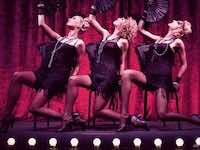 4. BurlesQ
Just like being in New Orleans or Paris, the BurlesQ is fashioned after the old Moulin Rouge which brings a bunch of naughty ladies to the stage baring almost everything. Here you can watch sultry sexy women dance to your favorite tunes while they shake their booty on stage.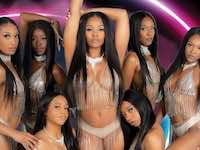 5. Black Girl Magic
It's time to put the spice into your Las Vegas bachelor party when you mix a little cinnamon and brown sugar into the mix. Black Girl Magic is the only all-black female topless show in Sin City and they won't disappoint lighting a fire under your posse to make for a hot night.
Las Vegas Bachelor Party Ideas - Top 10 adventures!
Ok enough about clubbing and hot girls! I have a few unique daytime Las Vegas bachelor party ideas - Adrenaline activities! Fortunately, there are plenty of these in Las Vegas as well. So I've spoken with a few of my (male) friends and we voted on which are the best adrenaline activities in Vegas that all of them would love to take during their next bachelor party. I am happy to introduce the winners.
1. Gun Range
Your Las Vegas bachelor party would bang with Gun Range experience! Your friends can shoot from a wide variety of guns - MP5 with 25 rounds, M4, AK-47, UZI and other guns and rifles.
2. ATV Rides
Get some fresh air and some dirt in your teeth as you cruise the wild desert landscape on one of the many ATV tours available. While navigating the desert terrain view places like Valley of Fire, Lake Mead, the Mojave Desert, Red Rock Canyon, and more as you work up a thirst for your nightly party.
3. Exotic Racing
When planning your Las Vegas bachelor party take a hard good look at an Exotic Racing tour. Show off your highest level of testerone while behind the wheel of a Ferrari, Lamborghini, or a famous American Muscle Car when you take first place against your crew on a stunning professional race track.
4. Off Road tours
Catch some wild air, go fast on a dirt track, and leave your buddies behind in the dust on one of the many Off Road tours. Drive a supercharged Pro Race Truck, Baja-style dune buggy, or you can place your group inside the world's longest Monster Limousine for a day of high-octane adrenaline.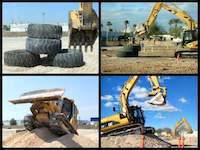 5. Dig This
Ever since you were a kid you wanted to dig stuff up and now you can take your frontloader and do just that on one of the tours from Dig This. Everyone gets a little dirty after climbing into one of the many pieces of construction equipment and you can even have a contest on who can dig the fastest.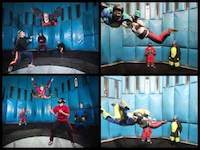 6. Indoor Skydiving
Who says you need to rent a plane for your Las Vegas bachelor party to go skydiving. Try Indoor Skydiving and feel the rush of weightlessness as you glide through the chamber and eliminate the fears that all people have of jumping out of a plane.
7. Zip Line at the Linq
Zip lining is a quick and easy way to get your adrenaline flowing and the Zip Line at the LINQ is a superb thing to do in Las Vegas. Imagine soaring above the crowds and looking down at the peasants below as you zip along raising your adrenaline levels.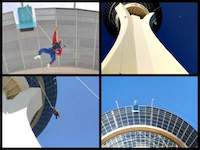 8. SkyJump
So you don't like to jump off buildings but you're about to take the greatest leap of faith in your life? Well, let's see who in your group doesn't have the nerve and soils themselves by taking another leap of faith by jumping off the SkyPod with an 829-foot drop. While touching speeds of 40-miles per hour on the SkyJump your heart will be in your throat and you'll find out if everything else stays inside your body.
9. Escape Rooms
Trust me. Once you're married you will need all the experience of escaping the house or family situations you can find. The Escape Rooms in Las Vegas are a great way to learn and hone your future skills of getting away and you can even hold contests on which group or crew is the fastest in your bunch.
10. Horseback riding
When you just want to relax from last night and all the shots of tequila, then a great Las Vegas bachelor party idea is a Horseback Riding tour. Plus once you're married your significant other will be impressed that you know how to ride a horse all the way to the drinking well.
Las Vegas Bachelor Party Ideas - Best Shows
Well, a bachelor party shouldn't be all about topless girls, right? I think that you might enjoy a few of the other great Las Vegas shows, perfect for a Las Vegas bachelor party - especially comedies and sports events. Therefore I carefully selected these shows that can be enjoyed by a bunch of guys!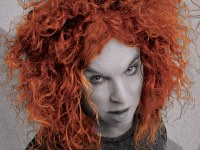 1. Carrot Top
Carrot Topis one of the funniest shows, where you get to see everything from giant props to outrageous costumes, and wonder if what you're experiencing is real or just a crazy hallucination!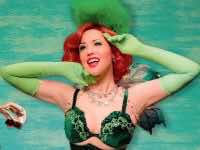 2. Absinthe
Feeling like being a little dirty minded or are you just feeling filthy rich? Either way watching the Absinthe is a perfect Las Vegas bachelor party idea with a mixture of 19th century European cabaret debauchery that mixes the ideal cocktail of burlesque skits, vaudeville funnies, and wild circus acts.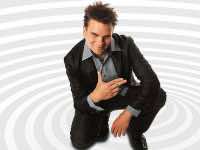 3. Hypnosis Unleashed With Kevin Lepine
I am sure your friends will love Hypnosis Unleashed - it's a super funny hypnosis show where the bad boy Kevin Lepine hypnotizes volunteers and makes them do weird kind of sexy stuff - please do try to get your unsuspecting groom hypnotized and film him!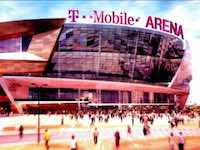 4. Sports
There are plenty of sports for guys to attend in Las Vegas - from boxing, UFC, National Finals Rodeo, Golden Knights, Raiders etc - the schedule of sports events to see what's on when you are here.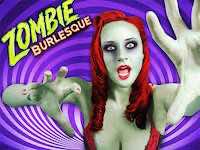 Zombie Burlesque
You might feel like a Zombie after a great night out drinking with your crew. So, why not take them to go watch Zombie Burlesque where you can catch a glimmer of some scantily clad women and men who probably look just like you did this morning.
Las Vegas Bachelor Party Ideas - Best Tours
If you have a lot of time and are done exploring the city, I have a few more Las Vegas bachelor party ideas: take one of the many day trips from Las Vegas. Again, when selecting these tours, I had a guys' trip to Las Vegas in mind. So what are the best tours for a guy's trip? I suggest that you check out these tours.
1. Helicopter Tours
Helicopter tours in Las Vegas are a great way to get a little unique sightseeing in before your big day and they also offer a bit of an adrenaline rush. Lots of choices to be had from flying over the Strip to viewing the enormity of the Grand Canyon to seeing the true vastness of the Mojave Desert wasteland.
2. Pink Jeep tours
I know. The jeeps are pink but that should take away from your manhood. The Pink Jeep tours are an ideal way to see some of the surrounding area that offers superb scenery at places like Valley of Fire, Red Rock Canyon National Conservation Area, and you can make a side trip to the Hoover Dam.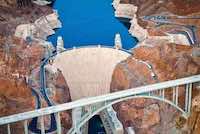 tours to the Hoover Dam
Every guy likes large construction projects and the tours to Hoover Dam will make your eyes pop when you view the vastness of this manmade structure. Guides will show you the huge electric turbines, take some photos from the dams deck, and view the mighty Colorado River and Black Canyon while spending a relaxing day away from Sin City.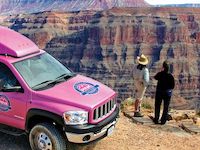 Jeep tours to the Grand Canyon
Getting married is one of the biggest things in life, so why not go see the biggest natural wonder in the world by taking a Jeep tour to the Grand Canyon. Relax while you cruise the rim in a comfortable jeep white taking in the gorgeous scenery of the grand Canyon. Maybe combine this with a helicopter tour for a perfect day of fun with your crew.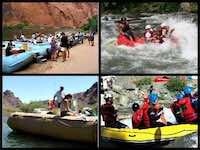 rafting the Colorado River
The mighty Colorado River is a marvel to watch flow down the canyons and you can experience a heart stopping event by Rafting the Colorado River. Enjoy the sheer canyon walls of the Black Canyon leaving no quarter to the rushing waters as you conquer the river and there's time for a quick swim too.
No need to arrange transportation - all tours include a free pick up from hotels!
Las Vegas Bachelor Party Ideas - Best Strip Clubs
And you thought we'd never mention the strip clubs? But these are the main part of any bachelor party! I am recommending here top 5 gentlemen's clubs in Vegas. I recommend the following gentlemen's clubs to help boost your Las Vegas bachelor party ideas:
Warning! Do not arrive to Strip Clubs by taxi or limo - call to order a free pick up!
Read our strip club tips about ways to avoid cover charges, dress code and etiquette.
Las Vegas Bachelor Party Ideas - Best Night Clubs
No matter what your Las Vegas bachelor party ideas are, you simply have to to take the groom to one of the night clubs before he takes the plunge! Vegas nightclubs are hot, hot, hot, with the most awesome resident DJ's.
But since we are planning your bachelor party package here, I suggest hitting at least 1 of the 5 nightclubs. So I researched a few of the clubs and have selected the most fun ones:

Zouk
Looking for an upscale Las Vegas nightclub for you and your posse to party? Well, Zouk's will take you on a ride into space. Once inside the futuristic lasers, lighting, and incredible special effects bump your body to beat of the EDM played by top-notch DJs. Book early for luscious VIP service.
XS
Elegance and superb service along with lavish seating is exactly what your Las Vegas bachelor party needs to take off for an incredible night of fun. XS Nightclub is sultry and sexy with a European pool surrounding the intimate setting that brings bottle service and renowned DJs to help everything out.
Hakkasan
Pump up the music and book your VIP table when planning to go to Hakkasan Nightclub. The place brings superb DJs and private guest stars to the venue which is perfect for your crew to dance the night away. And there is also an attached restaurant for fancy dining on tasty cuisine.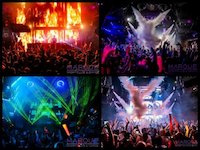 Marquee
Simply Wow! That's all that comes to mind when you step into the 40,000-square feet Marquee Nightclub of sophisticated entertainment. There's plenty of action with seven bars and three different rooms including The Boom Box, The Library, and The Main Room where partying is a life-style with delicious food and bottle service for your posse to revel in.
Omnia
OMNIA Nightclub lives up to its name with everything you need for your Las Vegas bachelor party. The inside is gorgeous with plenty of special effects from the famed kinetic chandelier and opulent but classic design combined with a crazy sound system with off-the-chain DJs spinning EDM all night and is worthy of booking a VIP table.
Las Vegas Bachelor Party Ideas - Best Bars
Groom tired and happy from all the dancing, strippers and topless show? That's not all! Now it's time to take your Las Vegas bachelor party to a bar/restaurant to continue the merriment. I again put a lot of thought into selecting best restaurants - the most fun ones.
Twin Peaks
Famous for it's pretty waitress with very little clothes, Twin Peaks also is a beer lovers' paradise. With lots of TV's to catch your favorite game while you are cheering the groom, this bar is a must try!
Carnaval Court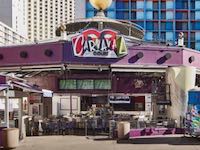 There's always something fun going on at Carnaval Court at Harrah's. The atmosphere is so festive, there's music, dance, and it's located right on The Strip. Nothing can go wrong with your choice of the funnest bar on the Strip for a Las Vegas bachelpr party!
Blondies Sports Bar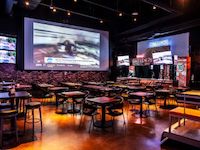 Blondies Sports Bar & Grill at Planet Hollywood is a great place to catch a sports game if there is one during your Las Vegas getaway. They have big screen TV's and beautiful women, but they don't have much entertainment going on. As I mentioned, this is a sports bar and that's how it's supposed to be used!
Coyote Ugly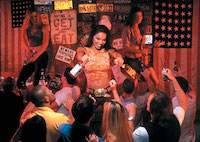 If you did not see the movie Coyote Ugly, it's all about hot girl bartenders dancing on the tables (oh my i need to see it again - the movie is pretty sleazy, but the dancers are hot, hot, hot!). So this Coyote Ugly at New York New York is based on this movie and, naturally, has pretty girls dancing in between pouring you booze. How awesome is that?
Dick's Last Resort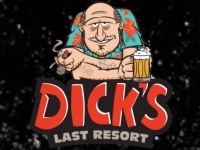 I thought that including the funny restaurant/bar Dick's Last Resort at Excalibur Hotel into your Las Vegas bachelor party ideas would be a hilarious idea. Warning: don't warn the groom about this restaurant if he doesn't already know! He should however have a healthy sense of humor to enjoy this one. It's a really special place: they crack you up with insulting jokes, they write stupid comments on your hats, they can even give you phallus-shaped balloons and stuff like that. They call themselves The Shame of The Strip for a reason and they are simply hilarious. If you want to get your groom insulted - go ahead and ask them to give him special treatment!
Las Vegas Bachelor Party Ideas - Best Pools
If you are having your Las Vegas bachelor party during summer or at least between April and October - you should check out a few of the best pools in Las Vegas! I selected these pools because they either have a European topless area (Tao Beach) that your groom would surely enjoy (ha! ha!), or they have awesome party atmosphere - all the rest ! Yes Vegas is famous for its awesome pool parties that are just like night clubs only wet and take place during day time.
Encore Beach Club
So, you need a pool to help you get started for an all-day party. Look no further than the Encore Beach Club which has world-renowned entertainers like The Chainsmokers, David Guetta, and Kygo. Combine this with beautiful women dancing in bikinis along with comfortable daybeds and cabanas that come with a private attendant and you won't want to leave.
Marquee
With two pools on the rooftop providing spectacular views of the Strip along with numerous bars and world-class cuisine is all you need to know when visiting the Marquee Dayclub. Treat your posse to the best and book a grand cabana with an infinity edge dipping pool and plenty of amenities which makes for an ideal day in the sun.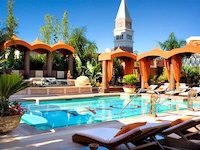 Tao Beach Club
So, you didn't take your Las Vegas bachelor party to Bangkok, but visiting the Asian inspired Tao Beach Club will satisfy all your inner urges for Asian fun. With private cabanas, plunge pools, gorgeous women swaying to EDM music, state-of-the-art technology, and tasty treats is all everything you need to go rogue for the day.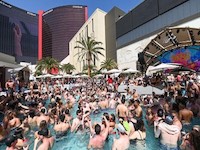 Ayu Day Club
An oasis in the desert is what you're going to find at the Ayu Day Club that is packed with scintillating fun in a revved up atmosphere loaded with partying people. Dance to the newest EDM music, watch smoking special effects, eat some chow, and immerse your crew in one of the liveliest places on the planet.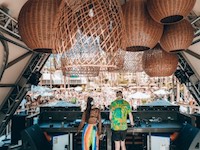 Elia
Feel like you're visiting numerous tropical locations all at once when you enter the world of dayclubs at Elia Beach Club. A superb place that boasts a sand-bottom pool, incredible sound and special effect system, world class tasty treats, and plenty of skin around makes this an ideal choice for a Las Vegas bachelor party looking to celebrate all-day.
More Nightlife
Get Your Free Las Vegas Events Calendar!
Las Vegas Gifts - Art, Merch And more!
Grand Canyon Helicopter Tours by Papilloin
Grand Canyon Helicopter Tours by Maverick
Awesomest Things to do in Las Vegas Every Day!