Hoover Dam Tours From Las Vegas In 2020
These fun Hoover Dam tours from Las Vegas are probably the most popular day trips in the city. There are multiple ways to get from Las Vegas to Hoover Dam - by bus, Pink Jeeps, helicopter, Hummer and even a biplane! Hoover Dam is the latest man-made construction miracle, located very close to the city, and it's super easy to get there. During your tours you will learn fascinating facts about construction of the Hoover Dam during the Great Depression, admire and take pictures of the penstock towers and Bypass Bridge, take a boat cruise on Lake Mead or ride a mountain bike around the dam. The Hoover Dam tours cost from $70 to $249, depending on the mode of transport and what else they include.
Express Hoover Dam Tour From Las Vegas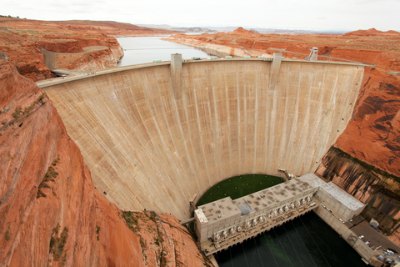 Book This Tour
Price from $85.00; Duration: 4 hours 30
The Super Hoover Dam Express Tour is a fantastic excursion for families that want a quick ride to Hoover Dam, which gives you more time to explore this magnificent facility. Your 4.5-hour tour begins when you meet your expert tour guide at a predetermined location on the Strip. When you meet in this fashion there is not extra time wasted traveling from one hotel to another hotel picking up passengers. You will travel for 45-minutes to Hoover Dam in a comfortable coach while listening to your guide give an informative narrative of the natural and cultural history of the area. Once you arrive at Hoover Dam you will follow a National Park Service guide who specializes in the history of Hoover Dam. You will stroll through the visitor's center, watch a historic video of the construction and eventually reach the top where you can gaze around and take in the fabulous views. When you are finished with your 45-minute Walk on the Top Hoover Dam tour you will be transported back to your original pickup location where your Super Hoover Dam Express Tour will conclude.
Plan Vegas Stay
Disclaimer: I receive a small commission from the links on this page.
Plan Vegas Stay