Hoover Dam Tours From Las Vegas
These fun Hoover Dam tours from Las Vegas are probably the most popular day trips in the city. There are multiple ways to get from Las Vegas to Hoover Dam - by bus, Pink Jeeps, helicopter, Hummer and even a biplane! Hoover Dam is the latest man-made construction miracle, located very close to the city, and it's super easy to get there. During your tours you will learn fascinating facts about construction of the Hoover Dam during the Great Depression, admire and take pictures of the penstock towers and Bypass Bridge, take a boat cruise on Lake Mead or ride a mountain bike around the dam. The Hoover Dam tours cost from $70 to $249, depending on the mode of transport and what els ethey include.
Most Popular Hoover Dam Tours
Hoover Dam tour by Pink Jeeps With Colorado River Float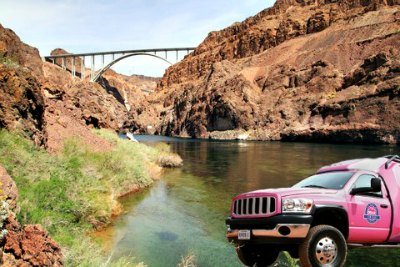 Book This Tour
Price from $165; Duration: 5.5 hours
The Hoover Dam Top to Bottom Tour is a great way for you to view one of the most important engineering feats in the world as well as float down the mighty Colorado River. Your 5.5-hour excursion starts with complimentary pickup service from your hotel where you will travel in an SUV to the Hoover Dam. Once at Hoover Dam you will proceed on a guided tour which includes the visitor's center, the power generating room and you will have time to stroll on top and snap numerous photographs of this beautiful area. After you spend time at Hoover Dam you will then journey to the Colorado River on the same roads that the construction workers used while building this magnificent structure. When you arrive at the Colorado River you will board a raft and float down the river while listening to more expert commentary on the Colorado River, Lake Mead and Hoover Dam. Your Hoover Dam tour from Las Vegas concludes with drop-off service at your hotel.
Plan Vegas Stay
Plan Vegas Stay