free Las Vegas shows And Things To Do In 2022
Here are free Las Vegas shows and things to do in 2022 to keep you occupied during an entire trip - day or night! Most of these free attractions and activities are located on the Strip and are suitable for Vegas vacation with kids and teens. To keep you concentrated, we have created an easy to follow map and a step by step guide to the most fun free shows, attractions and activities along the Strip and up until downtown. We have also provided approximate times and schedule of free Las Vegas shows so you can easily plan your vacation!
Ready? Put on your sturdy shoes, or rent a car, and let's go! We start our trip right at McCarran Airport - near the famous sign, and walk (drive)along the Strip towards downtown. We will be stopping at the most interesting hotels and other venues that are worth popping in either for a quick look around, exploration or for a free show.
1. Welcome To Fabulous Las Vegas Sign
Address: 5100 Las Vegas Blvd S Map
Our first stop is the famous sign Welcome To Fabulous Las Vegas. We believe we do not need to introduce this sign - Anyone looking for free Las Vegas shows has heard about this one.! Although, strictly speaking, the sign is located in Paradise, it's still considered one of Las Vegas landmarks. There is a small parking lot nearby, and there are always plenty of people who can take your pictures. Even if it doesn't sound like something worth the detour for you, the sign is on the way and is a must stop if you are going, for example, to Hoover Dam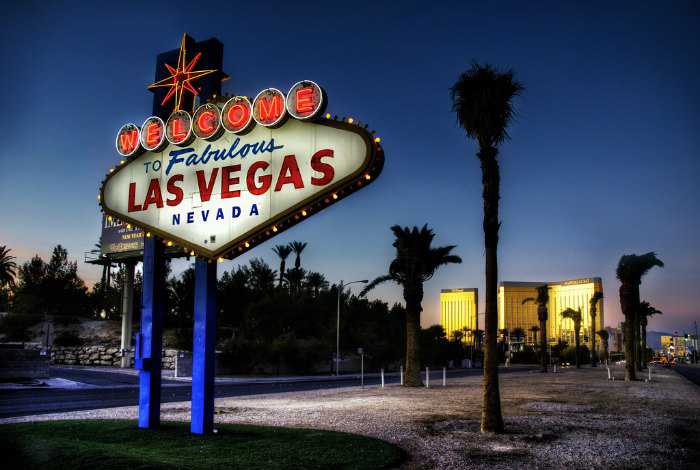 Photo by williambeem.com
The sign was designed by Betty Willis, a graphic designer, in 1959, and changed the address a few times until moving to 5100 Las Vegas Blvd. S., near McCarran Airport, right where the Strip with all free attractions begin. The 25 feet (7.6 m) sign is not only a perfect photo opportunity, it's also a place where many people choose to get married!
Plan Vegas Stay
What's Hot