Best Day Trips From Las Vegas
Here are the best day trips from Las Vegas that you can complete in less than day, and come back in time for your evening show! If you are still unsure where to go from Las Vegas, explore the many national parks, famous landmarks and other destinations located around the city. Tours and day trips abound in Vegas - just decide where YOU want to go! I'll be your own Las Vegas tour guide and will show you where to go and what to see - the most scenic tours from Vegas to other popular destinations. Best places to go in Las Vegas are the Grand Canyon and Skywalk, Hoover Dam, Hollywood, Disneyland, Red Rock Canyon, Death Valley, Valley Of Fire, Bryce Canyon and Zion National Park, and of course the famous Gold Mine!
Grand Canyon day trips from Las Vegas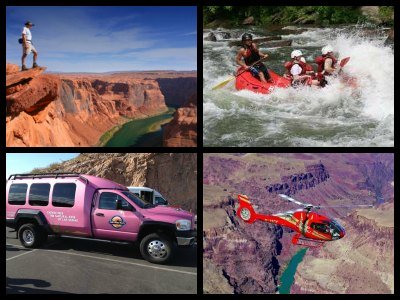 All Grand Canyon Tours
The Grand Canyon definitely tops the list of the most popular places to go in Las Vegas! You can take Grand Canyon day trips from Las Vegas to the South Rim, North Rim, Grand Canyon West, and tours that combine a visit to the Grand Canyon with Hoover Dam. Grand Canyon is one of the most amazing parks in the world! There are plenty of ways to get to the Grand Canyon from Las Vegas - by helicopter, by train, by bus, by jeep and even by airplane. Tour prices vary from $100 for a simple bus trip to a bit over $500 for a tour that includes helicopter, boat and Skywalk.
What's Hot
Plan Vacation