Best Valley of Fire Tours From Las Vegas
These Valley of Fire tours from Las Vegas take you to one of the most fascinating places on the planet! The landscape of the valley is something you will be talking to your friends about for a long time. You will be amazed by the colors of the sandstone formations and by how the valley reminds of a museum of statues under the open sky!These rock formations, shaped by wind and rain, remind of animals, bizarre castles and bridges. Not to mention the ancient petroglyphs left by Indian people who used to inhabit this region. What's even better: some of these activities are not just sightseeing tours: you can hike, ride an ATV or a Mini Buggy at Valley of Fire!
Valley of Fire Tours By Pink Jeeps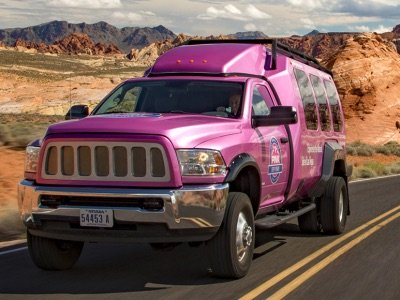 Valley of Fire tours from Las Vegas by Pink Jeeps are fun and very comfortable. Their luxury vehicles, that are actually closer to SUV than to Jeeps, are fully equipped with everything you may need from huge windows to reclining seats, air conditioner and snacks. So you can just relax and enjoy your ride until you get to Valley of Fire.
There, the Pink Jeep's highly knowledgeable tour guides will show you the very best parts of the valley, including the famous ancient petroglyphs, the Elephant Rock, and the Fire Canyon.
Plan Vegas Stay
What's Hot
Disclaimer: I receive a small commission from the links on this page.
Plan Vegas Stay
What's Hot