Best Valley of Fire Tours From Las Vegas In 2023
These sceneic Valley of Fire tours take you to one of the most fascinating places on the planet! Valley of Fire State Park is a stunning natural wonder located in the Mojave Desert, just an hour's drive from Las Vegas. This park is famous for its bright red Aztec sandstone formations that appear to be on fire under the desert sun. The park is home to unique geological features, ancient petroglyphs left by Indian people who used to inhabit this region, and a variety of wildlife, making it an outdoor enthusiast's paradise. The park is truly a natural wonder and a must-see destination for anyone visiting Las Vegas. There are a few ways to expericne the Valley of fire: you can hike, ride an ATV or a Mini Buggy, land in a helicopter or visit the Lost City Museum!
Valley of Fire Tours By Pink Jeeps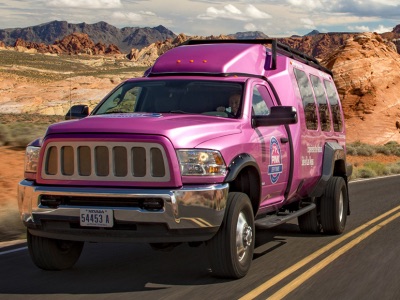 Discover the stunning Valley of Fire in style and comfort with the Pink Jeeps Valley of Fire tour. Their luxurious vehicles, which are more like SUVs than Jeeps, are fully equipped with everything you need for a comfortable ride, including large windows, reclining seats, air conditioning, and snacks. This allows you to sit back, relax, and enjoy the scenic journey until you reach the Valley of Fire.
Once you arrive, Pink Jeep's highly knowledgeable tour guides will take you on a journey through the valley's most breathtaking sights. You'll get up close and personal with ancient petroglyphs, marvel at the massive Elephant Rock, and experience the awe-inspiring beauty of Fire Canyon. Their expert guides will provide valuable insights and commentary on the area's history and geology, making this an informative and engaging tour. The Pink Jeeps Valley of Fire tour is the perfect way to explore this natural wonder and make unforgettable memories.
Get Your Free Las Vegas Events Calendar!
Grand Canyon Helicopter Tours by Papilloin
Grand Canyon Helicopter Tours by Maverick
Awesomest Things to do in Las Vegas Every Day!

More Vegas Day Trips
Get Your Free Las Vegas Events Calendar!
Best of Vegas