Valley of Fire Tours From Las Vegas
These Valley of Fire tours from Las Vegas take you to one of the most fascinating places on the planet! The landscape of the valley is something you will be talking to your friends about for a long time. You will be amazed by the colors of the sandstone formations and by how the valley reminds of a museum of statues under the open sky!These rock formations, shaped by wind and rain, remind of animals, bizarre castles and bridges. Not to mention the ancient petroglyphs left by Indian people who used to inhabit this region. What's even better: some of these activities are not just sightseeing tours: you can hike, ride an ATV or a Mini Buggy at Valley of Fire!
Valley of Fire Tours By Pink Jeeps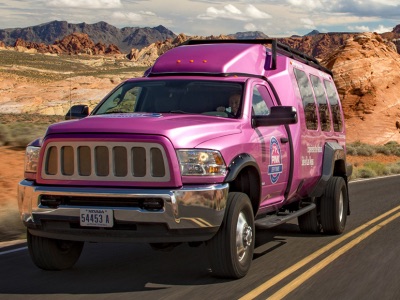 Book This Tour
Prices From $135.00; Duration: 6 hours
Valley of Fire Pink Jeeps tours from Las Vegas by are fun and very comfortable. Their luxury vehicles, that are actually closer to SUV than to Jeeps, are fully equipped with everything you may need from huge windows to reclining seats, air conditioner and snacks. So you can just relax and enjoy your ride until you get to Valley of Fire.
There, the Pink Jeep's highly knowledgeable tour guides will show you the very best parts of the valley, including the famous ancient petroglyphs, the Elephant Rock, and the Fire Canyon.
What's Hot
Valley of Fire-Love Hikes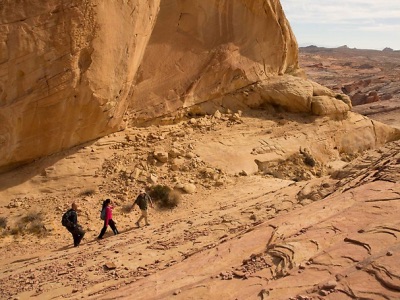 Book This Tour
Prices From $119.00; Duration: 6 hours
You will need to decide what type of hike you wish to have while at Valley of Fire. There are three choices of guided Valley of Fire hiking tours from Las Vegas that range from novice to expert. There are also three time slots per day sunrise, afternoon and sunset with the flexibility for an adventure of four to seven hours.
You will be shuttled from your hotel until you reach the visitor's center at Valley of Fire. From the visitor center you will hike through amazing natural rock carvings as well as petroglyphs that are 3,000 years old. Your guided hike will include valuable history and landscape commentary as you let your mind absorb the majestic scenery.
On the way home you are shuttled back to your hotel. There are some age restrictions. Please wear the appropriate clothing and hiking or athletic shoes. Snacks and beverages are included.
What's Hot
Valley of Fire Mini Baja Buggy Tour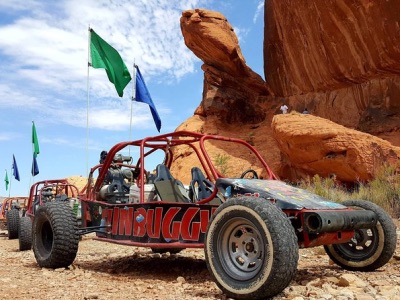 Book This Tour
Prices From $221.00; Duration: 7 hours 30 minutes
Unlike ATV tours, riding a mini buggy is suitable for children over 3 years old! A buggy is a small off-road vehicle designed specifically for the rugged trails of Valley of Fire. With these adrenaline-filled Valley of Fire Buggy tours from Las Vegas You will ride through the terrain where many episodes of Star Trek were shot!
It's really easy to operate a mini buggy - inside it's just like a regular car - with brakes, and pedals and all, and even 16 year olds can ride it safely. The buggies come as double-seater, four-seater and six seater so you can share the fun with your whole party!
Valley Of Fire and Grand Canyon Tour
Book This Tour
Prices From $489.99; Duration: 4 hours
This is a very interesting helicopter tour that includes both the Grand Canyon West Rim and Valley of Fire, as well as a scenic flight over Las Vegas Strip on the way back. So if you don't want to walk around Valley of Fire, and want to take a helicopter flight, this tour might be for you!
These Valley of Fire and Grand Canyon tours from Las Vegas include a free picnic with champagne at the bottom of the Grand Canyon, right next to the Colorado River that created this wonder. On the way back, your helicopter will fly slowly over Valley of Fire and the Strip while you are taking in the views!
Valley of Fire Tours With Lost City Museum
Book This Tour
Prices From $128.99; Duration: 7 hours
During these informative Valley of Fire tours from Las Vegas you will not only be able to see and take pictures of the most gorgeous landscapes, but you will also visit the Lost City Museum that boasts the largest collection of artifacts left by the Pueblo Indians. The museum has been collecting relics since 1935. The highlight of the museum is the reconstructed Anasazi buildings (on the picture) that everyone if free to explore.
Valley of Fire Rappelling Tour
Book This Tour
Prices From $149.00; Duration: 6-7 hours
One of the most exciting Valley of Fire tours for the adrenaline seeker is the Rappelling Tour. This six hour tour packs a punch and includes a great tour of the Valley of Fire State Park. Guests will first watch a short safety video before being taught how to rappel by expert guides. After mastering certain rappelling techniques patrons will be able to rappel down a 60 to 150 feet red rock face. Guests will have the opportunity to rappel twice during this tour. The Valley of Fire Rappelling Tour includes all the equipment needed for a safe adventure. The tour is limited to participants 12 years of age or older and there is a box lunch served at the Valley of Fire State Park for patron's enjoyment.
What's Hot
Do you have any questions or Comments?