Best Valley of Fire Tours From Las Vegas In 2022
These Valley of Fire tours from Las Vegas take you to one of the most fascinating places on the planet! The landscape of the valley is something you will be talking to your friends about for a long time. You will be amazed by the colors of the sandstone formations and by how the valley reminds of a museum of statues under the open sky!These rock formations, shaped by wind and rain, remind of animals, bizarre castles and bridges. Not to mention the ancient petroglyphs left by Indian people who used to inhabit this region. What's even better: some of these activities are not just sightseeing tours: you can hike, ride an ATV or a Mini Buggy at Valley of Fire!
Plan Vegas Stay
What's Hot
Disclaimer: I receive a small commission from the links on this page.
Valley of Fire Family Friends Adventure Hiking Tour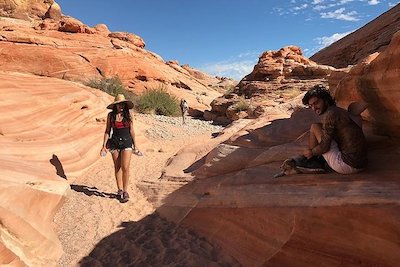 If you are looking for a VIP and personalized hiking experience in a stunning landscape, then you need to try the Valley of Fire Family Friends Adventure Hiking Tour from Las Vegas. Your 5-hour outdoor adventure begins with hotel pick-up service where you are transported to the Valley of Fire State Park. The first stop is at the Valley of Fire Visitor Center where you learn more about the unique Aztec Sandstone formations and wildlife of the state park. Then you are outfitted with a day pack filled with water and snacks. Your first hike is at the 1.1-mile loop trail called White Domes Trail. The trail is peppered with interesting rock formations that are brilliant in color and the trail offers some of the best wildlife viewing in the state park. Now you travel to Mouse's Tank where you view ancient petroglyphs that are more than 3,000 years old on a quick ¼-mile hike. Your next stop is at Atlatl Rock which is packed with more petroglyphs that have served as a map for thousands of years to explorers and ancient Indian tribes of the area. The last stop on your journey is at Seven Sisters which are seven columns of eroded sandstone perfectly lined up in a row. Here you will indulge in lunch while gazing at the amazing formations. Your hiking adventure concludes with transportation back to your hotel.
Plan Vegas Stay
What's Hot