Best Valley of Fire Tours From Las Vegas In 2021-2022
These Valley of Fire tours from Las Vegas take you to one of the most fascinating places on the planet! The landscape of the valley is something you will be talking to your friends about for a long time. You will be amazed by the colors of the sandstone formations and by how the valley reminds of a museum of statues under the open sky!These rock formations, shaped by wind and rain, remind of animals, bizarre castles and bridges. Not to mention the ancient petroglyphs left by Indian people who used to inhabit this region. What's even better: some of these activities are not just sightseeing tours: you can hike, ride an ATV or a Mini Buggy at Valley of Fire!
Plan Vegas Stay
What's Hot
Disclaimer: I receive a small commission from the links on this page.
Las Vegas ATV Valley of Fire Adventure Tour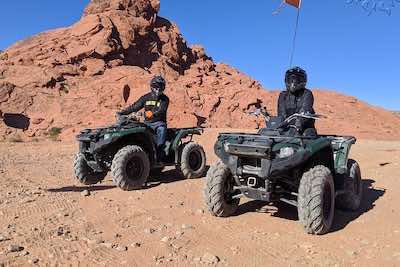 One of the best ways to view the surrounding natural landscape in Sin City is for you to go on the Las Vegas ATV Valley of the Fire Adventure Tour. Your 8-hour ATV tour in Las Vegas begins with hotel pick-up where you are taken to SunBuggy near the Las Vegas Motor Speedway. Here you are outfitted with your safety equipment and given a quick lesson on how to maneuver your ATV. Now you are transported to the Valley of Fire State Park in a comfortable coach. Once at the Valley of Fire State Park you are given your ATV and you head out on the Logandale Trail. During your four-hour ride, you will navigate over ancient sand dunes, dry creek beds, and through interesting Aztec Sandstone rock formations. You make a couple of stops along the way to view ancient petroglyphs that explain the wildlife, watering holes, and ancient ways of the Indians. You stop for lunch where you eat and stretch your legs before heading back on the trail on your ATV. Your excellent adventure concludes back at the trailhead where you are transported back to your hotel.
Plan Vegas Stay
What's Hot