Best wedding chapels in Las Vegas in 2023-2024
These best Las Vegas wedding chapels offer exceptional theme and traditional wedding packages and receptions and are all located conveniently on or near the Strip.
Most chapels offer vow renewal, come offer Elvis impersonators and drive through weddings, but they aren't created equal! All so gorgeous, but so different.
In Las Vegas there are free standing chapels and chapels located inside major hotels and casinos. Some specialize in theme weddings, others in outdoor. Some offer fast drive-through weddings where you can exchange your vows without leaving a car. Others will take you to the Grand Canyon on board of a helicopter where you can say "I do" in the most majestic place in the world. Yet others will marry you on a beautiful lake or inside a gorgeous gazebo. Read below my reviews of the most beautiful and versatile wedding chapels in Las Vegas.
1.A Special Memory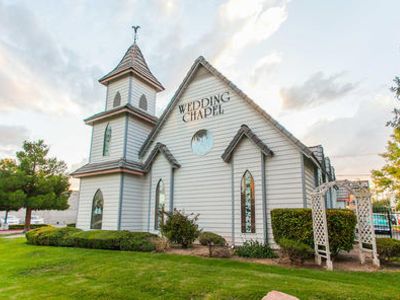 Book Drive Through Wedding At Special Memory Chapel
Book Traditional Wedding at Special Memory Chapel
Address: 800 South 4th Street, Tel: 702-384-2211
Style: Traditional, entertaining
A Special Memory packages: Traditional, Grand Canyon, Valley of Fire, Helicopter, Elvis, Drive Through
Additional Services: Flowers, photography, limousine pick up, live internet broadcast
Review: A Special Memory is one of the best traditional best wedding chapels in Las Vegas. Apart from traditional weddings, they offer 3 Elvis themes, but they are less over-the-top than the above-reviewed Viva.
A Special Memory organizes the very popular wedding packages in gorgeous Valley Of Fire where you can get married surrounded by "statues" created by nature. They can also arrange weddings in the Grand Canyon, in Valley of Fire or in the Red Rock Canyon.
A Special Memory is also one of the few Vegas chapels that does the famous drive-through weddings where you can tie the knot without leaving the car.
Choose A Special Memory if you want a traditional wedding!
More Romance
Get Your Free Las Vegas Events Calendar!
Best of Vegas