Red Rock Canyon Tours From Las Vegas 2022
Red Rock Canyon tours from Las Vegas are fun, exciting and very popular. There are many ways to visit this hidden gem - from most popular mini-van tour to mini three-wheel-scooters, helicopters, and jeep tours. Once at the Red Rock Canyon, you can do horseback riding, hiking, riding mountain bikes or road bikes.
Red Rock Rocky Gap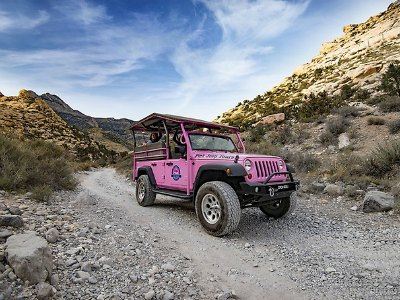 So you what to go Jeepin'? Then these Red Rock canyon tours from Vegas are perfect for you as you enter a pink Jeep and enjoy an interesting narrated and guided tour that takes you through Red Rock Canyon to an area that is only accessible to off-road vehicles.
You will want to wear layered clothing as you adventure during this possible 6-hour tour that includes numerous chances to shot photographs of such remarkable places like Calico Hills, Red Rock Canyon Visitor's Center, Willow Springs to name a few. Feel like a trail blazer as you travel along a pioneer trail through Rocky Gap Road which is only accessible by off-road vehicles. The adventure will take you by the Native American artifacts, an ancient thrust fault and fossilized sand dunes.
You might also choose to upgrade and include a horseback riding excursion with lunch at the Spring Mountain Range. This upgrade has weight restrictions of no more than 250 pounds and you must be at least six years of age.
Plan Vegas Stay
What's Hot
Disclaimer: I receive a small commission from the links on this page.
Plan Vegas Stay
What's Hot