Red Rock Canyon Tours From Las Vegas
Below are the most exciting Red Rock Canyon tours from Las Vegas. There are many ways to visit this hidden gem - from most popular mini-van tour to mini three-wheel-scooters and jeep tours. Once at the Red Rock Canyon, you can do horseback riding, hiking, riding mountain bikes or road bikes..
Scooter Tours of Red Rock Canyon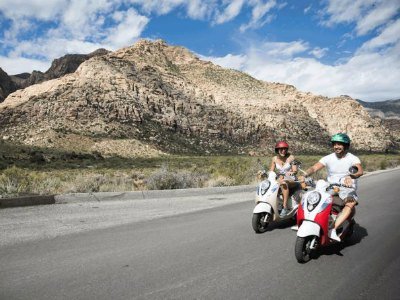 How about discovering the natural beauty of Red Rock Canyon on a scooter? Nothing is impossible in Vegas! Join this unique scooter tour of Red Rock Canyon tour and visit this stunning area. It is filled with wildlife, fabulous rock formations and awe-inspiring scenery. Your guide will teach about the area, the history and geology as you follow him on a scooter. The drive is easy and an orientation lesson will be provided before you set off. When you stop, climb the rocks and get some selfies! This tour makes a great outdoor bonding experience for the whole family.
What's Hot
Red Rock Canyon Mini Van Tour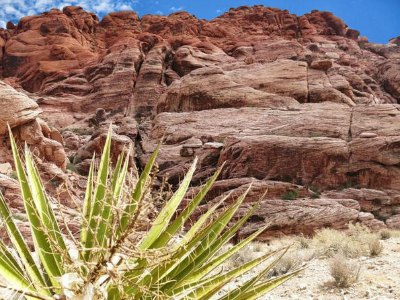 Book This Tour
Prices from: $74.89 ; Duration: 4 - 6 hours
With these popular Red Rock Canyon tours from Las Vegas you'll have two options- 4 hours and 6 hours tour. The 4 hour express tour includes van transportation from the hotel to the Red Rock Canyon where your guide will tell you about the unique wildlife, geography and past explorers of the area. It also includes a ride to the scenic loop. The 6 hour tour is more comprehensive and includes the scenic loop. Along the route, stop at the Calico Hills, the Willow Springs petroglyphs and the Indian roasting pits. Lunch is included in the tour. You'll also be able to visit the Spring Mountain State Park, once owned by Howard Hughes.
Red Rock Canyon horseback Riding tours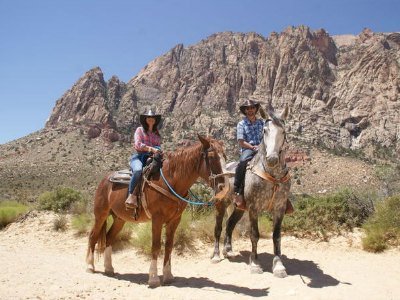 Book Morning Maverick Horseback Ride With Breakfast
Book Old Spanish Trail Horseback Ride With Lunch
Prices from: $119.99 ; Duration: 5 hours
Red Rock Canyon tours by horseback begin with a visit to a working ranch. Enjoy a western breakfast/lunch or dinner on arrival while enjoying the majestic mountains around you. Ride a tame and friendly horse, suitable for all levels of experience. You'll ride for about an hour on trails that were once used by Western outlaws. Enjoy beautiful views of horses and cattle grazing around. You might even spot jack rabbits, road runners and big horn sheep. After the Red Rock Canyon horseback ride, you'll visit the petting zoo and cowboy town before heading back to your hotel.
Red Rock Rocky Gap
Book This Tour
Prices from: $95 ; Duration: 5-7 hours
So you what to go Jeepin'? Then these Red Rock canyon tours from Vegas are perfect for you as you enter a pink Jeep and enjoy an interesting narrated and guided tour that takes you through Red Rock Canyon to an area that is only accessible to off-road vehicles.
You will want to wear layered clothing as you adventure during this possible 6-hour tour that includes numerous chances to shot photographs of such remarkable places like Calico Hills, Red Rock Canyon Visitor's Center, Willow Springs to name a few. Feel like a trail blazer as you travel along a pioneer trail through Rocky Gap Road which is only accessible by off-road vehicles. The adventure will take you by the Native American artifacts, an ancient thrust fault and fossilized sand dunes.
You might also choose to upgrade and include a horseback riding excursion with lunch at the Spring Mountain Range. This upgrade has weight restrictions of no more than 250 pounds and you must be at least six years of age.
Luxury Tour by Pink Jeeps
Book This Tour
Prices from: $78.99; Duration: 4 hours 30 minutes
These are fully-narrated Red Rock Canyon tours from Vegas with a choice of two departure times. The groups are quite small to allow personal service. Free pick-up and drop services included. The tour begins with a 13 mile long scenic drive where you will be able to view the beautiful Wilson Cliffs and spectacular scenery. You'll be able to view the Calico Hills with their colorful sand dunes and many other geological features. Stop by at the visitor center to check out the gift shop, the desert tortoise habitat and many other interesting exhibits. This tour also includes an off-road ride up the Rock Gap road.
Red Rock Canyon Scooter Car Tour
Book This tour
Prices from: $ 249.99; Duration: 4 hours 30 minutes
This is a 3.5 hour long Red Rock Canyon tour that will allow you to explore the beautiful conservation area in a unique and exciting way. You will be provided a scooter car and safety overview that you'll be able to drive through the beautiful Mojave Desert on your way to Red Rock Canyon. You'll learn more about the wildlife, Paiute Indians and the flora of this area at the visitor center before heading out on a 21 km scenic loop. Enjoy beautiful views along the way; explore the area on your own on the scooters and on foot before heading back to the hotel.
Red Rock Canyon Hiking Tour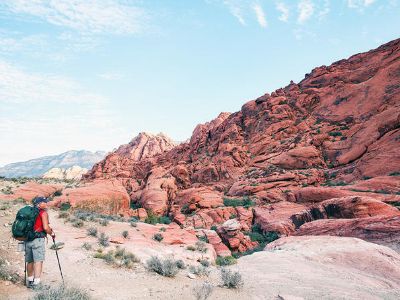 Book This tour
Prices from: $ 119.99; Duration: 4 hours
These hiking Red Rock Canyon tours tour will allow you to escape Las Vegas and hike with a local guide to one of the popular trails in the park. Choose from Ice Box Canyon, White Rock to Willow Springs or Calico Hills. Calico Hills trail includes a 4 km, relatively easy hike from the Calico Basin up to the Sandstone Quarry. Another option is to start at White Rock where you'll hike about 7.8 Km through a ridge, guzzler and to the Los Creek area. The Ice Box Canyon hike is slightly more strenuous since it involves walking around boulders, climbing up the side of a canyon and scrambling up a tricky wall to visit the upper pool. The Red Rock Canyon hiking tour includes a professional guide, transportation to and from the hotel by an air-conditioned coach and bottled water.
Red Rock Canyon Bike Tour
Book This tour
Prices from: $109.99 ; Duration: 4 hours
With these guided or self guided Red Rock Canyon tours along the Scenic Loop you have a choice between a Cannondale road bike or a Gary Fisher hybrid bike. The tour includes all the equipment you may need. Please note that this is not a casual and easy tour - during the first 5 - 6 miles be prepared to climb about 1000 feet uphill, after which it becomes easy and enjoyable. While the self-guided option sounds may sound like more fun to experienced bikers, remember that a guide will show you the places you won't be able to spot on your own!
Guided Mountain Bike Tour of Mustang Trail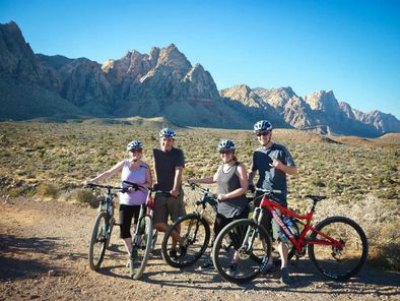 Book This tour
Prices from: $129.99 ; Duration: 4-7 hours
Enjoy the beauty of the Red Rock Canyon with a mountain bike tour. Tour cost includes transportation from the Vegas Strip. Choose from the Elsworth Epiphany or Santa Cruz Superlite mountain bike and ride with a professional guide to explore the sights with full narration. The tour includes bike rental, water and helmet. Ride through the Mustang Trail that is ideal for beginners as well as experienced riders. The trail includes a climb as well as descent and offers a quick pace. The total distance covered Red Rock Canyon tours by mountain bike is up to 12 miles. This is a great way to experience the Red Rock Canyon and its rugged beauty.
What's Hot
Do you have any questions or Comments?