Best Red Rock Canyon Tours From Las Vegas 2023
These best Red Rock Canyon tours from Las Vegas in 2023 are fun, exciting and very popular. There are many ways to visit this hidden gem - from most popular mini-van tour to mini three-wheel-scooters, helicopters, and jeep tours. Once at the Red Rock Canyon, you can do horseback riding, hiking, riding mountain bikes or road bikes.
Self-Guided Red Rock Canyon Trike Tour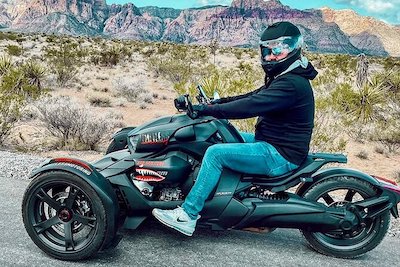 One of the best Red Rock Canyon tours for you to take that allows you the freedom of driving an incredible vehicle and visit the park on your time, is the Red Rock Canyon Trike Tour: Self-Guided on a CanAm Ryker. Your 2-hour driving adventure begins when you pick-up your super cool looking CanAm Ryker Trike and go through a quick safety and navigation lesson before you take off from the Strip. Once on the road you will feel the wind while driving through the Mojave Desert and Las Vegas Valley on your way to Red Rock Canyon National Conservation Area. As you drive along the 13-mile road within the area, you will be pleased to view the spectacular and brilliantly colored rock formations that seem unreal but beautiful. Your trike is outfitted with an on-board mapping system that allows you to stop at several vantage points for superb photos. After visiting the conservation area, you hit the road again along I-15 to see some interesting artwork created by Swiss artist Ugo Rondinone known as the Seven Magic Mountains. The art exhibit is fabulous with seven colorful stacked stone towers that standout in the surrounding desert area of Jean Dry Lake. There is plenty of time to visit all seven exhibits and take numerous selfies for lasting memories. Your last stop on this excellent day of driving a high-powered trike is at the Welcome To Fabulous Las Vegas Sign where you can take more photos of the Strip and sign. Your tour concludes at your original starting point.
Get Your Free Las Vegas Events Calendar!
Grand Canyon Helicopter Tours by Papilloin
Grand Canyon Helicopter Tours by Maverick
Awesomest Things to do in Las Vegas Every Day!

More Vegas Day Trips
Get Your Free Las Vegas Events Calendar!
Best of Vegas