Red Rock Canyon Tours From Las Vegas
Red Rock Canyon tours from Las Vegas are fun, exciting and very popular. There are many ways to visit this hidden gem - from most popular mini-van tour to mini three-wheel-scooters, helicopters, and jeep tours. Once at the Red Rock Canyon, you can do horseback riding, hiking, riding mountain bikes or road bikes.
Top Tours
Plan Vegas Stay
Hot Air Balloon Ride Tour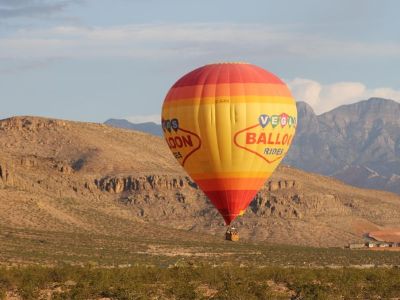 The Hot Air Balloon Ride Tour is one of the more unique romantic ideas for couples who want to have a bird's eye view of the gorgeous natural landscapes as well as the Strip. Your 3.5-hour flying excursion has many different starting times throughout the day including a remarkable sunset flight. Your adventure begins with hotel pick-up service where you will be transported to your state-of-the-art hot air balloon. After a quick safety meeting you will embark your hot air balloon as you start Walking with the Winds for 1-hour under the clouds. While you are in the air you will be amazed at the beautiful scenery that ranges from Red Rock Canyon National Conservation Area to the Mojave Desert to Mt. Charleston rising in the background. On your return flight you will get a bird's eye view of all the important landmarks on the Strip like the Eiffel Tower, Stratosphere Tower and the High Roller. For an added romantic theme try the sunset Las Vegas and Red Rock Canyon Tour where the neon lights of Sin City begin to glow while the sky turns into a canvas of pastel colors. Once you land you can celebrate with light snacks and a champagne toast before you are transported back to your hotel.
Plan Vegas Stay