The Best Las Vegas Helicopter Tours Of The Strip And Downtown
Las Vegas helicopter tours are the perfect way to explore the Strip, downtown and parks and other attractions located around. Despite of what you might think, helicopter rides over Las Vegas Strip are quite cheap, usually at or under $100 per person depending on current discounts, but imagine the excitement that comes with it! You can combine your tours of the Strip with Hoover Dam and Red Rock Canyon. Or even fly over to the Valley of Fire! No matter which ride you choose, they all will leave you breathless!
Top Las Vegas helicopter companies
Vegas Dream Sunset Tour
Book This Tour
Prices From $259; Duration: 2.5 hours (hotel to hotel)
Dreaming of a sunset that lasts forever? This Las Vegas helicopter tour is quick and to the point at one of the most beautiful times of the day. Once you leave on your air-only excursion you will feel the adrenaline from lift-off to landing. You will soar over such landmarks as the Las Vegas Strip, celebrity homes, exclusive golf courses, Lake Mead and the mammoth Hoover Dam.
As you fly through the sky just before the lights in Sin City open up another aspect of this wonderful journey, the orange, purple and blue sunset will be accented by the Mojave Desert landscape. Participants must have valid government identification according to FAA regulations.
Deluxe Night Flight With VIP Transportation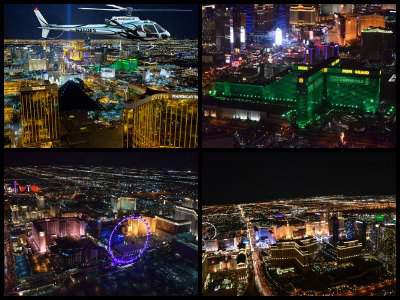 Prices From $89.99; Duration: 2 hours
This is the most popular, and the cheapest Las Vegas helicopter tour - under $100. You can read the raving reviews of people who took this tour. The tour departs at about 8:30 pm, and the helicopter flies all over the Strip, passing by the most beautiful hotels, including Caesar's Palace, Bellagio, The Venetian.
These hotels look amazing from the ground - imagine what they look like from above! The helicopter will pass by the Bellagio Fountains as they perform their intricate dance, and by the space beam of the Luxor.
What's Hot
Grand Canyon and Valley Of Fire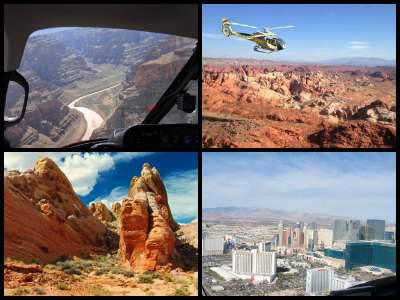 Book This Tour
Prices From 558.99; Duration 4 hours
Just when you thought that champagne picnics at the bottom of the Grand Canyon cannot get any better, here comes this incredible (I am not afraid to use this strong word!) Las Vegas helicopter tour to the Grand Canyon that also includes a ride over Valley of Fire! This valley may be less popular than the Grand Canyon, but only because of it's relatively small size.
Otherwise, it's just as beautiful, or even more exciting than the canyon. Valley of Fire is famous for its rocks that look like unbelievably beautiful sculptures created by Nature. While there are many tours where you can walk, touch and even ride an ATV at the valley, these Las Vegas helicopter tours offer a view from above.
Evening ride Over The Strip And Hoover Dam
Book This Tour
Prices From $209.99; Duration: 2 hours
This Las Vegas helicopter tour combines a ride over the Strip and Hoover Dam. The ride takes place during sunset - another great way to experience the city! Before your ride, you will get picked up by a limousine, taken to the helipad.
Your helicopter will soar over Hoover Dam and Lake Mead, then will return to the city, fly over the Strip towards downtown so you can catch a glimpse of the Fremont Street Experience and Glitter Gulch.
What's Hot
Do you have any questions or Comments?