Las Vegas Strip Hotels List 2019-2020
Las Vegas Strip hotels are grand, beautiful and so different! From the most fun ones such as Mandalay Bay and MGM Grand, to the most chic and quiet like Waldorf Astoria or Vdara, there are hotels for all tastes and budget. The hotels on this page are arranged in the order of their location on the Strip. Find the best Vegas hotels on the Strip, including their rates, casinos, number of rooms, entertainment, night clubs and pools, and restaurant options. The list of hotels along the West side of the Strip is followed by the list of hotels along the East Side of the Strip.
List of Hotels On West Side of The Strip
Mandalay Bay Las Vegas Strip Hotel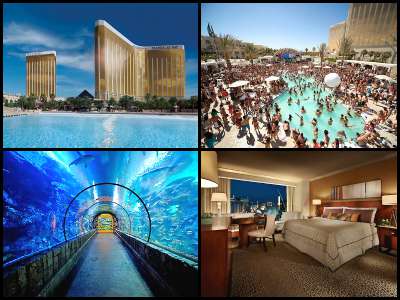 More About Mandalay Bay Resort & Casino

Mandalay Bay Resort and Casino is one of the most fun Las Vegas Strip hotels. It offers a wide range of entertainment activities, delicious dining options and an atmosphere you would not want to escape from.
Plan Vegas Stay
List Of Hotels on East Side Of The Strip
Plan Vegas Stay