Las Vegas Strip Hotels List 2022-2023
Here is a list of Las Vegas Strip hotels, updated in 2022-2023. They are grand, beautiful and so different! From the most fun ones such as Mandalay Bay and MGM Grand, to the most chic and quiet like Waldorf Astoria or Vdara, there are hotels for all tastes and budget. The hotels on this page are arranged in the order of their location on the Strip. Find the best Vegas hotels on the Strip, including their rates, casinos, number of rooms, entertainment, night clubs and pools, and restaurant options. The list of hotels along the West side of the Strip is followed by the list of hotels along the East Side of the Strip.
Mandalay Bay Las Vegas Strip Hotel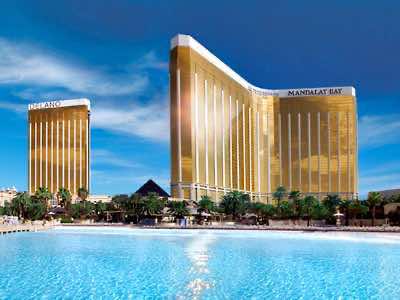 Mandalay Bay Resort and Casino is one of the most fun Las Vegas Strip hotels. It offers a wide range of entertainment activities, delicious dining options and an atmosphere you would not want to escape from.
Prices from:
$69
Mandalay Bay Las Vegas Resort fee:
$41.95
Number of rooms:
3,211
Casino:
Yes
Entertainment:
Yes. "Michael Jackson ONE" by Cirque du Soleil, live performances including Santana.
Nightlife:
Yes. Foundation Room, Light, House of Blues and Eyecandy, Minus5, Rí Rá, 1923 Bourbon Bar.
Restaurants:
Yes. The dining options include: Aureole, Bayside Buffet, Beach Bar & Grill, Border Grill, Citizens Kitchen and Bar, Fleur by Hubert Keller, House of Blues, Kumi Japanese Restaurant and Bar, Lupo Wolfgang Puck, Mizuya, The Noodle Shop, Raffles Cafe, Red Square, Stripsteak, Sports Book Grill, 2 Starbucks, The Burger Bar, Hussong's Cantina, Rí Rá, Rick Moonen's RM Seafood, RX Boiler Room and Slice of Vegas.
Attractions at Mandalay Bay Las Vegas Strip Hotel:
Yes. There is a Shark Reef Aquarium.
Pools:
Yes. There are three pools include a lazy river, an adult-only pool and a wave pool.
Pool parties:
Yes. There are Beach Concerts.
Spa:
Yes. Spa Mandalay offers 21 treatment rooms to satisfy any taste.
Shopping:
Yes. Some of the shops include Essentials, Pearl Moon Boutique, Scene, Rangoon News Bureau,Bella Scarpa, Misura, and more.
Weddings:
Yes. A Wedding Chapel is available.
Get Your Free Las Vegas Events Calendar!
Grand Canyon Helicopter Tours by Papilloin
Grand Canyon Helicopter Tours by Maverick
Awesomest Things to do in Las Vegas Every Day!