Las Vegas To Los Angeles - Hollywood Tours 2023
Las Vegas to Los Angeles tours in 2023 will take you to Hollywood, Beverley Hills and Santa Monica for a quick break, a day trip or to catch a plane. There are a few options available - bus transfers and even organized LA sightseeing tours, although not as many as one would hope. After all, the distance from Vegas to LA is 270 miles (434 km), and it takes about 4-5 hours to get there. Below are a few tours that are available for the same-day travel from Las Vegas.
Las Vegas to Los Angeles - Hollywood Day Tour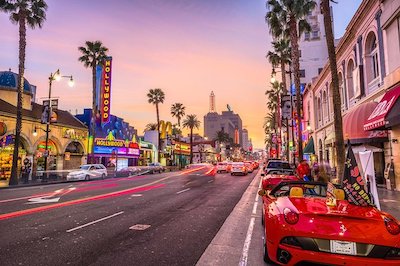 If you are travelling with a small group of up to 7 people, then this exclusive tour with a personal guide is for you! This Las Vegas to Los Angeles and Hollywood Day Tour will get you into the exciting movie star vibe.
Set off early from your Las Vegas Strip Hotel in an air-conditioned bus with leather seats. You will enjoy a light breakfast on route as you travel through the scenic Mojave Desert and learn all about this famous region from your knowledgeable guide. When you arrive in Los Angeles you head straight to the action!
Visit the Santa Monica Pier, a landmark that is over 100 years old. See the solar-panelled Ferris Wheel and the original 1920 carousel hippodrome. Soak up the vibe of the shops, pubs, restaurants and arcades. At the end of the famous Route 66, you can dip your feet into the Pacific Ocean and snap a selfie.
Next you are off to see how the rich and famous live in Beverly Hills as your bus winds past the luxuriously decked out mansions. Keep your eyes open – you may spot a celeb hiding behind large designer shades.
Then savour your ride down Rodeo Drive, the heart of fashion, luxury, designer stores and famous landmarks. Look out for the Beverly Wilshire Hotel, made famous in the movie Pretty Woman. Take in the razzle and dazzle of Hollywood Boulevard. Feel nostalgic on Sunset Boulevard, a place where world famous bands started their careers. Your next stop is Santa Monica Boulevard and then it is off to see the iconic Hollywood Walk of Fame, the world-famous sidewalk of stars! Snap some photos of the Hollywood Sign and admire the stunning evening views over Los Angeles. As your Las Vegas To Los Angeles tour ends, settle back into your bus and chat about all you have seen on your way back to Vegas.
Las Vegas to Los Angeles - Hollywood Tour By Bus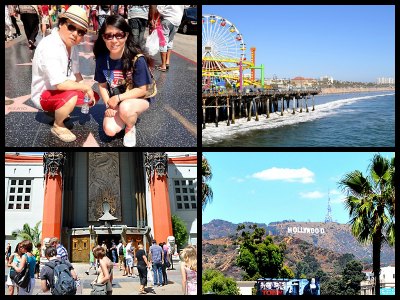 If you are looking for a relaxing yet fun filled Las Vegas to Los Angeles bus tour, then look no further. You will travel by coach from Las Vegas enjoying the iconic high desert of Nevada. You will travel on style and enjoy a continental breakfast while you voyage through Death Valley, view ancient Joshua Tree forests and absorb the natural scenery before entering Los Angeles.
Once in Los Angeles you will have plenty of time to shoot photographs of the Hollywood Sign, Hollywood Boulevard's Walk of Fame as well as the Sunset Boulevard, Santa Monica Pier and pass by Rodeo Drive.
Enjoy your ride home and listen to the many fascinating questions that our expert tour guides answer for fellow tour goers.
Best Vegas to Hollywood Tour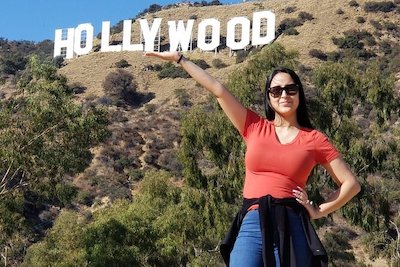 When you want to get away from Sin City for a day and experience something truly special while you are visiting Las Vegas, then you should try the Best Vegas to Hollywood Tour from Las Vegas. Your 14-hour journey begins with complimentary pick-up service from your Strip hotel where you will board a customized 7-passenger vehicle with a private driver. You travel through the Mojave Desert until you reach the California border where you take a pit stop. From here you journey to the best sightseeing places in the Greater Los Angeles area. Once in the area you experience places like Santa Monica Pier where you can gaze out over the Pacific Ocean before you hit the star studded residential areas of Beverly Hills and Rodeo Drive that include residences of Madonna, Justin Bieber, Brittany Spears, and more. Once on Hollywood Boulevard you will experience the Chinese Theatre, Hollywood Sign, and of course the famous Hollywood Walk of Fame. After having a complimentary lunch, you travel to see Warner Brothers Studios for a quick photo and see Ellen DeGeneres's studio. Your tour concludes with a comfortable ride back to your Las Vegas hotel.
More Vegas Day Trips
Get Your Free Las Vegas Events Calendar!
Best of Vegas