Las Vegas Shows Schedule 2018
Here are all Las Vegas shows playing in 2018 ! You can find here Cirque du Soleil, Le Reve, magic by David Copperfield and Criss Angel, entertainers Donny and Marie, Blue Man Group, shows for adults and for kids, comedies, and even Broadway musicals. If you check the monthly calendar of the upcoming shows below, you can find out which Boxing, UFC and other sports events are happening during each month, and which headliners, comedians and music bands are performing when you are here.
Las Vegas shows Calendar
Cirque du Soleil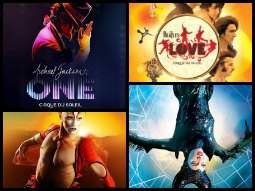 There are currently seven shows by Cirque du Soleil playing in Las Vegas in 2018. If you have limited time in the city and are wondering which one to see, I recommend you to start from the new Michael Jackson One, which reflect the best Cirque du Soleil has to offer. Read below my reviews and get tickets to all Cirque du Soleil shows playing in Vegas.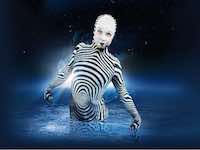 O By Cirque du Soleil
The most popular and beautiful among Las Vegas shows by Cirque du Soleil, O playing at Bellagio Hotel is a water-themed production, featuring synchronized swimming and acrobatics taking place in and around an enormous tank of water.
Las Vegas Concerts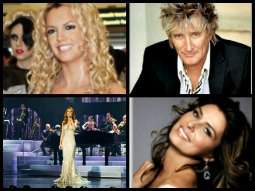 Do you enjoy live music? There are plenty of Las Vegas shows in any music genre - rock, pop, jazz, country, R&B, Soul, and even dance! Read my reviews and get tickets to the top live music headliners performing in 2018.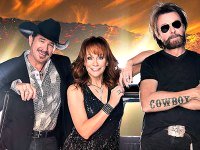 Reba, Brooks and Dunn
Country superstar trio Reba, Brooks & Dunn are taking Vegas by storm! Their next Las Vegas shows are scheduled at Colosseum at Caesars Palace for on select dates in 2018.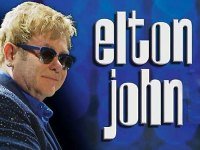 Elton John
Elton John and his incredibly expensive piano are frequent performers at Caesars Palace. Elton John is confirmed to perform a series of concerts in 2018.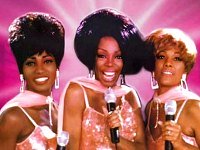 Solid Gold Soul
Solid Gold Soul is a new Las Vegas show in the R&B and Soul music genre, featuring impersonators of the famous Motown performers - Diana Ross and the Supremes, Sam Cooke and others.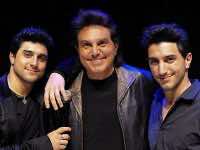 The Bronx Wanderers
The Bronx Wanderers trio performs America's favorite rock 'n' roll songs from 50s, 60s and 70s daily at Bally's Hotel & Casino.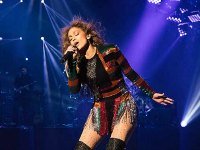 Jennifer Lopez
Headliner Jennifer Lopez is scheduled to perform her R&B pop, Latin, hip hop hits at Axis Theater, Planet Hollywood in on select dates in 2018.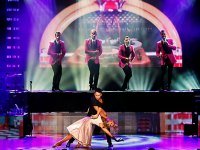 Human Nature Jukebox
Las Vegas shows by Human Nature Jukebox, performing in classic style, Doo Wop and Motown are live at the Sands Showroom at the Venetian throughout 2018.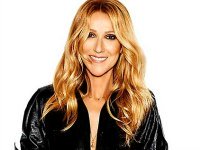 Celine Dion
With her angelic voice and great stage presence, Celine Dion performing regularly at Caesars Palace, is one of the consistently most popular singers in the Sin City. Celine Dion's concerts will run on select dates in 2018.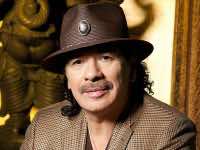 An Intimate Evening With Santana
Carlos Santana is a long time Las Vegas performer, headlining at House of Blues at Mandalay Bay Resort & Casino. Santana's next concerts are scheduled for select dates in 2018.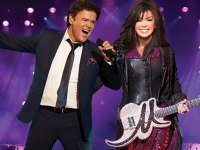 Donny and Marie Osmond
Popular as ever brother and sister Donny and Marie have carved themselves a special niche - a variety show that is a mixture of humor, dance and their most popular country and rock songs. One of the most popular Las Vegas shows ever, Donny and Marie show is playing at Flamingo Las Vegas.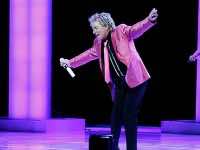 Rod Stewart
British rock legend Rod Stewart will perform live concerts at Caesars Palace Las Vegas on select dates in 2018.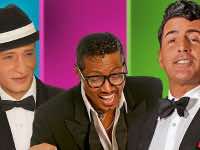 Rat Pack is Back
Relive the glorious days of Frank Sinatra, Sammy Davis Jr., Joey Bishop and Dean Martin from the original Rat Pack through these highly popular Las Vegas shows in the tribute genre, playing at Tuscany Suites & Casino.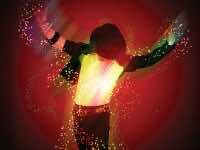 MJ Live
Rotating cast of impersonators such as Jalles Franca, Michael Firestone and Justin Dean pay tribute to Michael Jackson. Great music, favorite songs, great dance moves will let you relive a concert by Michael Jackson. MJ Live is playing at Rio Resort & Casino.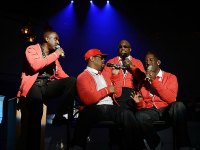 Boyz II Men
Famous R&B music artists Boyz II Men perform one of the most entertaining shows at the Mirage Resort & Casino. You can catch their concert on select dates every month.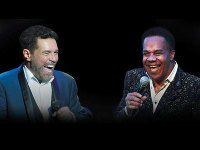 Soundtrack: Your Songs. Our Stories. The Show. - Clint Holmes And Earl Turner
Clint Holmes and Earl Turner unite to perform their best hits at the new dynamic Las Vegas show at the Westgate Resort and Casino.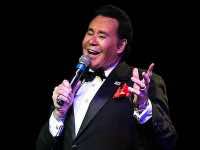 Wayne Newton
"Up Close And Personal" is a new Las Vegas show by experienced showman Wayne Newton, playing at Bally's Hotel & Casino until July 2018.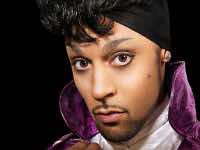 Purple Reign
Purple Reign playing at the Westgate Resort & Casino, is a tribute show to Prince, played by impersonator Jason Tenner. Fans of Prince will hear all the hit songs in this popular show in the city.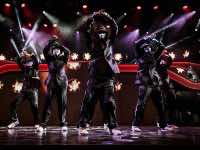 Jabbawockeez
Jabbawockeez dancing at Luxor Hotel is currently the only dance ensemble on The Strip. Their signature faceless masks and unusual dance moves have made them famous world-wide.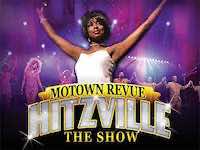 Hitzville the Show
Experience the good old days of Motown, dance and sing along with Jin Jin Reeves and an energetic ensemble of back-up performers at Hitzville Las Vegas show, playing live at Planet Hollywood .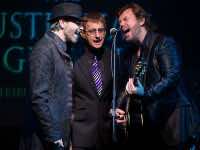 Australian Bee Gees
The world's famous tribute band Australian Bee Gees, singing live at Excalibur Las Vegas throughout 2018, pays tribute to the original Bee Gees - the famous Gibbs brothers.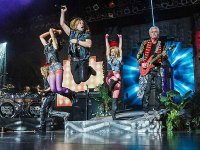 Raiding the Rock Vault
Composed of real members of real rock bands, Raiding The Rock Vault plays the thirty years of rock hits by famous bands at the Vinyl at Hard Rock Hotel hotel & Casino.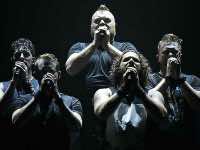 Tenors of Rock
Five tenors perform nightly at Main Showroom, Harrah's the best hits by Bon Jovi, Aerosmith, Queen, The Rolling Stones and other legendary rock bands.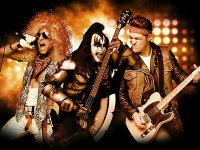 World's Greatest Rock Show
Just when you thought Las Vegas shows can't handle any more rock, World's Greatest Rock Show came to the Stratosphere Theater with leather-clad hairy impersonators of Van Halen, Journey, Kiss and other famous bands.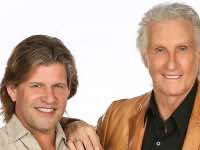 The Righteous Brothers
Bill Medley and Bucky Heard who form the modern version of The Righteous Brothers, perform classic hits of the original band at the Main Showroom, Harrah's Hotel & Casino.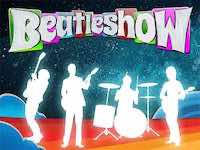 Beatleshow
Immerse yourself in the 1960s and the Beatlemania with Beatleshow playing at Planet Hollywood. This highly popular quartet of impersonators pays tribute to the Beatles.
Las Vegas Comedy shows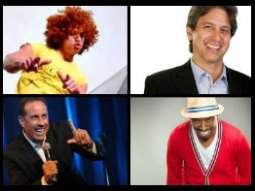 When it comes to comedy, Vegas has so much to offer! Musicals, stand up comedy, ventriloquists, and what not! If you have time for a few shows, you should definitely check out Carrot Top and Terry Fator - I may be biased, but these are my favorite Las Vegas comedy shows.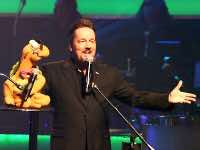 Terry Fator
Terry Fator is a ventriloquist with a winning combination of music and comic talent. Together with his charming puppets, Terry Fator performing at the Mirage Hotel has created a one-of-a-kind show that you simply can't miss.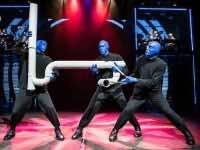 Blue Man Group
Blue Man Group performing at Monte Carlo Resort & Casino is a highly popular theatrical experience, favorite among adults and kids alike. Blue Man Group is a popular Las Vegas show, performed by earless blue men clad in black costumes who take the audience on an interactive journey of science, technology, humor and music.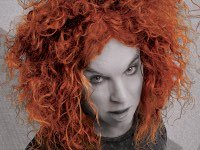 Carrot Top
Hilarious red-headed stand up comedian Carrot Top performing at Luxor Hotel, finds unusual ways to use his funny tools and inventions that he keeps in a large trunk and proudly shows on stage.
Divas Las Vegas
With the superstar Frank Marino as Joan Rivers, Divas Las Vegas playing at The Linq Resort & Casino is the hottest drag queen Las Vegas show! All-male dancers/singers imitate all female stars such as Madonna, Cher, Lady Gaga and others.
The Comedy Lineup
Comedians Tom Green and Caparulo join the forces to bring hilarious new comedy show to the Strip. They are taking turns to perform at Harrah's.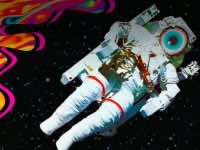 Opium
From the creators of Absinthe comes a crazy new Las Vegas show Opium. Performing at The Cosmopolitan, the show has everyone intrigued because no one knows what it's about! Update will follow.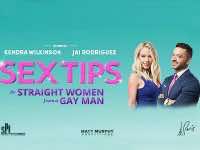 Sex Tips For Straight women from a gay man
It's about time straight women learned something from a gay man, and where is the better place and occasion to learn it than during a hilarious Las Vegas show by Jai Rodriguez and Kendra Wilkinson?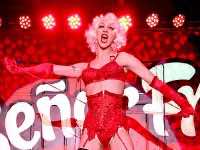 Drag Brunch at Senor Frogs
A new drag show on the Strip - Drag Brunch will entertain and make you laugh by their stunning impersonations at Senor Frogs, Treasure Island.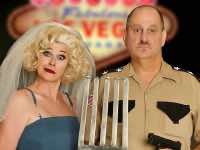 Marriage can be murder
Marriage Can Be Murder at The D Las Vegas is among the most popular interactive Las Vegas shows. You can become a detective and solve a murder in the hilarious dinner show !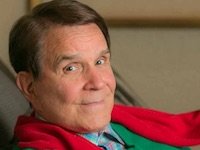 Rich Little
Comedy icon and master impressionist Rich Little is entertaining the audience with his funny impersonations of famous celebrities from Ronald Reagan to Hermit The Frog at the Laugh Factory, Tropicana Las Vegas .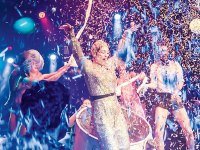 Miss Behave Game Show
A new interactive Las Vegas show where you can actually play AND win, using only your mobile phone! Play crazy phone games and be entertained by raunchy acts at the BackRoom at Bally's hotel.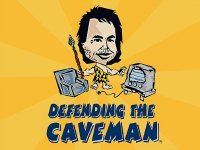 Defending The Caveman
A one man-show by stand up comedian Chris Allen, Defending The Caveman playing at Harrah's, draws a parallel between couples' relationships today and during the Stone Age.
Comedy Clubs
Las Vegas boasts a number of funny comedy clubs where you can watch a rotating cast of both established and budding stand up comedians.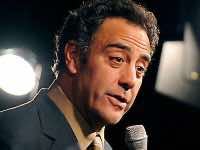 Brad Garrett's Comedy Club
Located at MGM Grand. Brad Garrett performs on select nights.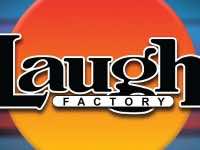 The Laugh Factory
Located at Tropicana.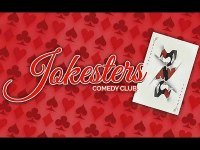 Jokesters Comedy Club Las Vegas
Located at The D Hotel in downtown Las Vegas.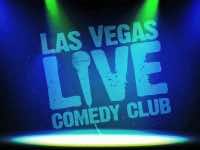 Live Comedy Club
Located at the V Theater, Miracle Mile Shops at Planet Hollywood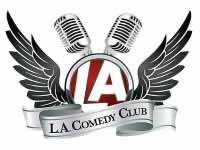 L.A. Comedy Club
Located at Dragon Room, Stratosphere Hotel
Las Vegas Musicals & Broadway Shows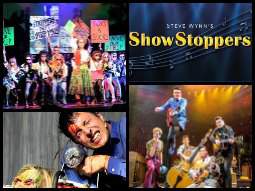 Broadway shows may be rare in on The Strip, but you can find some great Las Vegas shows in the musical genre, even some that are specific to Vegas that you can't see anywhere else, including New York! Other touring Broadway Shows play at the Smith Center every month.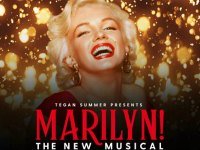 Marilyn! The New Musical
Marilyn! The New Musical is a new show celebrating the life and career of the iconic movie star. The show is playing at Le Theatre de Artes within the Paris Las Vegas.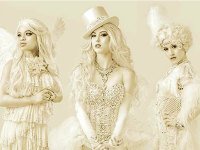 BAZ - A Musical Mash Up
These new Las Vegas shows in the Musical genre playing at the Palazzo Resort & Casino celebrate the music and movies of Australian writer/director Baz Luhrmann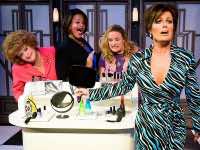 Menopause The Musical
Menopause playing at Luxor Hotel is a funny musical that will appeal to anyone who knows what a menopause first-hand.
Las Vegas Magic Shows
---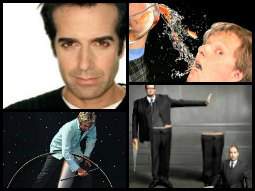 Do you love good old magic? You have so much choice with Las Vegas shows in the magic and illusions genre! If you would like to also have some fun, you should try the "comedy magic" type of show - the name says it all! Whether you like your magic tricks a little thrilling or, to the contrary, funny - there are plenty of family-friendly shows in magic and illusions genre in Vegas!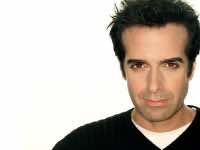 David Copperfield
Here is your chance to see why David Copperfield, performing at MGM Grand, is considered by many the greatest magician in the world and offers one of the best shows on The Strip!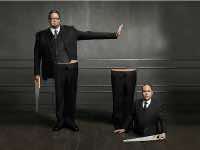 Penn & Teller
Penn & Teller performing at Rio Hotel & Casino are unlike any other magicians on Las Vegas Strip - their show is fun, eccentric, creative, and slightly political.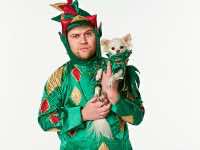 Piff The Magic Dragon
New Las Vegas show in the magic and comedy genre at Flamingo Hotel and Casino features magician Piff and his magical Chihuahua Mr. Piffles.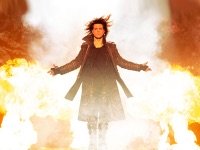 Criss Angel - Mindfreak
Master illusionist Criss Angel performs his new popular magic show, based on his popular TV Show of the same name - Mindfreak - at Luxor Hotel & Casino.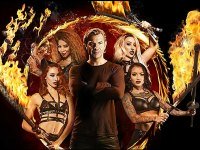 Inferno: The Fire Spectacular
Inferno: The Fire Spectacular is one of the newest and hottest Las Vegas shows with real scorching fire, gorgeous Fuel Girls and the famous illusionist Joe Labero, heating things up and Le Theatre des Arts at Paris Hotel.
David Goldrake - Imaginarium
David Goldrake, escapologist and master of grand illusions, the winner of multiple magic awards, will turn your world upside down with his new interactive Las Vegas show at Tropicana Hotel.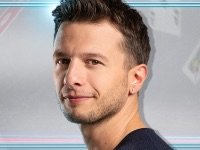 Mat Franco
Mat Franco has wowed the audience on America's Got Talent, and now doing it at The LINQ Hotel and Casino with his magical prowess, and, oh, his good looks.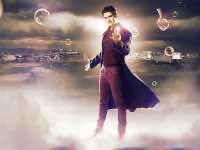 Xavier Mortimer's Magical Dream
French magician Xavier Mortimer creates a wonderful world of magical illusions during his popular Las Vegas shows in the magic genre at Planet Hollywood Resort & Casino.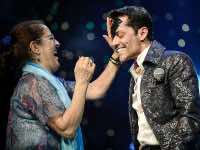 Paranormal Frederic Da Silva
"Paranormal" by magician and mind reader Frederic Da Silva plays at Bally's.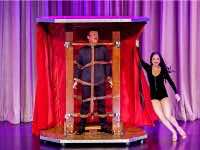 Nathan Burton Comedy Magic
Nathan Burton's comedy magic show at Planet Hollywood is a real treat for adults and kids alike. Beautiful showgirls, unexpected magic tricks and comedy gigs are all part of his magic show. Nathan Burton offers one of the best comedy magic acts among Las Vegas shows.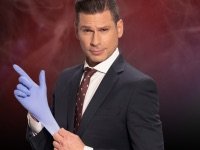 Mike Hammer comedy Magic
Mike Hammer performing at Four Queens Resort & Casino is a magician with very funny persona and improvisational skills. He is one of the most beloved, family-friendly magicians and one of the best shows in downtown Las Vegas.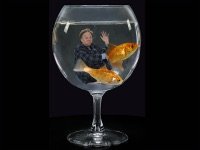 Mac King Comedy Magic
Mac King's self-deprecating humor, goofy jokes and funny magic tricks make him one of the most beloved illusionists on Las Vegas Strip. Mac King is performing at Harrah's Hotel & Casino.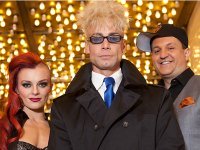 Murray Celebrity Magician
Murray Celebrity Magician and his funny side kick Lefty perform entertaining magic acts at Planet Hollywood.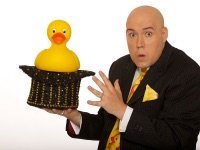 Laughternoon by Adam London
Laughternoon is family-friendly magic and comedy act by magician Adam London performing at The D Hotel in downtown Las Vegas.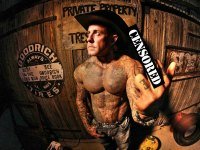 Redneck Comedy Magic
Redneck Comedy Magic is one of the most unique Las Vegas shows, combining hilarious redneck comedy with magic tricks and encouragement to get all the booze you can handle at the Stratosphere Hotel. 21+ only.
Las Vegas Adult Shows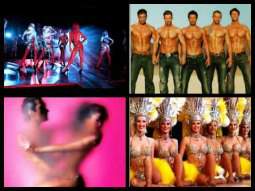 No other city in the world offers as much adult entertainment as Vegas! You can find any type of Las Vegas shows for adults - from shows with both male and female dancers that appeal to couples, to all-female topless shows, to male revues to strip classes for the ladies. Below you will find shows for adults that will please both men and women !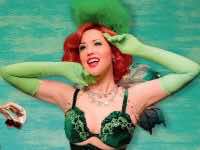 Absinthe
Absinthe playing at Caesars Palace is extremely eccentric and entertaining adult/variety/circus show with a good mixture of acrobatics, R-rated comedy acts and strip tease.
Zumanity by Cirque du Soleil.
If you are wondering which Las Vegas shows are the best for couples - I highly recommend Zumanity playing at New York New York Resort & Casino, It's a show produced by Cirque du Soleil, filled with extreme eroticism, amazing gymnastics and acrobatics. Zumanity is the most extravagant show in the city.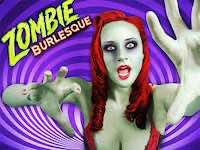 Zombie Burlesque
A classic burlesque show with a zombie twist opened at Planet Hollywood. With singing, dancing and sexily dressed zombies, this is not exactly an "adult" show, but parental guidance is advised. For the 16+ audience.
Las Vegas Topless, Showgirls, Burlesque Shows
Guys have to have their fun, and these Las Vegas shows in the adult genre make the wildest dreams come true! Check out these all topless but different shows.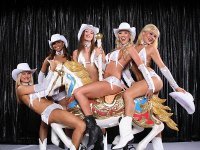 Crazy Girls
Beautiful dancers are topless and look really good on stage. Playing at Riviera Hotel & Casino.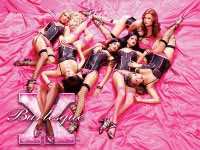 X Burlesque
Beautiful seductive girls dance and cater to your wildest fantasies in a small theater at Flamingo.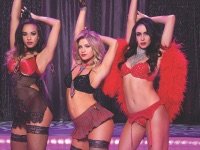 Fantasy
Sultry seductresses dancing and not only at Luxor Hotel & Casino.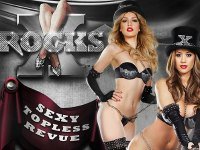 X Rocks
Beautiful dancers strip and entertain to the beats of rock music. Performing at Rio.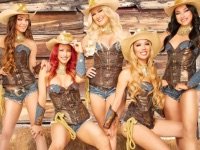 X Country
Harrah's Hotel & Casino hosts the incredibly popular country music show with sex topless performers.
Strip Tease Classes
Girls can learn new moves and take a few lessons of seduction from the experienced strippers and show girls! There's a variety of classes to choose from.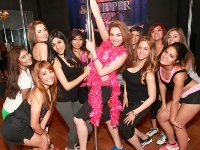 Stripper 101
Located at Planet Hollywood.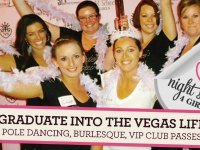 Night School 4 Girls
Located at Hard Rock Cafe.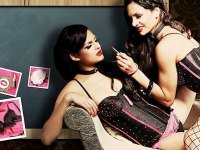 X Burlesque University
Located at Flamingo.
Las Vegas Male Revue Shows
For the girls, Las Vegas offers a few scorching hot shows with all-male dancers! Whether you are planning an all- girls getaway or a bachelorette party, you will find plenty of eye candy on these adult Las Vegas shows!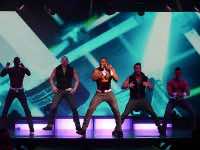 Chippendales
Chippendales is one of the sexiest all-male dance shows, playing at Rio.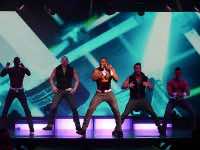 Aussie Heat
Aussie Heat is Las Vegas' hottest import from Australia. Gorgeous Aussie dancers perform hip hop and break dance at Miracle Miles at Planet Hollywood.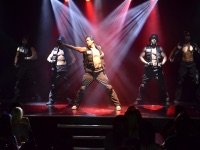 Thunder From Down Under
Gorgeous dancers from Australia entertain ladies at Excalibur Resort & Casino.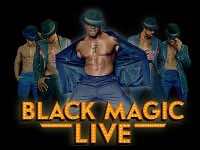 Black Magic Live
An all-black cast of gorgeous muscular men is what Vegas's been waiting for! The show plays at Embassy Nightclub.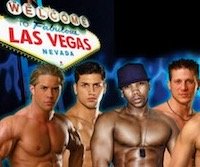 Men of Sapphire
Not just a male revue, but pure fun strip show by handsome Men of Sapphire! Located at Sapphire Gentleman's Club. Fridays and Saturdays.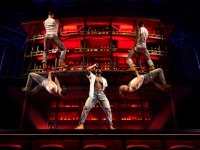 Magic Mike
Produced by Channing Tatum, the new male revue Magic Mike is one of the most popular shows on Las Vegas erotic scene.
Elvis Impersonators
---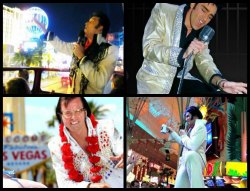 Elvis Impersonators are a highly popular type of Las Vegas shows. You can find so many great impressionists of The King, as well as other celebrity impersonators among on The Strip.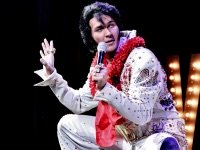 All Shook Up
All Shook Up is a new Elvis tribute show brought to you by V Theatre, taking place at the Planet Hollywood Resort & Casino.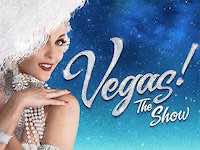 Vegas! The Show
Vegas! The Show pays tribute to the classic stars who helped shape Las Vegas. Showgirls, Rat Pack, Elvis Presley, Elton John - you will be immersed in the Vintage Vegas of 50's 60's 70's and 80's, and relive many important scenes from the city's glorious past. Playing at Planet Hollywood.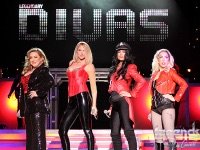 Legends In Concert
On Legends in Concert, playing at Flamingo, there are so many impersonators, and you never know which ones you will get to see, but that's why it's so much fun! This is one of the best Las Vegas shows with Elvis impersonators. Some other singers you could see include Britney Spears, Rod Stewart, Lady Gaga, Michael Jackson and others.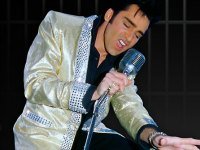 Spirit Of The King
Spirit of The King is a popular Elvis impersonator show, performed by Steve Connolly. The show is playing at Four Queens Hotel & Casino.
Hypnosis Shows
---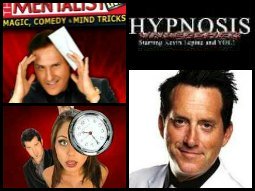 If you would like to take your fun a step further and experience something cool on The Strip - volunteer for one of the naughtiest hypnotists one of these shows in the hypnosis genre - either Hypnosis Unleashed or Marc Savard's Comedy hypnosis, or Anthony Cools. Don't worry - it's safe, although VERY adult! The Mentalist, on the other hand, is not adult in nature.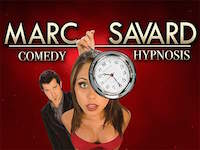 Marc Savard Comedy Hypnosis
Marc Savard performs his hilarious Las Vegas shows at Planet Hollywood.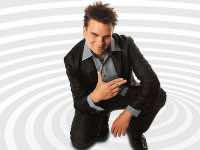 Hypnosis Unleashed With Kevin Lepine
Hypnotist Kevin Lepine performs at Binion's Gambling Hall & Hotel.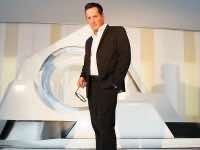 Anthony Cools
The Uncensored Hypnotist Anthony Cools performs at Paris Las Vegas.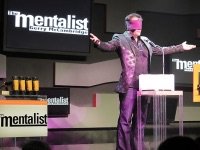 The Mentalist
The Mentalist by Gerry McCambridge plays at Planet Hollywood.
Kids And Family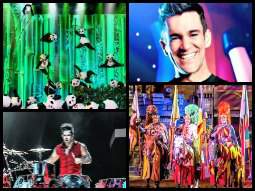 Strictly speaking, Vegas does not strike as a family vacation destination, but it does offer some good shows for kids. Las Vegas shows featured below are primarily for little kids, but those who are kids at heart would love them too. If you would like something that the whole family would enjoy, you could take your kids to Cirque du Soleil or one of the magic shows.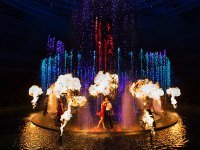 Le Reve - the Dream
Immerse yourself in the land of dreams with one of the must-see Las Vegas shows. Le Reve playing at Wynn Las Vegas combines elements of water, fire, acrobatics and mysterious creatures.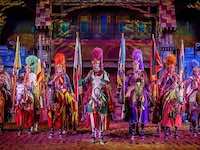 Tournament Of Kings
Tournament of Kings is a family dinner show, that will appeal to young boys who love knights and medieval castles. Sword fighting, jousting, knights and horses are all part of the show playing at Excalibur.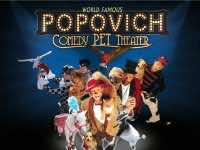 Gregory Popovich's Comedy Pet Theater
Shows for the youngest kids include Gregory Popovich's Comedy Pet Theater playing at Planet Hollywood.- watch the cutest circus dogs, cats and doves perform various tricks and play skits and sketches.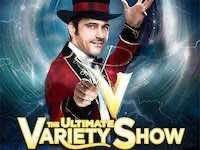 V - The Ultimate Variety
V - The Ultimate Variety Playing at Planet Hollywood offers a little bit of everything - family friendly comedy, kids, juggling, skating, magic, puppets. This is one of the must-see Las Vegas shows for kids.
What's Hot
Plan Vacation
Strip Hotels

Shows

Fun Activities

Tours

Nightlife

Do you have any questions or Comments?