Las Vegas Shows schedule 2022-2023
Las Vegas shows in 2022 and 2023 appeal to all tastes and budgets! You can find here tickets to Cirque du Soleil, residency comedians Carrot Top and Tape Face, magic by world-renown magicians David Copperfield and Criss Angel, entertainers like Blue Man Group and Jabbawockeez, shows for adults and for kids, and even Broadway musicals. If you check the monthly calendar of the upcoming shows below, you can find out which Boxing, UFC and other sports events are happening during each month, and which headliners, comedians and music bands are performing when you are here.
Las Vegas Event Calendar 2022
Here is a schedule of top upcoming shows in 2022.
Las Vegas Live Music Shows
Do you enjoy live music? There are plenty of Las Vegas shows in every music genre - rock, pop, jazz, country, R&B, Soul, and even dance! Read my reviews and get tickets to the top live music headliners performing in 2022.
Lionel Richie: Back to Las Vegas
Are you ready to go Dancing on the Ceiling All Night Long, then now is your moment to take it Easy and go listen to the harmonizing voice of Lionel Richie. His stage presence will be Stuck on You and your Lady for days afterward. Lionel Richie is performing during 08/5-20, 10/12-22, 2022 at The Venetian.
Get Your Free Las Vegas Events Calendar!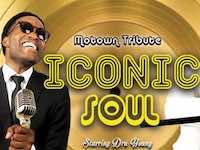 Motown Tribute: Iconic Soul
Let's Get It On and head down to one of the newest Motown tribute Las Vegas show in 2022. You will be Dancing in the Streets, the aisles, and swaying in your chair when you go see the Motown Tribute: Iconic Soul.
Elvis: One Night
Like many of us we missed that iconic performance that brought Elvis back to us for one night in 1968. Now, you can relive this moment by watching this incredibly real tribute concert to the King of Rock-n-Roll called Elvis: One Night.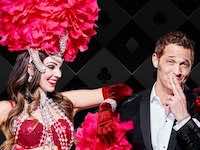 Reckless In Vegas
One of the more innovative Las Vegas shows in 2022 that combines the glory days of Sin City of the 1960s with a little bit of rock-n-roll is Reckless. Imagine listening to Green Day playing a few of the greatest iconic hits from Frank Sinatra to Tom Jones to Elvis to the Rat Pack.
Cirque du Soleil Las Vegas shows
There are currently five Cirque du Soleil shows playing during 2022. If you have limited time in the city and are wondering which one to see, I recommend you to start with the new Michael Jackson One, which reflects the best Cirque du Soleil has to offer. Read below my reviews and get tickets to all Cirque du Soleil Shows in Vegas playing in 2022.
Las Vegas Comedy shows
When it comes to comedy, Las Vegas has so much to offer! Musicals, stand-up comedy, ventriloquists, and other hilarious shows! If you have time for a few shows, you should definitely check out Carrot Top and Terry Fator - I may be biased, but these are my favorite funniest Las Vegas shows playing in 2022.
Comedy Clubs
Las Vegas boasts a number of funny comedy clubs where you can watch a rotating cast of both established and budding stand-up comedians during very funny and different Las Vegas shows.
Las Vegas Musicals & Broadway Shows
Broadway shows may be rare on The Strip, but you can find some great Las Vegas shows in the musical genre, even some that are specific to Las Vegas that you can't see anywhere else, including New York! Other fabulous touring Broadway Shows play at the Smith Center every month.
Las Vegas Magic Shows Tickets
Do you love fantastic old-fashion magic as well as mind blowing illusions? You are in luck with the many choices of Las Vegas shows in the magic and illusions genre! If you would like to also have some fun and laugh a bit too, you should try the "comedy magic" type shows - the name says it all! Whether you like your magic tricks a thrilling or funny - there are plenty of family-friendly shows in the magic and illusions genre in Las Vegas playing in 2022.!
Las Vegas Adult Shows
No other city in the world offers as much adult entertainment as Sin City! You can find any type of Las Vegas shows for adults playing in 2022 - from shows with both male and female dancers that appeal to couples, to all-female topless shows, to male revues to strip tease classes for the ladies. Below you will find shows for adults that are sure please both men and women!
Las Vegas Topless, Showgirls, Burlesque Shows
Guys have to have their fun, and these Las Vegas shows in the adult genre make the wildest dreams come true! Check out these all topless type of shows.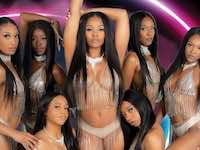 Black Girl Magic
Black Girl Magic is the only all-black female burlesque show in the city and is ready to give you a history lesson on the sexiness of a black woman. The adult's only show highlights beautiful women dancing to groovy music from Motown to Hip-Hop.
Lady Like Burlesque
The beautiful ladies of Lady Like Burlesque are ready to give you a little lesson in charm school. This performance combines some sexy skin in throwback burlesque show that brings the 1950s and 1960s back to life.
Las Vegas Male Revue Shows
For the girls, the Strip offers numerous scorching hot Las Vegas shows with all-male dancers! Whether you are planning an all-girls getaway or a bachelorette party, you will find plenty of eye candy at one of these shows for the ladies!
Las Vegas Elvis Impersonators Shows List
Elvis Impersonators are a very popular type of Las Vegas shows. You can find so many great impressionists of The King, as well as other celebrity impersonators performing on The Strip-that after the show you will think Elvis is still alive.
Las Vegas Hypnosis Shows List
If you would like to take your fun a step further and experience something cool on The Strip - volunteer for one of the naughtiest hypnotist's during one of these shows in the hypnosis genre - either Hypnosis Unleashed or or Anthony Cools. Don't worry - it's safe, although VERY adult! The Mentalist, on the other hand, is more mild mannered.
Kids And Family Las Vegas Shows List
Strictly speaking, Las Vegas might not strike you as a family vacation destination, but it does offer some good shows for kids. Las Vegas shows featured below are primarily for little kids, but those who are kids at heart would love them too. If you would like something that the whole family can enjoy, you could take your kids to Cirque du Soleil or one of the many magic shows.