best shows in Las Vegas in 2022-2023
Here are the best shows in Las Vegas that you can see in 2022-2023! With so much going on in the city and so many cool things to do and see, it may be hard to decide, especially if you have only a few days to explore the city.I have checked out reviews of all permanent shows playing in the Sin City, and am happy to present you with my reviews of the best ones. Keep reading to find out about the most popular shows In Vegas right now!
Cirque du Soleil
Las Vegas is home to Cirque du Soleil, which is currently performing 6 different shows every night! All of them are a great fun for adults and kids alike. Our top picks for shows by Cirque du Soleil are Michael Jackson ONE, Mystere, O, and Ka.
Michael Jackson ONE by Cirque du Soleil Las Vegas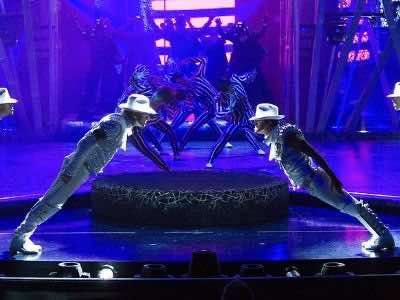 Where: Mandalay Bay
When: Thursday-Monday at 7:0 pm and 9:30 pm
Age limit: 5+
If you dream of still seeing the King of Pop singing and dancing on the stage, then the best show for you to watch is the exciting Michael Jackson ONE by Cirque du Soleil. Performing at the Mandalay Bay Theatre within Mandalay Bay, Michael Jackson ONE is a complete celebration of music, dancing, and stunning acrobats all in one superb show. Not only will you listen to the classic hits from Michael Jackson like Beat It, Man in the Mirror, Billie Jean, The Way You Make Me Feel, and Love Never Felt So Good but the soundtrack is accompanied by 63 world-class artists who defy everything from logic to gravity. The show is a Thriller that leaves your mouth dropping from the dance moves and superb acrobatics that only Cirque du Soleil can bring to the stage. The high-energy performers Don't Stop 'til You Get Enough and just when you thought you had seen it all, then the slick feet of numerous dancer float across the stage while moon walking just the King of Pop himself. So if you are ready to Scream and be a Slave to the Rhythm then you need to book this one of the best Sin City shows now.
Live Music
If you enjoy live music, there's always plenty of concerts playing all over the Strip. Some play every day, but many only have short time engagements. Here are the most popular Vegas shows in the music genre, hopefully you can catch them while you are here!
Get Your Free Las Vegas Events Calendar!
best shows in Las Vegas in Comedy Genre
In Vegas you can find comedy shows in all genres: from improvisations to physical, from surreal to stand-up style. Any modern American comedian can be considered successful if he had at least one performance in Vegas! Some artists are so good that they are invited to perform regularly in the city. Here is a list of my favorite best shows in Las Vegas in 2002 in the comedy genre.
best Las Vegas Adult Shows
We know you want to see an adult show! After all, this is Vegas! While there is no lack of adult entertainment here, not all of them are created equal. We've checked out all the shows and would love to recommend the following best Sin City shows in the adult genre.
best Las Vegas Impersonators
There are quite a few impersonators in Vegas, and even city tours conducted by impersonators. You can catch a show with anyone from Marilyn Monroe to Elvis to Britney Spears! However, the best shows in Las Vegas in 2022-2023 in the impersonator genre is Vegas! The Show and All Shook Up !
Magic Genre
Do you enjoy illusions, magic tricks and mind-blowing hypnotic shows? Among the enormous multitude of shows, I have selected several best shows in Las Vegas in the magic genre! But remember - although magic shows are usually associated with childhood, some of these shows are not for children's eyes and ears at all! Keep an eye on the age restrictions to know what you are in for.
Kids And Family
In all honesty, Las Vegas is not very child-oriented city, but you probably already know that! There are, however, a few very good shows you could take your children to - for example, most of Cirque du Soleil shows are quite appropriate for children. And here are a few more best shows in Las Vegas that your little ones will definitely enjoy!
More Shows