Las Vegas Shows For Kids And Family 2023-2024
So which Las Vegas shows playing in 2023-2024 are good for kids ands families? If you are wondering what to do in the Sin City with children, read my reviews of current great fun family friendly shows, created specifically for or appropriate for young children. Most of these shows are good for kids 5 and older, but some are suitable for as young as 2-3 year old, and they are quite affordable.
Gregory Popovich's Comedy Pet Theater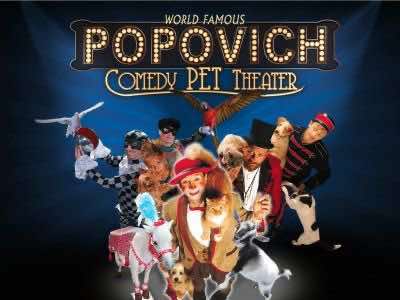 Location: V Theater - Planet Hollywood Resort & Casino
Show Times: Daily except Sunday & Monday at 4:00 pm
Age limit: None
The Comedy Pet Theater will definitely make your kids laugh! Everyone knows that dogs can do tricks, but you wouldn't believe what regular pet cats can do when they are trained by Gregory Popovich! Little cuddly house pets are true stars in this show - they perform various "scenarios" from the "human" life - they pretend to be firemen rescuing each other from the fire, they play doctors-patients, they skip with a skipping rope and push strollers. The show also features a few trained geese and doves, and of course Gregory Popovich himself! Comedy Pet Theater is truly one of the best Las Vegas shows for kids in 2023-2024!
More Shows
Get Your Free Las Vegas Events Calendar!
Best of Vegas